Sending Mission youth to
college
since 1972
Mission Community Beacon Takes on Tech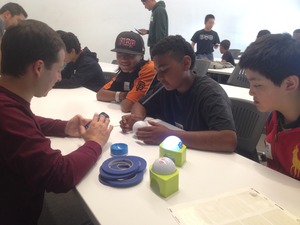 Students were paired with a LinkedIn employee for the day.

Summer at the Beacon has been filled with academics, recreation and field trips around the Bay Area. And for 15 lucky middle school students, it didn't end there. On Friday, Beacon students headed to the LinkedIn office for a STEM (Science, Technology, Engineering, and Math) day, complete with a phone-controlled robot.

Students learned how to operate the robot, and practiced navigating a maze, all with technology! These students will definitely be looking forward to more cool STEM this fall!


| | |
| --- | --- |
| | |
| Mapping out practice mazes. | Taking the robot through the maze. |

Marshall Gets a Taste for Summer in the Mission
Marshall students got a chance to explore a different part of the Mission District this summer. Relocated to George Moscone Elementary School for the 6-week program, Marshall took advantage of this new locale and went out exploring!
During Frozen Fun week, the Kinder class headed over to
La Copa Loca
, the neighborhood gelateria, owned by a Marshall family. First came the science - how to make ice cream. Then they got down to business - trying a new flavor!
And with 24th Street so close by, Marshall Chefs took to the streets to learn from the experts,
La Reyna Bakery
. Seeing how some of their favorite treats are made was a treat in itself!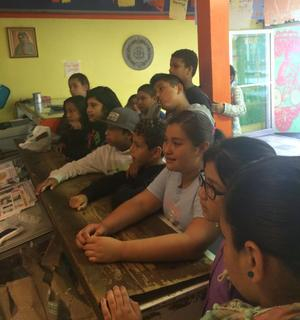 Master Chefs visited one of the amazing bakeries on 24th Street, La Reyna and La Copa Loca for gelato!
College Research Coaches for Rising Seniors


For Cohort 8, summer is far from relaxing. The rising seniors have been busy working with a Personal Statement Writing Coach on crafting an essay that will set them up for college application season. And now onto where to apply to.

College Research Coaches meet one-on-one with the students on a weekly basis this summer to gather information and gear up for the application process.

Each pair have a goal of finding 10-15 schools that might be a good fit before applications open. This will keep students on track to meet the necessary requirements and deadlines. Coaches and student are on the look out for safety, match, and reach schools, making sure students have a wide array of options to choose from.

The College Research Coaches play such an important role in beginning the application process. While Writing Coaches will help students prepare essays and fill out the applications, without doing the research, many students are of unclear of where they want to be after graduation.

- Theresa Conway, Social Media Intern

Summer Institute Prepares Parents to be Leaders
Every summer, while our students are busy in Summer Program, our amazing parent leaders come together for Summer Institute. A chance to connect with other leaders in their school-site, the Institute is a time of planning and team-building.
To get things moving, each day started off with a bit of fun, Zumba! Then the groups transitioned into the day's topic, like realizing the bridges we can build in our schools and understanding how we are all connected in the Mission community. Parents also began planning for their fall outreach work.
| | |
| --- | --- |
| | |
| Teams of parents practice teamwork while creating a bridge. | Gerber Marquez, Program Manager, explains how a large oak tree represents our connections in the community. |
College Connect Students Make Action Plans
As more and more of our students are graduating from college, the team at College Connect have done their homework on how to prepare our students for meaningful careers. This summer marked the first '
CSI: Career Success Institute
', in partnership with First Graduate. This month of workshops will touch upon professionalism, career navigating, and the importance of networking.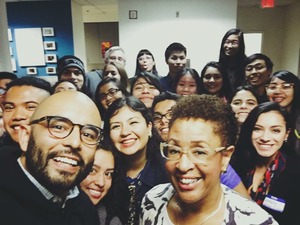 Always have to take a networking selfie!
To kick the month off, students networked with other first-generation students, learning how to present themselves in a professional setting. The staff then held a workshop for students to create an action plan; whether it be for the duration of college or to land an internship or job. Students participated in writing activities to begin exploring possible careers and fields of interests.
The students at the event rediscovered the importance of research. They were taught research is necessary to find an internship, job and career. They also had a chance to see the importance of networking online. The workshop gave students some tips to use social media not only for communication, but research too.
Students made an action plan they can use for the upcoming year with realistic and attainable goals for academic year. The action plans are only the beginning of a big adventure planned for the future. The progress made during the workshop is great to see and we are excited to see how students put their action plans into motion for the upcoming academic year.
- Theresa Conway, Social Media Intern
The Beacon AmeriCorps Team Says Goodbye
"My year of service with Mission Graduates, in the Mission Community Beacon at Everett Middle School, was perhaps the most inspirational of my career as a young professional. On-site at Everett Middle School, I was blown away by students' enthusiasm and staff's cohesion. This community welcomed AmeriCorps members with open arms and encouraged us to pursue new ideas and initiatives."



- Michael



"This year as an AmeriCorps member allowed me to grow professionally. So many youth have potential, I see it everyday. I built great healthy relationships with them. I'm excited t

o become part of Mission Graduates staff and see how the youth will continue to grow.

"



- Blanca
SAVE THE DATE!

Food Truck for Thought is back! Join us at SoMa StrEat Food Park for San Francisco's Best Food Trucks! 10% of th proceeds benefit MG - what a night!

Join Our Family of Supporters




Volunteer With Us!