Sending Mission youth to
college
since 1972
MG Welcomes Cohort 10
We are honored to announce the 10th Cohort of College Connect. Started a decade ago, the program has touched the lives of nearly 200 first-gen students, supporting youth on the path to college.

And without further ado...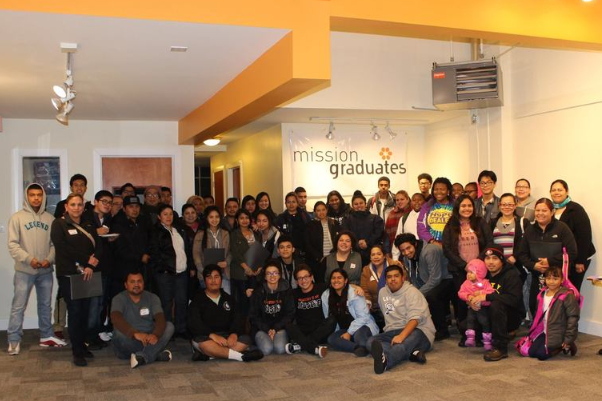 College Connect's 10th Cohort



Andy Ravell
Mission High School
Julien Nelson
John O'Connell High School
Amiyah Smith
Immaculate Conception Academy
Kathia Vargas
Mission High School
Ameera Ahmed Al.hayawa
San Francisco International High School
Lesly Mejia
San Francisco International High School
Daniel Espinoza
June Jordan School for Equity
Majesta Turner
Leadership High School
Demyiah Simpson
John O'Connell High School
Martina Valdez
Mission High School
Desiree Ford
Mission High School
Marvin Matamoros
Mission High School
Edward Gongora Burgos
Mission High School
Meybelin Merino
Mission High School
Elmer Gil
Galileo Academy of Science and Technology
Oscar Moreno Velasquez
John O'Connell High School
Erica Coria
Mission High School
Robert John Viray
John O'Connell High School
Estuardo Boteo-Linares
June Jordan School for Equity
Samantha Gomez
John O'Connell High School
Imari Keith
Leadership High School
Sophia Ramos
John O'Connell High School
Jenny Kuang Qui
Mission High School
Stephanie Flores
Lowell High School
Joan Guidel
San Francisco International High School
Steven Liao
Washington High School
Julian Jimenez
Burton High School
College Connect begins each year with a meeting with all new students. Because we believe that college-access work must include the whole family, Cohort 10 kicked off the program with an all-family meeting.
Together, Cohort 10 heard from Wendy Lizbeth Rubio, College Connect Cohort 4 Alum, as well as students and parents from Cohort 9.

hey then broke into small groups (much like their students will do throughout the program) and shared experiences, expectations, fears, and hopes for their student on the path to college.

Welcome to the MG family Cohort 10!
Bryant's Wall of Hope
Taking a page from the BART stations in the Mission, Bryant Extended Day Program students turned their cafeteria wall into their own Wall of Hope.
Sharing notes of inspiration, this was a wonderful way to give students a space to speak about their hopes for the future.
Monster Gallery Brings Smiles
After months of

wai

ting

, the team from The Monster Project finally arrived to share MG 2nd graders creations come to life!

Through a partnership with Adobe, The Monster Project worked with students in New York City, Austin, TX, and San Francisco, to design 100 monsters.

Sent to graphic designers all over the world, Mission Graduates 2nd graders at Bryant Elementary, Flynn Elementary, and Marshall Elementary, had their own private showing in the classroom.

The shocked faces, the attention to new details, and surprise that they were such amazing artists made the whole afternoon one for lots of smiles.


​

These young artists had their first gallery opening the following evening at the Adobe offices.





Complete with VR painting experiences, MG students and families were able to see their own monster hung side by side with their artists on the wall for all to see.



To learn more about The Monster Project, visit www.themonsterproject.org or on instagram at @themonsterproject.
Sueño Latino Celebrates Community
Feeling a need to support their school and their community, students in Sueño Latino and the newly created Dreamers United clubs have been making their mark.
First joining the team at the Mission Promise Neighborhood, the group of high school students volunteered their time at a holiday book give away.

These two groups also came together as family for a holiday pot-luck, creating community around a shared desire to support their school community.

Peace and Family at Flynn
Flynn Extended Day Program has continued a new tradition - to celebrate families at the annual Winter Celebration.





A time for families to come together, celebrate the holidays, and hear thanks from their community, this celebration had a special guest performance - Ms. Jen's Kinder class performed a song about peace.
Coming Together Against Fear
Immediately following the election results, Mission Graduates called on community partner PODER to help facilitate a meeting on immigration.

A safe space for families to come together and discuss their fears, the Parent Partner Program is continuing to work with PODER to provide information, resources, and community in the new year.
The series kicked off this week at Hillcrest Elementary School.

Open to families from Edison, Monroe, and Cleveland ES, and SF Community School, this is the beginning of a series of workshops.


Thank you to our partners PODER, Coleman Advocates, and the YMCA.

Kindness Projects Wrap Up at Marshall
Every holiday season, Marshall Extended Day Program classrooms turn their focus to a Kindness Project.

Learning about causes affecting their community, each class chooses a nonprofit organization to support.

The 2nd grade classroom headed over to Animal Care and Control to help the Small Animal team with feeding time.

This is also a family event for many classrooms.

Parents came into help their student with their project. 1st graders donated fuzzy socks to children at UCSF Benioff Children's Hospital, creating fuzzy sock cupcakes for the holidays, while the kindergartners created fun placemats for patients at UCSF.
Las Posadas at Everett
Continuing a MG tradition at Everett, the Mission Community Beacon celebrated Las Posadas this month. Joined by local Aztec dancers, Everett students performed for their classmates and families.

This holiday celebration was a wonderful way to wrap up the year for the Mission Community Beacon.

MG Decks the Halls with the Symphony
When Mission Graduates decorates for the holidays, it's all about College and Career.

Mission Graduates 4th and 5th graders created holiday ornaments this year to fill a 20-foot tree at Davies Symphony Hall.

The College and Career Dream Tree was filled with the tools of the trade for future lawyers, doctors, teachers, veterinarians, and soccer stars!
Happy Holidays from all of us at Mission Graduates!