Sending Mission youth to
college
since 1972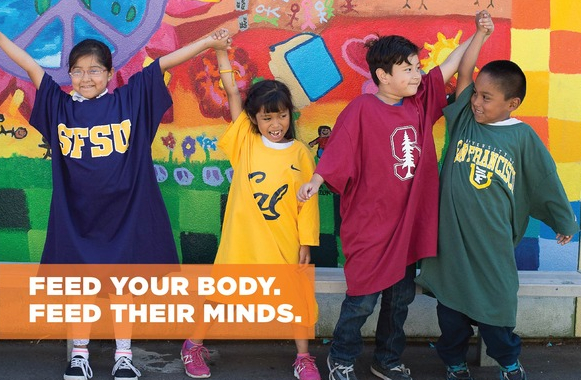 You're Invited!
Join
Mission Graduates
at
restaurants across the Mission District
for a night of dining out for a great cause - ensuring more Mission youth are prepared for and graduate from college.
It's the simplest way to give back to youth in your community -
just dine out!
So grab a group of friends, coworkers, and family members, and support Mission District businesses making a difference in the neighborhood!
Local Companies Go Back to School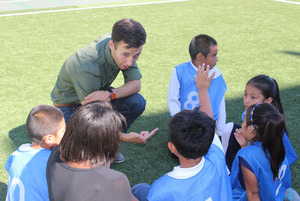 Accenture employees huddled up

Mission Graduates' afterschool students were the only ones going back to school this month. Thanks to corporate volunteer groups from Accenture, FiveStars, and Symantec, the halls of our elementary schools are looking a bit different.

Accenture employees joined the 2nd graders at Marshall for fun games on the yard, followed by a STEM (Science, Technology, Engineering, and Math) Challenge, helping teams of 3 build a dog house for thier college mascot, Rhett the Bulldog from Boston University.

Last week, students from Bryant and Marshall Elementary Extended Day Programs had a two-day event with the team from FiveStars. Joining us for Rock, Paper, Scissors and Four Square on the yard, sitting Criss-Cross-Apple-Sauce on the rainbow rug for Community Circle, and helping us with our homework, FiveStars employees made after-school a lot more fun!



Interested in getting out of the office and supporting Mission youth on their path to college? Get in touch with Volunteer Manager

Jenna Casey

for more details!
Food for Thought 2015 Raffle Drawing



Every year, Mission Graduates supporters not only dine out all over the Mission District in October, but also show their support for college-access programming by joining in to the Food for Thought Raffle Drawing.





From now until October 31st, every $10 donation made to Mission Graduates enters you into the drawing for a long list of amazing prizes!

Thanks to our amazing supporters at House+House Architects, we've brought back the ever-luxurious Casa de las Estrellas in San Miguel de Allende, Mexico!

A one-week stay, with 2 round-trip tickets, could you be yours!




And the list goes on!

There are over 20 prizes in this year's raffle, from tickets to gift cards from your favorite local merchants.

Check them out at www.food-for-thought-2015.eventbrite.com!



Enter this amazing drawing by visiting the
Food for Thought Eventbrite Page.



Tickets on sale through October 31st.





Personal Statement Season Underway

Students at John O'Connell High School are in full swing of preparing for and applying to college. Many seniors have taken advantage of the new Mission Graduates College and Career Program, dropping in during lunch and afterschool to receive support, advice, and resources around applying to college.
This time of year is busy for our high school seniors, and we are so lucky to have the support of new Americorps staff member Leslie De Haro, on our team.
| | |
| --- | --- |
| | |
| College Connect Director Catherine Marroquin supporting the new College and Career center at John O'Connell | Americorps member Leslie De Haro reviewing personal statement essays in the computer lab. |
| | |
| --- | --- |
| Join Our Family of Supporters | Volunteer With Us! |