Sending Mission youth to
college
since 1972
Local arts organization Precita Eyes is working with Mission Graduates Extended Day Program at Flynn Elementary to create a portable mural. Students planned out the mural adding parts of their city including the Golden Gate Bridge and a local Taqueria.

Once completed,the students plan on putting their beautiful creation in the front of the Mission Graduates office, beautifying school grounds and sharing their work with the whole school community.

~Jenny Weston, Flynn Extended Day Program Director

Food for Thought 2015 - Gracias!


Last week, Mission Graduates 7th annual done-out-for-a-good-cause fundraiser, Food for Thought, took over the Mission.

We want to give a very big thank you to all those who sponsored, donated raffle items, spread the word, worked the restaurants, dine out, and purchased raffle tickets. This event is only possible with the support of our amazing community.

Raffle tickets are still coming in, but so far the night is looking like a great success.

Weren't able to join us for dinner? You can still support Mission Graduates and ensure your donation is doubled through our matching grant!


Bryant Students Hit the Books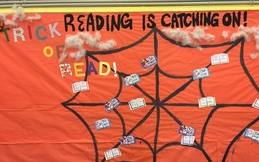 Class are competing to see who can wrack up the most books in the web.

October is Literacy Month at Bryant Elementary, and students are showing their love of reading in a spooky way. Every half hour of reading time during after-school hours gets a book to put on the reading web in the school's cafeteria.

Lots of scary stories are being check out of the library, making our weekly Reading Buddy time a bit more exciting - who doesn't remember their love of Goosebumps!
Double Your Donation - FFT2015 Raffle
We've been busy counting all of the Food for Thought Raffle Drawing entries this week. But luck for you, the Drawing is still open, through October 31st!

Every $10 donation you make between now and November 1st will not only enter you for the chance to win all of the amazing prizes below, but each donation will be DOUBLED!

That means you'll make that much more of a difference for Mission youth on the path to college.

Visit the eventbrite page for your chance to win the Grand Prize - an all expenses paid trip for 2 to San Miguel de Allende, Mexico!
Reading Becomes Family Time at Marshall
For families at Marshall Elementary, a regular Wednesday afternoon was transformed into a family reading event, with classroom themes and snacks to celebrate the importance of reading together.

Families came together for the last hour of the day, giving students a chance to read aloud to parents and younger siblings, and show off how much they've improved this year.

First graders went "Under the Sea" to read together, and 2nd graders gathered around the fire for a Camping read-a-thon.
2nd graders reading
around the campfire
Little siblings having
fun reading
Under the Sea reading requires
snorkel masks, of course!
A Place for Parents at the Beacon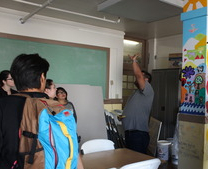 The "before" shot

Thanks to a wonderful group of volunteers from PSI Coaching, parents at Everett Middle School finally have a space to call their own.

The new Parent Lounge will be a place for parents and families to learn together, meet about topics concerning their students educational path, and create community.

With a new coat of paint, and wonderful donated furniture, this space will ensure parents feel they have a place in their middle school students' education.
Everett Students Build STEM Futures

On Mondays at the Mission Community Beacon, students learn fundamental concepts of structural engineering through a DCYF supported STEM (Science, Technology, Engineering, and Math) education program.

Thus far, students have discussed careers in science, common stereotypes of scientists, and balanced versus unbalanced forces. We have built structures out of paper, gumdrops, and toothpicks, relying on group collaboration and prior knowledge to meet "construction" parameters.


~Suzie Berndt, Coordinator, Mission Community Beacon



John O'Connell Students Get LinkedIn
Mission Graduates' time with John O'Connell High School has been full of events, spreading the word about the importance of planning for college and career now.

Through our partnership with Mission Promise Neighborhood, John O'Connell students got the chance to work one-on-one with LinkedIn employees through the LinkedIn for Good program.

Students heard first hand about ways they can create a profile in increase job prospects, and what type of content will ensure success as they begin planning for college a career.



| | |
| --- | --- |
| Join Our Family of Supporters | Volunteer With Us! |