#HourOfCode At Mission Graduates
Last week, over 200,000 schools and community centers around the world participated in one-hour coding lessons - #HourOfCode.

And Mission Graduates students joined in the fun!

Thanks to a little encouragement from our Salesforce volunteers, Mission Community Beacon students dove in to a lesson in java script with R2-D2 and all of the new Star Wars heroes. Volunteers roamed around, helping students of all skill-levels create their own Star Wars universe with code.

Marshall, Flynn, and Bryant Elementary School students coded throughout the week as well. The America Scores team at Flynn spent an afternoon off the field, building Minecraft universes. 3rd graders at Marshall went ice-skating with Elsa and Anna from Frozen. And Bryant 4th and 5th graders mastered a new Star Wars universe with code.
Interested in creating your own video game? Check out www.code.org to learn more.
Beacon Celebrates Community
Everett Middle School's Mission Community Beacon has quickly become a tight-knit family. And to share in our appreciation for community, the Beacon put on its very own Thanksgiving celebration.
Students shared with their families what they've been working on this year, and everyone came together for a great meal.
This celebration was made that much more special because of the support from members of our community - Hanson Bridgett Law Firm, Redemption Church, and King's Cross Church - all donating gifts for families to enjoy over the holiday season.
Members of these two churches stayed for dinner and gifted our families with over 40 turkeys, making this truly a celebration of gratitude for community.
Cohort 8 Turn In Their Applications
Every senior in high school knows the time-crunch when college applications are due. But for College Connect students, there's no pressure. We create our own deadlines for important applications - one week early.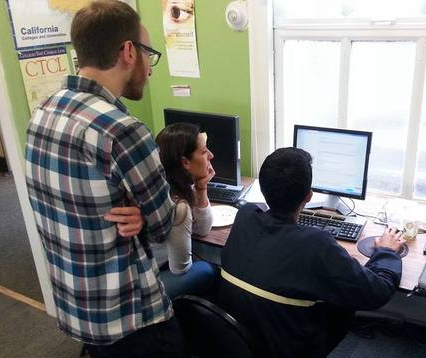 Cohort 8 students came together one Saturday morning to ensure all of their University of California and California State University applications were complete and submitted with time to spare.

There are a lot of tiny details that go into making a strong application so students were excited to have volunteers from Raise.me there for support.

Raise.me has created a online space for students to begin fundraising for college early, and Cohort 8 was definitely taking notes as they begin to focus on college scholarship season.

In all, over 200 applications have been submitted by Cohort 8 students - and that number will keep rising. Private school deadlines are fast approaching and we know College Connect students will be ready to press the submit button in time to enjoy the holidays.
| | |
| --- | --- |
| | |
LEGOs Make For STEM-tastic Fridays
Students in the Extended Day Programs participate in an amazing array of electives each semester, sharpening their STEM skills, getting out on the field, and trying new arts.



For Marshall Extended Day Program students, Play-Well TEKnologies creates a LEGO wonderland each Friday for STEM camps.

Marshall students have spent their Friday afternoons this semester creating LEGO-robotic masterpieces with a Star Wars twist, bringing the colored blocks to life.

And you can tell from the photos, its the best way to spend an afternoon.

Thanks to Play-Well TEKnologies for sharing theses great snapshots of our students.
Parent Partner Program Accepts Award
Mission Graduates' Parent Partner Program was honored to enter the Digital Innovations in Learning Awards competition this fall.

And even more proud to accept the "Learn Everywhere" Award last month. Sponsored by Digital Promise and EdSurge, this was a night celebrating creative and exciting new ways to partner tech and education.

Executive Director Eddie Kaufman joined the stars of our 3-minute video entry, Program Director Eric Cuentos, Program Assistant Julie McNamara, and Promotora Marlyn Rodriguez, for a great night celebrating technology and education.
Congrats to all!
Bringing Story Theater to Marshall
Partnerships are so important to creating our engaging and enriching programming at Mission Graduates. The San Francisco Youth Theatre brings an amazing Story Theatre hour each week to our Kindergarten and 1st graders in the Marshall Extended Day Program.

We hope you'll consider supporting our partner this holiday season to ensure more Mission Graduates youth can experience theater in the classroom.
Relive Marshall's STEM Night on YouTube!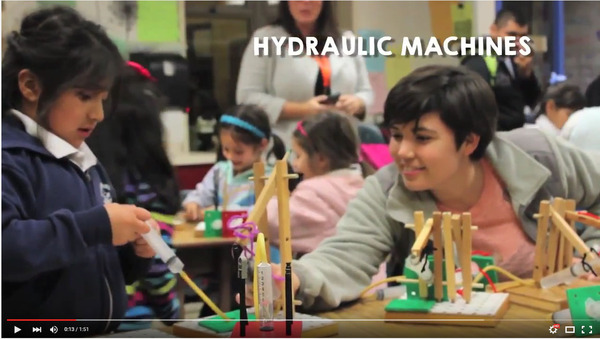 Thanks to our amazing video volunteer, Mission Graduates is so excited to give you a first-hand view of the Lawrence Hall of Science "Engineer and Invent Festival."

Families from Marshall Elementary stayed late to explore the world of STEM, gaining hands-on experience with hydraulics and electric circuits, and learning together.

Check it out!
Congrats to Cohort 9!
This week, College Connect staff had a lot of important phone calls to make - congratulating the newest members of the CC familia.

Cohort 9 will be coming together for the first time on Thursday, introducing their families to a new community of support - first-generation students from the Mission all working towards a college degree.

We're excited to share their stories and watch as they build their own college futures.

Stay tuned!
Happy Holidays from the MG Familia!