Sending Mission youth to
college
since 1972
#MarchToCollege Takes Over The Mission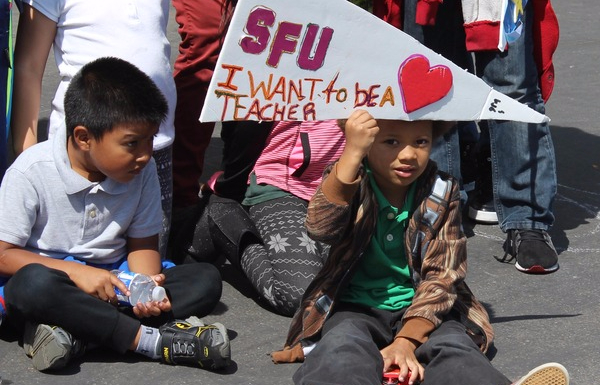 Last week, Mission youth from Marshall, Bryant, Flynn, Everett, BVHM, Cesar Chavez, One Purpose, James Lick, and John O'Connell marched through the Mission with a message - I am going to College!

Over 400 students took to the streets, chanting C-O-L-L-E-G-E College Is The Place For Me, and celebrating the path to college.


The crowd convened on John O'Connell High School, rallied around students working towards college, and met representatives from local colleges and universities. A college-themed carnival and and a photo booth meant fun for all.

March to College was also a day to celebrate students who have been Reclassified as English Language Proficient this year - ensuring they are ready to take college preparatory courses in middle and high school.

Marshall 5th Grader shows off her
Reclassified Certificate
Parent Partner Program parent leader shares
more information with students and families
on the importance of Reclassification
A big thank you to Mission Graduates, Jamestown Community Center, Buena Vista Child Care, and First Graduate staff for giving our youth a chance to show the neighborhood what they're made of.

See all of #MarchToCollege here!
Bryant's Que Viva Poetry Night Shines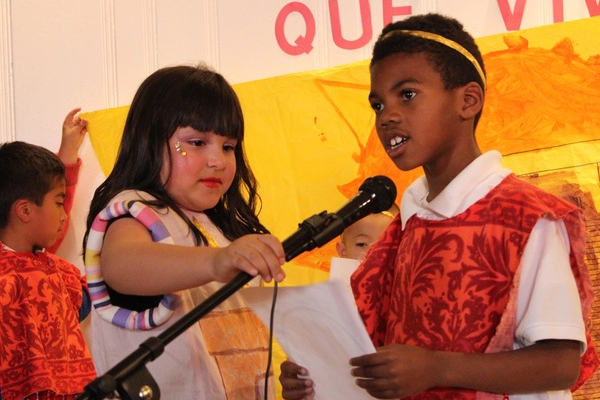 Bryant Extended Day Program students have taken their unit in poetry into the past - with origin stories coming to life during Bryant Poetry Night.
Transforming the Women's Building into sets from ancient history, Poetry of Our Ancestors gave every Bryant student a chance to shine in front of friends and family.
Check out more photos of Que Viva Poetry Night here.
La Raza Assembly Celebrates Culture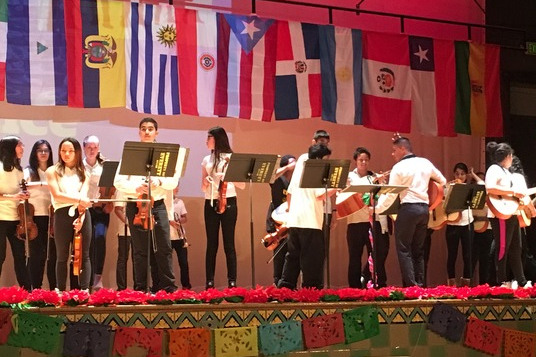 Students in La Raza Club at Everett Middle School decided to turn Cinco de Mayo into a chance to share more about Hispanic culture with their fellow classmates.

A student-run and student-led program featured student-performances. The assembly showcased important figures in Hispanic history, gave student groups a chance to speak, and even treated the Everett community to Mariachi music courtesy of the school's band and choir.

Congratulations to BAYAC Americorps member Alfredo for supporting the La Raza Club as they put on such a great event.
Finding Mentorship in the Field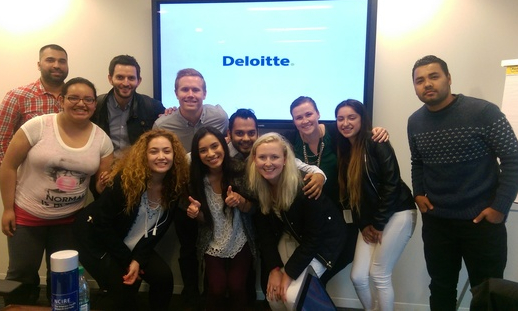 Six College Connect students from various cohorts participated in Deloitte's Career Connection Program this spring. Starting in March with an orientation, each student was paired with a mentor and learned about the accompanying programming geared towards making them career ready.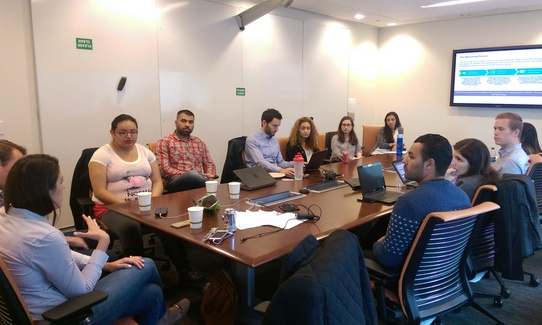 Over the course of almost 2 months, the students met every other week at the Deloitte office in the heart of downtown San Francisco and were part of career building workshops led by Deloitte employees.

These workshops included a kick-off event that looked at a business case study, a branding workshop, and a recruiting panel. Their mentors were present at all of these workshops and had the opportunity to work together and ask questions.
STEM In and Out of the Classroom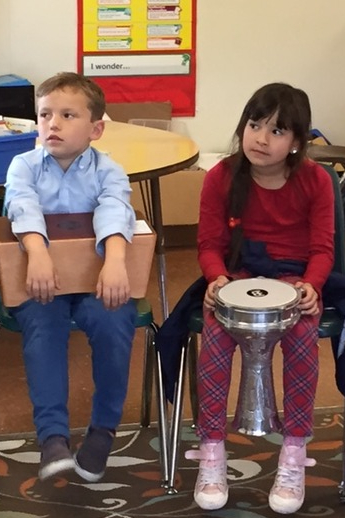 STEM-tastic Fridays are always a favorite part of the Marshall Extended Day Program. And ths semester, students have been introduced to new enrichment opportunities that infuse STEM into some of their favorite activities.

A new partnership with Sound Formation's Rhythm & Percussion is allowing Marshall students to explore the math behind rhythm this semester.

Combining soccer and STEM, Coast 2 Coast is allowing students to move around while learning new concepts.

Marshall students are also getting off school grounds this semester. Weekly trips to Mission Science Workshop are a treat for our students, where they are hard at work building their very own scooters.

Using simple machines, angles, and a few power tools, Marshall students will be able to roll home on their own creation by the end of the year!
Tech Mentees Show Off New Skills
End of the school year celebrations aren't just for our students. After a 2nd successful year of the Latina Tech Mentorship Program, mentors and mentees came together to showcase new technology skills and celebrate a year of achieving goals.

Each parent shared what they had learned during their one-on-one sessions throughout the year. Several of the parents shared ways they are integrating technology into their home - through calendars and email - and how technology has brought them closer to their families.

Olga, a parent from Everett Middle School, brought along a very unique example of how technology has made a difference in her home - an arts and crafts house that she made with her family thanks to a series of YouTube videos.

Thank you to all of our mentors who helped our parents create goals to better use technology in their own lives.
Flynn Keeps Up the Health Kick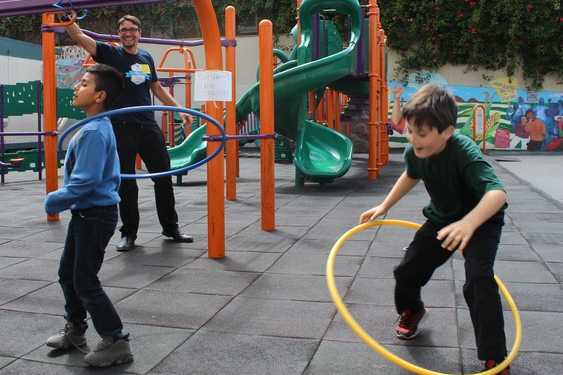 With the help of some "big kids," Flynn Extended Day Program students have been proving their new healthy habits are here to stay.

Taking some time away from their desks at salesforce.com, volunteers turned an ordinary Thursday into an action-packed afternoon.

While some students made moves on the yard, competing in an obstacle course, others were inside, creating gifts for moms in time for Mother's Day.

And with some knife skills help, Flynn students were able to prepare for a healthy snack sale the next day - raising money for a fun-filled summer at Flynn by selling fruits and veggies to their classmates!
Focus on Funding at John O'Connell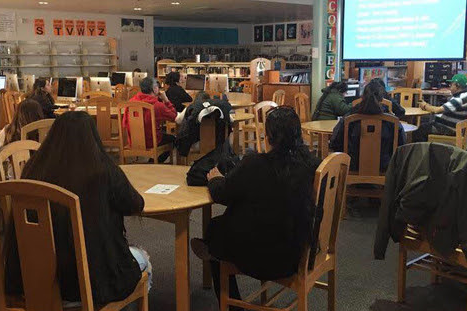 Seniors attending a workshop on how to pay for college, hosted by the College and Career Center.
Seniors at John O'Connell High School have been putting in the extra hours this spring, attending workshops, visiting the College and Career Center, and putting all of the financial aid advice ot good use.

With already three times as many students receiving scholarship funding compared to years past, the class of 2016 is making sure they have the support they need to attend the college of their dreams.
| | |
| --- | --- |
| Join Our Family of Supporters | Volunteer With Us! |