Exploring Health and Anatomy at Marshall
Mission Graduates students have been exploring the different parts of the body this spring, researching the ways the brain, heart, lungs, stomach and tongue work together.
Through art projects, research, and of course food, Marshall students have tracked their favorite foods as they enter the body and help make them stronger!




Dile NO al Miedo: Becoming an Ally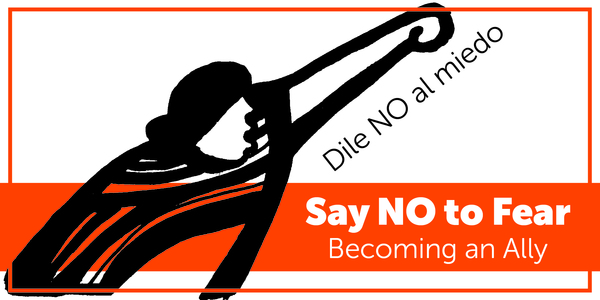 Join Mission Graduates and PODER and learn ways to be an ally to our immigrant neighbors in San Francisco!

Thursday, March 16, 2017
6:00 - 7:30 pm
St. John's Episcopal Church
1661 15th Street, SF CA 94103
This ally training will feature:
An update on h

ow the Trump administration's policies are affecting
the immigrant community

​



Resources and volunteer opportunities to make a difference in your community

This event is free, but we do ask that participants register here.



Everett Makes Lunch at the Ballpark
Spring is the best time of year to focus on health.

For Everett students, a trip to AT&T's own vegetable garden made a day of healthy cooking a bit more exciting.

SF Giants' broccoli, anyone?


Writing Stories From Afar With Flynn
In Flynn's book making club, students took the process of writing their own books all the way to Los Angeles- virtually, of course.

Partnering with a Creative Writing course at Biola University, the classes wrote the beginning and middle of a story together - and then competed in a friendly competition to see which class could come up with the best ending!
Creating Community With Parents
Joining College Connect really is for the whole family.
Each month, parents and guardians have been coming together to discuss what is in store for their soon-to-be college student.

In partnership with the Parent Partner Program, Cohort 10 families are creating community around a common goal - sending their student off to college ready to succeed.




STEM Fridays Take Off At Bryant
STEM camps have taken over Friday afternoons at Bryant Elementary.

Superhero Engineering, STEM Ladies, and LEGO Robotics with Playwell Teknologies are inspiring students to dive into new projects each week.



Everett Heads to City Hall
Mission Community Beacon students learned first-hand about the inner workings of our local government.
Visiting with Carmen Chu, Assessor-Recorder of the City and County of San Francisco, Everett Middle School students were able to ask questions, tour City Hall, and share what is most important to them.



Flynn Students Paint With Picasso
Learning from the great masters, Flynn students are trying their hands at famous styles of art this semester. And they're having fun pulling out the water colors each week to create their own masterpieces
.
Family College Night at O'Connell

John O'Connell High School families are preparing together for college.

Joining JVS, JCYC, 100% College Prep, and Mission Graduates, students and parents participated in workshops, met with advisors, and started planning for what's next.
Building Community at Everett
During Black History Month, students and families at Everett Middle School came together to celebrate African American culture and heritage during this annual event -

Celebrating Who We Are: African American Parent Dinner.



You're Invited: Tips for Tuition
Last year, the Mission Promise Neighborhood and their partners were able to send 4 John O'Connell High School students off to college with support from their community.

Ivonne is completing her first year at SFSU, knowing the Mission District is behind her.

This year, we hope to show even more Mission youth that this neighborhood will help them reach their dreams.