Sending Mission youth to
college
since 1972
Aquí y Ahora - Keeping A Promise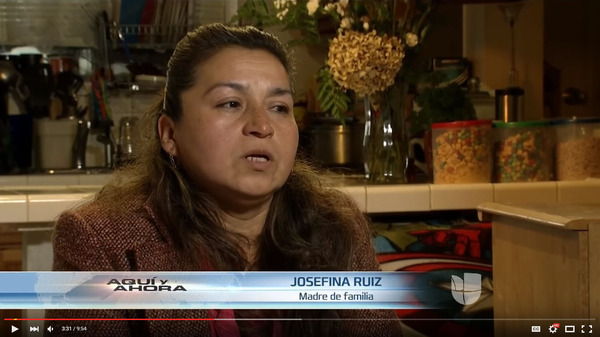 The hourly news program Aquí y Ahora, which airs around the world on Univision, recently shined the light on Mission District families adopting technology into their lives.

Parent Partner Program participant Josefina opened up about her own immigration story with the news program this winter, and how she has struggled to ensure her youngest son has access to the best education possible through adopting technology.

To see the video with transcribed English, check out our blog. A huge thank you to our volunteer who transcribed and translated this video for all to enjoy.
College Connect Takes Another Step Towards College
| | |
| --- | --- |
| | |
| | |
| --- | --- |
| | |
For college-bound students, pressing "submit" is just the beginning of the college application process. Next, its time to tackle the every mystifying FAFSA and Dream Act application. For College Connect students, this means sitting down with with family to ensure they receive enough financial aid to make debt-free college a possibility.

FAFSA (

Free Application for Federal Student Aid) is a required form for students seeking federal financial aid to help pay for college. For students ineligible for federal financial aid due to immigration status, the State of California provides its own financial aid resources, namely the Dream Act or California Student Aid Commission.



To ensure these crucial pieces to the college application process were done on time and correctly, staff at CC called upon a group of dedicated volunteers to spend this past Saturday morning in the office, combing through tax returns to make the process no obstacle at all.

Thank you to volunteers, as well as representatives from PODER and MEDA, for supporting our students in filling out their FAFSA and Dream Act applications!
STEM-tastic Fridays Return to Marshall
Back by popular demand, the Extended Day Program at Marshall Elementary becomes a STEM extravaganza every Friday afternoon. Science, Technology, Engineering, and Math have become such an important part of an enriching education and we know how excited the students are each week to try something new.

Students have an amazing array of classes to choose from this winter: Famous Women Scientists, Superhero Academy, Ancient Board Games,and an engineering Design Squad.

For the next 7 weeks, students will explore what it means to be a scientist in so many different fields.
College Wednesdays at John O'Connell
This year Mission Graduates has been promoting College Wednesdays at John O'Connell High School. Mission Graduates has brought our unique college access curriculum to 11th and 12th grade classes this fall for a 2 hour weekly college and career class. We are delighted to be expanded our class to 10th graders in the spring semester!

During College Wednesday's, school staff sport gear from their alma maters, and share their personal education paths with students. By growing college going culture, Mission Graduates is making OC the place to be, and making college the expectation for Mission youth.
Social Media Class Takes Off at the Beacon
Beacon students in the brand-new Social Media & Journalism Class picked students of the week, questions to ask the students, and interviewed the students. The class will be producing a monthly newsletter throughout the semester. Stay tuned!
Meet Ziad, our first student of the week for 2016! He is 13 years old, 7th grade, he has gone to Everett Middle School for two years.

His favorite Beacon activity is skateboard and Italian. His favorite activity outside Beacon is skateboarding and playing Magic the Gathering, and reading.

When he grows up, he wants to be a singer or pro skater, or make a difference in whatever he does. His favorite YouTube video is "Beekfast".
Volunteer of the Month: Joey Fino
This month we are debuting the Volunteer of the Month feature in the newsletter. Joey Fino has been volunteer with Mission Graduates since the fall of 2015.

After working for years as a bartender, Joey wanted to switch careers and was interested in social work. He decided to try out working with youth and heard great things about Mission Graduates through a friend. Now he's volunteering weekly at Marshall Elementary.

"I love working with the fifth grade class. They are tiny little people that have both adult and kid's personalities at the same time. It's great to be able to be part of their learning process."

In his free time, Joey likes going to live music events and travel. We appreciate Joey's dedication to volunteering!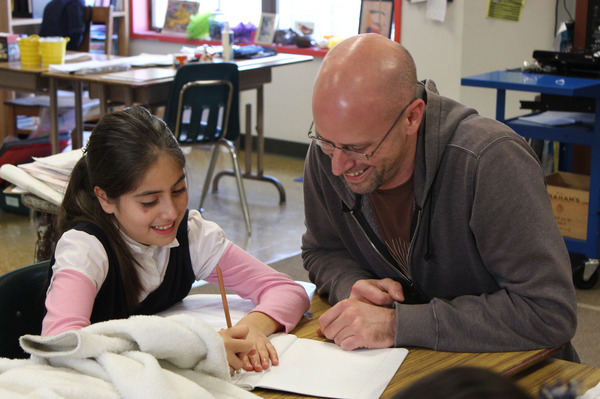 Joey supports the 5th graders with their homework and classroom projects.
Cohort 9 Joins the College Connect Familia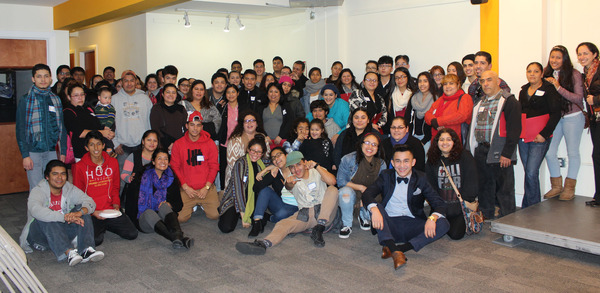 Cohort 9 and their families, plus a few guest speakers from cohorts past.
The College Connect program has officially began for our newest cohort of 27 first-generation students in Cohort 9. The newest college-bound students came together with their families for orientation in December. There was so much love of community and dreams for bright futures in the room.

Cohort 9 hit the ground running in January - beginning weekly ACT classes as well as practice tests on weekends. We look forward to introducing you to each new College Connecter throughout the year!
| | |
| --- | --- |
| Join Our Family of Supporters | Volunteer With Us! |