We have Black Friday and Cyber Monday. On #GivingTuesday, we have a day for giving back.
#GivingTuesday celebrates our greatest holiday traditions: generosity and community.
Dear Supporter,

In less than two weeks, with your help, The Children's Hunger Project has an opportunity to feed more children in Brevard on #GivingTuesday, held annually on Tuesday following Thanksgiving. #GivingTuesday kicks off the holiday season through inspiring people to give back in impactful ways to nonprofits and their compassionate causes.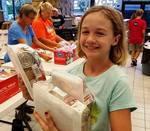 A little history on our charity: Since 2010, The Children's Hunger Project has been delivering food packages to elementary schools in Brevard County to address the problem of weekend hunger for at-risk children. Today, over 50% of students in Brevard are eligible for the free or reduced lunch program at school. This statistic is important because it is a key indicator of hunger and poverty in a geographic area. Some schools have over 80% of their students eligible for the free lunch program. Currently, we are serving over 1600 children in 40 elementary schools, but the need is more than 3000 children who are in need of weekend meals. Many children who are eligible for free breakfast and lunch at school go without adequate food from Friday afternoon until school resumes on Monday morning. That is 68 hours without the nutrition a child needs to be healthy and return to school ready to learn.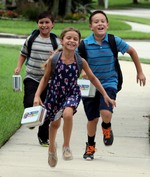 It costs only $150 per year to feed a hungry child every weekend of the school year. Our Feed 500 Campaign provides a monthly donation option. Just $12.50 per month feeds a school-age child on the weekends for the entire school year - that's less than 42 cents per day. With your gift, we can make hunger-free weekends a reality for many more children who face food insecurity. It's easy to make your donation online or through the mail. Your gift is secure and tax deductible, and will help fight hunger in Brevard. Your support creates a level playing field when it comes to success, not only in school, but in a child's life.

Thank you for your generosity. I wish you all the best this holiday season. For more information about our steady efforts, please visit www.thechildrenshungerproject.org

Sincerely,

Keith

Keith Gee
Executive Director

It's common knowlege among teachers that kids coming to school hungry on Monday are more prone to behavioral outbursts due to hunger.



Research shows these children will also test 17% lower in math skills, are sick more often,
and take longer to recover because of poor nutrition.

You can have your cake and
share it, too! Planned and Future Giving to The Children's Hunger Project is easier than you think.

Please help hungry kids in Brevard by remembering
The Children's Hunger Project
in your will or as a beneficiary.

The Children's Hunger Project is a 501(c)(3) tax exempt charitable organization.
We welcome individual and corporate donations and volunteers to ensure we can continue to feed hungry children in Brevard on weekends.


THE CHILDREN'S HUNGER PROJECT
BRUCE NELSON
CHILD HUNGER CENTER
1855 W. King Street
Cocoa, FL 32926
321 - 610 - 1900