Fiesta Brevard

THIS FRIDAY

, April 25
This is the season's fun event for the entire family.
Purchase your tickets through us and we get to keep 100% of the proceeds!
Send your tickets request to
sarah@thechildrenshungerproject.org
---
Grimaldi Candies
Net proceeds for April go to our kids
You still have time to buy chocolate and help our kids. Thank them for their support, as they have been a generous donor for the past two years.
---
We need help.


You can help kids over the summer. Will you volunteer to help Sarah and me read to kids?
We are joining with United Way in their Feed and Read program this summer in which kids gather at community centers and schools. The program provides a meal, volunteers read aloud to them plus other volunteers mentor the kids who are struggling with their reading. Each child is provided a book and one of our food packages. Your assistance is desperately needed. Here is why:

• Nearly half of children on the free and reduced-price lunch program in Brevard County failed the 3rd grade FCAT reading test. At some of our lowest income elementary schools, 73% failed! The summer break will have them slide back more.
• By the 3rd grade, children who have not developed basic reading skills are four times more likely to drop out of high school.
• During the summer break, kids "slide" back unless they have help. Will you help?
We know what the problems are. We simply need help in solving them. Make this your most worthwhile summer ever. Adults and high school students are needed. Contact Zach Bell at United Way. 321-631-2740 / zbell@uwbrevard.org
---
The Rockledge City Employee
Charity Golf Tournament will take place on
Saturday, June 7
. Our kids will benefit from the proceeds. Want to play? Want to be a sponsor?
Click here
for details.
---
Jersey Mike's Subs
donated all proceeds from their recent "Day of Giving" to our kids. Did you take pictures? Please send them to
bob@thechildrenshungerproject.org
. Too many to include in an e-mail? Send a note to the same address and we will set you up with a Dropbox account (no charge) and you will be able to send all the pictures at one time. More details and pictures in our next newsletter.
---
Ben & Jerry's scooped for our kids


Ben & Jerry's helped our kids during Free Cone Day
Read More>
---
To all who give so much in prayer and effort, THANK YOU for supporting our kids.
Say "Thanks" to these supporters of our kids in April
Seaside Piecemakers
Indiafest 2014
Tommy Blair's Collision Repair
Running Zone
---
Need a speaker for your congregation or civic group?
---
If you missed our ad in yesterday's FLORIDA TODAY
---
Auntie Anne's Pretzels' fundraiser for our kids will take place on Wednesday May 7
---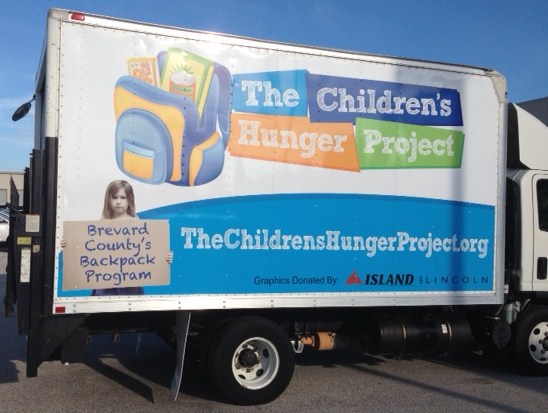 Awareness is our weakest link
Help us feed at least one kid. Even if you can't help us feed one kid, please tell your co-workers, friends, and congregation members to "Like" us on
Facebook
and visit our
website
. Share this newsletter with friends and co-workers.