The Health First Fight Child Hunger 5K is committed to ending childhood hunger
right here in Brevard! JOIN US young and young-at-heart,
run or walk on Saturday, January 13th!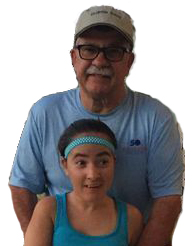 Bob Gabordi, Executive Editor of FLORIDA TODAY,
and his daughter Jessica are again honorary chairpersons
for the Health First Fight Child Hunger 5K!

"Here is how we can make sure fewer children in Brevard go to bed hungry tonight. Shockingly, one in four children in Brevard County will go to bed hungry. What would be even more shocking is if my family and I could help, but didn't. That's why Jessica and I are back as co-chairs. I'm thrilled to take part in this partnership with Jessica." - Bob Gabordi
Click here for full article in FLORIDA TODAY and see photos and video from the inaugural 5K

Thanks to Cheney Brothers (Sharing Center food distributor) and the Lions Clubs, we will be offering a FREE pancake breakfast to all of our runners at the 5K!

The Salon Professional Academy will be donating pre-and-post race massages.

Race T-shirts will be guaranteed to those who are registered prior to January 1st.

100% of proceeds from this event will go to feed hungry children in Brevard!
Race T-shirts guaranteed to those who are registered prior to January 1st
Prominent signage at the Health First Fight Child Hunger 5K
Saturday, January 13th at Viera High School
Prominent mention in a FLORIDA TODAY ad post-event
10 registrations for the event
Vendor booth space at the event