We would like to share with you the following news and announcements regarding Zona Maco 2013.

DATES.
The tenth edition of Zona Maco will take place from April 10-14, 2013, and will be held in the Centro Banamex in Mexico City. Ignacio Cadena will design the layout of the fair.

We wish to inform you that this will be the last edition held in April, starting from 2014, Zona Maco will be held in February. The dates of the upcoming editions are the following:

2014: February 5-9
2015: February 4-8
2016: February 3-7
APPLICATIONS

.

If you wish to apply to Zona Maco 2013 please contact marisol@zonamaco.com and ask for an application.
Galleries: In order to properly fill out your application, please read below the descriptions of the different sections in Zona Maco 2013.
There will also be a designated area for Publications, Publishers, Institutions and Foundations. For those applications contact camila@zonamaco.com.




SECTIONS.

Zona Maco is the most important contemporary art fair in Latin America. It is an opportunity that must not be missed for encountering and discovering all that is happening in the international scene, and particularly in the whole American continent.

Zona Maco 2013 will be divided in five sections, each with a particular focus.

---
MAIN SECTION.

A section intended for international contemporary art galleries in 40, 60, 80 and 120 sq. m stands.

Participation in this section is determined through an open application and subsequent acceptance from the selection committee comprised by José García (PROYECTOS MONCLOVA, Mexico City), Patricia Ortiz Monasterio (GALERÍA OMR, Mexico City), and Ben Loveless (GALERIE NORDENHAKE, Berlin / Stockholm).


---
NEW PROPOSALS.

This is a section to discover young emerging artists. A selection of international galleries is showing solo presentations by artists under 35. The artists and galleries are selected on the basis of a proposed solo presentation. A special focus and priority are given to artists either living and working in Latin America or dealing with issues related to the area. Participation in this section is determined through an open application and subsequent acceptance from its curator. The stands in this section are of 20 sq. m.


As a complement, New Proposals offers the possibilities of not only discovering young emerging artists represented by commercial galleries, but also exploring a selection of alternative spaces. The alternative art spaces play a crucial role for the vibrant art scene in Latin America. By visiting this area in the New Proposals section you will get an insight in the activities of these experimental initiatives and off spaces. Participation in this specific area within New Proposals is by invitation from its curator only.

New Proposals 2013 will be curated by Mirjam Varadinis (Zürich, Switzerland, 1972). Art historian and a curator for contemporary art at Kunsthaus Zürich. There she has curated various exhibitions, among others the group show "Shifting Identities – (Swiss) Art Now" and solo exhibitions with Rosa Barba, Adrian Paci, Mircea Cantor, Runa Islam, Tino Sehgal, Erik van Lieshout, Aleksandra Mir, Nedko Solakov, Urs Fischer, David Shrigley a.o.. She has published numerous catalogues and artist books. In 2012 she was the co-curator of "TRACK", an exhibition with 41 international artists happening in different parts of the city of Ghent (Belgium). And 2006 she curated the "Printemps de Septembre", an annual festival of contemporary arts in Toulouse (France). In 2005 she launched Internet-Platform www.azple.com (in collaboration with Annie Wu).



---
ZONA MACO SUR.

For the fifth consecutive time, a guest curator will be in charge of this section. He will select the works conforming the show, which will also entail the participation of the gallery representing its authors. Participation in this section will be determined through a direct invitation extended by its curator.

The selection of works for Zona Maco Sur 2013 represent a migration geography shaped by the history of the second half of the twentieth century. The chosen works are linked by their common reference to the historical consciousness formed from the cultural and political movements of this period, and in turn lead to a reflection of the impact of history today.

Independent curator Juan Andrés Gaitán (Toronto, 1973) will be in charge of Zona Maco Sur's 2013 edition. Since 2011 he is an associate professor working in the Curatorial Practice Program at CCA San Francisco. He is a member of the acquisitions committee at FRAC Nord Pas-de Calais, in France. He is a History and Theory of Art PhD candidate at the University of British Columbia in Vancouver, Canada. From 2009 thru 2011 he was a curator at Witte With in Rotterdam, where he curated several group shows. Currently he is preparing several exhibitions for CCA-Wattis, San Francisco, the Museum of Arts and Crafts, Hordaland Kunstsenter and the Format Galeri in Bergen, Norway.


---
ZONA MACO MODERN ART.

This section is presented for the first time in order to provide a context – within the trajectory already established by the fair – for a series of projects, artists and efforts in modern Latin American art. Participation in this section is through selection by the curator from an open application process. The stands are of either 60 or 80 sq. m.

This section of Zona Maco is dedicated to Latin American modern art from the second half of the twentieth century. Art practices of the nineteen fifties, sixties and seventies that can be situated within a genealogy of contemporary art are of particular interest, such as Latin American conceptualism, kinetic and optical art, photography and video. Proposals to be exhibited in Zona Maco should center on artists who were active during these decades. Nevertheless, artists from the first half of the twentieth century will also be considered if their production is relevant within a genealogy of contemporary art.

Curated by Daniel Garza-Usabiaga. (Mexico City, 1975) Ph.D. in Art History and Theory, University of Essex, United Kingdom. Postdoctoral studies at the Institute of Aesthetic Research of the National Autonomous University of Mexico. (Instituto de Investigaciones Estéticas de la Universidad Nacional Autónoma de México -UNAM). Chief curator at the Museum of Modern Art, Mexico City. Lecturer in the postgraduate program in Art History in the Faculty of Philosophy and Literature – UNAM.


---
ZONA MACO DESIGN.

This section is devoted to international design objects in 20 and 40 sq. m stands.

Participation in this section is determined through an open application and subsequent selection by its curator, Ana Elena Mallet (México City, 1971). Is an independent curator who specializes in contemporary art and design. She has been a curator at Museo Soumaya, Museo Carillo Gil and Museo Tamayo.

She has worked on exhibitions for museums such as Franz Mayer, Fomento Cultural Banamex, MARCO (Monterrey), Casa del Lago and Museo de Arte Moderno among others.

She was the directing curator for the project Destination: Mexico, between 2010 and 2012; a project that took the work of 60 Mexican designers to New York's Modern Art Museum stores both in New York and in Tokyo. She is currently curator of a Latin American design exhibition that will be on display at the Museum of Art and Design in New York in 2014.


---
EDITORIAL PROPOSALS.

The presence of international editorial houses is a further attractive of the fair and presents some of the current scene's most relevant specialized publications.




For further information please visit
www.zonamaco.com
info@zonamaco.com
T.+52 55 5280 6073

We will be in touch with further news,
Best regards.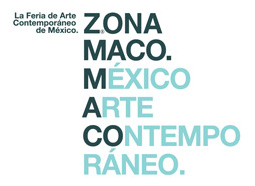 ---