• In
Kachin State
, fighting has left more than 30,000 people in camps since June 2011. There's been a rise in pregnancies at the camps, including of teenagers. Our local partner has been working in these camps to provide
needed sexual and reproductive health
information.
$13,000 provided workshops, counseling, sanitary supplies and condoms to more than 500 youth, and nutrition and family planning information to more than 50 new mothers
.
• Children and young adults are particularly vulnerable in
northern Shan State
where new roads and a gas pipeline mark the main trucking route from China to Myanmar cities. Here, our partner provides education assistance for talented children, especially those from smaller minority ethnicities whose families are of- ten on the move due to fighting, land confiscation or searches for work.
$11,000 helped 40 children through high school and 12 young people in college. Many of these children are the first from their villages to graduate.
• On
Thailand's northern border with Burma
, our partner's collaboration with local Thai health authorities has
secured life-saving antiretroviral therapy and counseling for hundreds of HIV-positive Myanmar peoples
. Our partner has
confronted prevalent discrimination through creative community learning projects, shifting communal attitudes and improving the lives of the HIV-positive and their families
. A $35,000 budget covers 24 districts with a population of more than 100,000.
• In
Rakhine State
, our partner helps the poorest children access education. Our partner particularly
encourages girls to attend school beyond primary stages
and makes it possible for kids from remote areas to attend high school. $15,000 provided
teacher salaries, school fees, supplies and tuition
for 1,050 children in 7 schools. We raised $11,000 to help our partner respond with
immediate aid following the communal violence that erupted in the state in June 2012.
•
Yangon
is the center of the positive changes in Myanmar, yet the impact is not helping the very poorest, internal migrant communities in the city's outskirts. Our partner works in these areas'
free monastic schools, helping improve teacher and pupil attendance, learning outcomes and children's health
. $17,000 enabled work with teachers in 10 schools to provide
books for libraries and literacy classes in Bamar and English, reaching 3,220 children and 128 teachers
.
•
Ranong
is home to one of Thailand's largest communities of Myanmar peoples. Dominated by the seafood and fisheries industries, it's a tough area for
migrants, who fear arrest and endure discrimination. Reaching the children of the area's poor workers
has been a slow process, but over the years we've quietly partnered with Myanmar community leaders to support their children's learning and encourage a trusting relationship with the local Thai education authorities. This school year,
$40,000 supported 370 students and 11 local teachers.
We believe the people of Burma are and should be the drivers of change. Local people — not outsiders — best understand the needs and nuances of their own communities. Locally led initiatives stand the strongest chance of building resilience to unpredictable challenges and creating positive, lasting change for Myanmar.
Our role is to help grassroots groups take their work to the next level. We vet groups to make sure they're trusted and supported by their own communities. Then, over 3 to 5 years, we build their leadership, organizational strength, project and financial management skills; help them access global donors and grants of $5,000 to $40,000; and link them with other experienced community groups in Myanmar and across borders to share solutions. Connecting with regional, national and global networks means they're not dependent upon us, but rather, can grow and learn from each other.
Please join us and our local partners! Especially at this pivotal time, your
generous gift
will make a difference to Burma's most vulnerable people.
Wishing healthy and peaceful holidays to you and yours!
With gratitude and hope,
The Partners Asia Team
---
here
to make a fast and secure online donation. Or mail donations to:
Partners Asia, 220 Second Avenue South, Seattle, WA 98104
FPB Founder and Board Chairman
Hal Nathan
leads Partners Asia along with directors
Therese Caouette and Zunetta Herbert
, who each have more than 20 years experience in Southeast Asia mobilizing a global network to support emergent civil society, displaced persons, refugees and migrants.
Jack Kornfield
,
Jane Dudley
,
Maung Tin-Wa
and
Eileen Moncoeur
continue to serve on our
Board of Directors
along with new members
Pwint Htun
and
Elena Gary.
---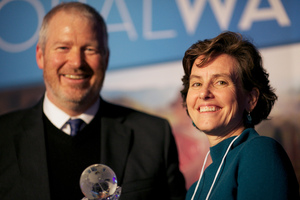 On Dec. 6, Executive Director Therese Caouette was honored with Global Washington's 2012 Global Hero Award, presented by Seattle Mayor Mike McGinn.
In her acceptance speech, Therese spoke eloquently about her efforts as a community organizer to put power and trust in the hands of local people. "...They have no rights, no recourse, no means of securing protection. All they have is their own their own ability to organize and speak out. Seeing their strength and confidence grow as they advocated for themselves and others highlights the importance of considering HOW we give aid. Sustainable development ultimately strengthens communities by reinforcing local knowledge and expertise. It gives people the confidence and skills to engage life's continuing challenges, long after we are gone." Click to watch the video.
Photo courtesy Rodrigo Valenzuela/Global WA