School is back in full swing!

Check out Ventura College's Fall 2012 Enrollment!
| | |
| --- | --- |
| First time students | 2,793 |
| First time transfers | 596 |
| Returning students | 1,794 |
| Continuing students | 7,415 |
| Special admission | 469 |
| Total | 13,067 |
______________________________________

Alumni Spotlight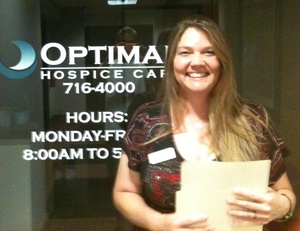 VC alumna, Kim
Stankewich, found the
means to pursue her dreams after receiving a
nursing scholarship from
the VC Foundation.
"I attended Ventura College for five years as a full time student. I lived in Ventura, which is essentially paradise. There's a cost to living in paradise however, and I wouldn't have been able to support myself and my adolescent daughter while pursuing my dream of becoming an RN, regardless of my three part-time jobs, without the aid of the Ventura College Foundation. The Foundation staff assisted me through the detailed and sometimes complex process of seeking and applying for scholarships. They were a continued source of support and strength and helped me to find donors who also supported my dream of bettering my life and the lives of all I touch.
"I came from a place in my life which was riddled with addiction and nearly destroyed me. Thankfully I found strength to overcome that dangerous place when I finally understood that I desired to enhance the world we share rather than to cause pain and spread sorrow with the selfish, destructive tendencies of addiction. When I completed my time in treatment I found myself influenced by the guidance of a trusted counselor to realize my need to give of myself and touch lives in a positive way through nursing.
"I became devoted to the cause and was driven to pursue the goal. It's sometimes daunting to be a full time student, a mom to an adolescent daughter, hold three part-time jobs, and volunteer weekly. When the Foundation staff would see me treading through they were all a source of encouragement and for that I will always be grateful. They helped me establish a scholarship through the student nurse association on campus so that we too could begin to give back financially.
"Currently, after two years as an RN, I am a hospice nurse. I get to help ease families through what is potentially the most frightening time in life for most people. I'm finding fulfillment that I never could have anticipated. I honestly don't believe I could have done it without the aid of the Ventura College Foundation. I simply wouldn't have been able to survive financially in nursing school without their help."

---
A Special Thanks to Kaiser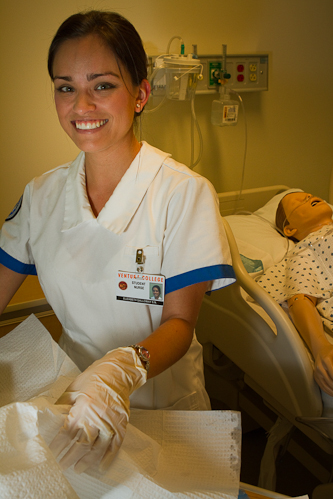 Kaiser Permanente has awarded Ventura College $40,000 in support of the Nursing Program.

This gift is over a two-year period, allowing for 20 - $1,000 scholarships each year.

If you have any questions on how to apply for scholarships, please contact The Ventura College Foundation at 805.654.6461

---
Accreditation News from VC President Robin Calote:

On November 13-14, 2012, Ventura College and the Ventura County Community College District will be visited by Accrediting Commission representatives as part of our Follow-Up Report requirements. Our visiting team will be chaired, once again, by Dr. Gilbert Stork, Superintendent/President of Cuesta College. He will be supported by three additional representatives. The team's tentative plans are to visit the college during the morning of November 13, to visit the district during the afternoon of November 13, to observe the Board meeting during the evening of November 13, and then to return for a full-day of appointments at the college on November 14. We will be told when they want us to schedule an open time for general comments from members of the college community.

On a separate accreditation issue: Ventura College was required to file a Special Report addressing the status of efforts to resolve a recurring financial aid audit issue and the internal controls in place to manage Title IV funds. The Commission has reviewed the Special Report that was submitted to them on these matters and is satisfied that the college has addressed its concerns.

Please note that ALL classes at Ventura College remain fully accredited and transferrable.


---
Congrats to VC Architecture Students!

Eight VC architecture students and local professionals (including instructor Curtis Cormane) worked together to envision a redesign of the neighborhood around lower Seaward Avenue.

The team worked together for three days, allowing students to apply theory learned in the classroom to a real design challenge.

You can find more information about this exciting experience on page 8 of the Ventura Breeze newspaper at http://www.venturabreeze.com/10.3.12.pdf .
---
The Ventura College Performing Arts Center is Now Open!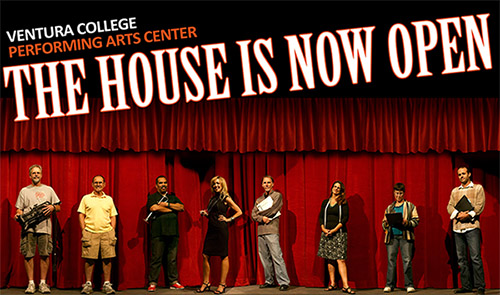 Check out VC's Upcoming Events, to see what great things will be taking place in this state-of-the-art newly renovated building!


Did you know?
There are lots of great ways to keep in touch with Ventura College! Log on to http://www.venturacollege.edu to find all the latest updates on the college and see what's going on around campus!

Also...

Check the venturacollege.edu website soon for the VC Foundation's Annual Report to the Community. Here you will find information on programs, statistics, student success stories, and more!
---


Athletics Highlights

VC Football Team Undefeated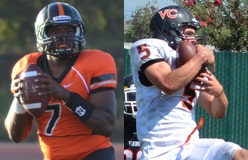 Described by the VC Star as an "irresistible force", the Ventura College football team pushed hard in their game against Allan Hancock College, winning themselves the title for the Southern California Football Assocation Northern Conference championship and landing them a spot in the SCFA State Playoffs beginning November 17th.

The Pirates will end the regular season at the VC Sportsplex November 3rd against Pasadena City College. Kickoff is scheduled for 6:00 p.m. Come watch as our team attempts to become the first in VC history to finish the season at 10-0.

You can also watch our unstoppable Pirates live
HERE!
!
---

VC Waterpolo Claims Two Victories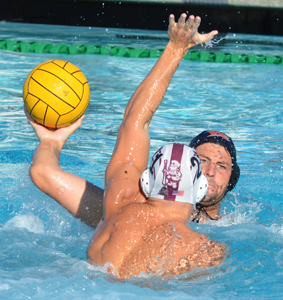 The VC men's water polo team claimed two matches by winning the Ventura Mini Tournament on Saturday the 27th.
They first defeated Mt. San Antonio 18 to 9 during their morning match.
Following their first win, the Pirates dominated their second match against Fullerton 18 to 3 that afternoon.


---

An Important Win for the Pirates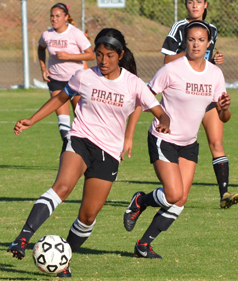 On Thursday October 25th, Ventura and Moorpark women's soccer teams battled it out during their 85 minute match. In the last few minutes, VC head coach Steve Hoffman made a smart switch and All-American Daisy Cardona scored an important goal ending the neck and neck game 1 to 0.

Their win against Santa Barbara City College on Tuesday October 30th virturally assured the team of another WSC championship. VC returns home to the VC Sportsplex Friday November 2 at 5:30 p.m. against the Cuesta Cougars. A win or tie will clinch the Pirates' 3rd straight conference crown!
---
Upcoming Events
November 7: Annual Clothesline Project, sponsored by the VC Psychology Club. Location and times TBA. Contact Lucy Capuano for additional information.
November 17 at 2:00 p.m. and 7:00 p.m. and November 18 at 2:00 p.m.: The Nutcracker, with Ventura College Orchestra performing as guest artists with the Ventura County Ballet, Oxnard Performing Arts Center.
November 27: Nutcracker Suite (outdoor orchestral performance), Quad, 12:00 p.m.

November 28: Ventura College Chamber Music, Ventura College Performing Arts Center, 8:00 p.m. Bob Lawson conducting.

November 30: Ventura College Choir Performance, Ventura College Performing Arts Center, 8:00 p.m. Brent WIlson conducting.
December 1 at 2:00 p.m. and 7:00 p.m. and December 2 at 1:00 p.m. Ventura College Performing Arts Center. The Nutcracker, with Ventura College Orchestra performing as guest artists with the Ventura County Ballet
December 2: Ventura College Jazz Ensemble Performance, Ventura College Performing Arts Center, 7:00 p.m. Leslie Drayton directing.
December 4-6: Student Ceramics Art Sale, Ventura College Gallery 2, 9:00 a.m. - 2:00 p.m.
December 4-6: Jewelry Sale, Ventura College New Media Gallery, 10:00 a.m. - 4:00 p.m.
December 6-9: Pirates of Penzance, Ventura College Performing Arts Center, 8:00 p.m. on December 6, 7, and 8 and 3:00 p.m. on December 9. Judy Gary, director, Brent Wilson, music director, and Krenly Guzman, choreographer.