Your Catholic Faith Should Change Your Life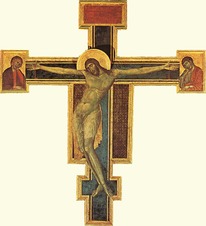 Welcome to the second edition of my free, weekly newsletter on the practical practice of the Catholic faith. This newsletter is called
FaithWorks!
because I believe our Catholic faith really does work. If you know how to practice practical Catholicism, your faith in Christ will change your life for the better.
This week my main article is the beginning of a series entitled Finding Forgiveness. One of the main problems many people have is that they are burdened with problems from the past. They are burdened with guilt, with bad memories, with regrets for things they have done and things that have been done to them.
They've been to confession and they know God has forgiven them, but the problem is they still don't FEEL forgiven! There are ways to deal with this problem, and I'd like to suggest a few in this article and in the articles in the weeks to come.
Have you learned how to listen to the voice of the Lord? The second article is the beginning of a series on contemplative prayer. We're getting started on this topic this week, and I'll be writing much more on prayer and how to pray in the weeks ahead.
Please use the links in this newsletter to connect to my blog, drop me an email to ask for advice or suggest an article idea. I hope you'll take a look at the books and resources I mention and that you will join in prayer for the success of this ministry. If you like the newsletter why not recommend it to a friend and invite them to sign up. Just send them to the sign up form on my blog
here
.
Finding Forgiveness - 1
How Can I Really Feel Forgiven?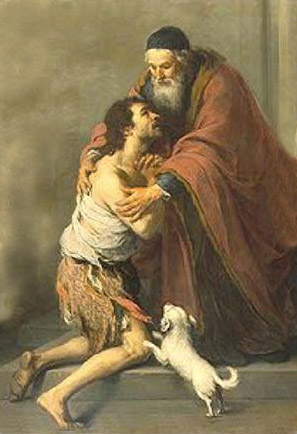 ---
We most often think of sin as the shameful, unpleasant and naughty things we've done. The bad things we do are only part of sin. More than just the sins we've committed, sin is a condition that we are in. We're not sinners because we sin. We sin because we're sinners. The only remedy for sin is forgiveness.
Self discipline helps. A positive attitude helps. A good self image helps. Hugs help. Counseling helps. But none of these are forgiveness. Forgiveness is something altogether greater and more mysterious. In the gospel when Jesus forgave people his enemies said, "Who does he think he is! Only God can forgive sins!" They were right. It is only God who can forgive sins.
That's why we come to God asking for forgiveness. He's the only one who can offer the forgiveness we long for. Why is that? Two reasons: First of all, true forgiveness is not just letting someone off the hook. True forgiveness excuses the crime and pays the price for the crime at the same time, and only God can do that through the sacrifice of his Son on the cross. Secondly, true forgiveness changes the person from the inside. It's not just a case of being excused for the bad things we've done. Real forgiveness is an active working of God's grace and goodness in our lives to help correct the inner problem of being a sinner--not just the outward problem of committing a sin. We can change the outside, but only God can change the inside.
True forgiveness works like that weed killer that you spray on the leaves, and the poison goes right down to the root and kills the weed for good. The power of God's forgiveness doesn't just take away the bad deed. It goes to the root of the problem and heals the true disease.
Finding this kind of forgiveness is the work of a lifetime. It means being changed from the inside out, and changed for good. The way for this change to happen is to first of all believe that it can happen. The second way to connect with this transforming power is regular confession. I mean not just sacramental confession, but a constant, daily examination of conscience and turning to the Lord. The third way to find this forgiveness is to be totally obedient to the will of the Lord.
Every day keep a time of silent prayer in which you put everything before God--not only the sins you've done, but your condition as a sinner. Finally--the Divine Mercy devotion is a wonderful way to constantly, daily and joyfully open your heart to the healing and forgiving mercy of God.
In the next part of this series on forgiveness I'll write about ways to find forgiveness for the sins that really weigh us down. Stay tuned!
Listening to God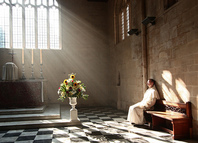 If someone tells you that God speaks to them do you think they're likely to be a little bit crazy?
Maybe. But maybe not. I believe the Lord really does speak to us, and that he wants to be in a regular relationship of communication with us all the time.
The problem is, we find it difficult to listen to him and hear his voice. It's kind of like trying to tune in to a distant radio station. We listen carefully and hear only static, then we can hear faint voices, then as we tune in more carefully we can make out the message. If we were to draw closer to the radio station the message would become even clearer.
I am a Benedictine oblate--that's a third order Benedictine. I've spent much time visiting Benedictine monasteries on retreat. One of the things I've learned from the monks is the need for silence if we are to hear the voice of the Lord.
Do you want to learn how to listen to God? First of all find some silence. Turn off all the noise! Turn off all the screens you're addicted to. Find some peace and quiet and do so regularly. Keep a time of prayer, and after the prayers leave time for sitting in silence. Speak to the Lord and then sit in alert and listening mode. Wait for a reply. Then continue to look and listen for the answer. The answer will come, but it may come in a way you don't expect. It will take time and patience and experience to learn how to discern the voice of the Lord and respond to his call.
Next week I will write further on the art of listening to the Lord in prayer--especially how to discern the Lord's voice and to be aware of the many different ways the voice of the Lord may come to you.
Link to my website
Catholicism Pure and Simple
Catholicism Pure and Simple is a simple and readable introduction to the Catholic faith.
Starting with arguments for God and going through to explain the Scriptures, Sacraments, the Church and the life of prayer, this is a perfect book for confirmation candidates, RCIA members, and anyone who wants a basic refresher course in their faith.
"Father Dwight Longenecker does for Catholicism what C. S. Lewis did for "mere Christianity".
-- Joseph Pearce, Author, C.S.Lewis and the Catholic Church.
"I loved Fr. Longenecker's incisive, witty style... he gets into the heads of readers and helps them discover the eternal treasures of the Catholic Church."
-- Ronda Chervin Ph.D., Professor of Philosophy, Holy Apostles College and Seminary

Fr Dwight Longenecker
Fr Longenecker is a former Evnagelical. He became an Anglican priest, and was ordained as a Catholic priest in 2006.
He is a popular blogger at Standing on My Head. He is author of fifteen books, and is well known as a speaker and broadcaster.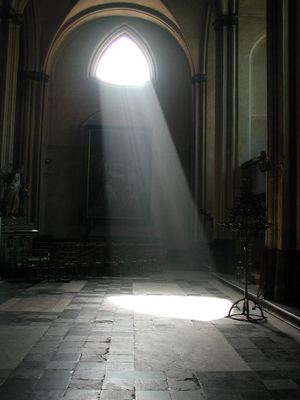 Points to Ponder
It is difficult to believe because it is difficult to obey
God comes to us from below and we must always stoop to find Him
The Catholic Life is an adventure or it is nothing at all!
Christ did not come to be served but to serve...

How do you serve others?

Christ's death is the full, final sacrifice

Do you live a life of sacrifice--giving of your time, your talents and your treasure?
Using the Rosary to Find Forgiveness

In weeks to come I will be writing a series of article on how praying the rosary can help us find forgiveness and inner healing.
In the meantime, why not check out my book on the subject?
This practical book takes the reader through the rosary mystery by mystery and shows how meditation on the mysteries of the gospel work to heal the wounds from the past.
From Readers:
"Fr Longenecker, thank you for this book! It has changed my life in an amazing way!"
"Please send me twenty copies of Praying the Rosary for Inner Healing. I have found a new way to pray the rosary and want to share it with others!"
"Connecting the Rosary with the stages of life helped me work through problems from my early days. Thanks for your excellent book!"

Learn More