With myrrh, aloes, and cassia, your robes are fragrant (Ps. 45:9).

by Dr. Mark Ginter
Head Coordinating Servant
The death of Jesus Christ is unique for many reasons. Among them, one reason is the stench, or lack of it, as the case may be.
In the previous four newsletters, I have provided the theological rationale for the stanzas to the "Prayer of the Handmaids and Servants of the Gardener for a New Springtime of the Church through a New Evangelization." Each stanza highlights one of the five senses because all human knowledge begins with the senses.
Yet, as Pope Blessed John Paul II teaches, "The word of God refers constantly to things which transcend human experience and even human thought; but this 'mystery' could not be revealed, nor could theology render it in some way intelligible, were human knowledge limited strictly to the world of sense experience" (
Fides et Ratio
, 83.3). In this column I want to meditate upon the sense of smell as an essential source of knowledge to lead us to evangelization.
Also, the sense of smell is unique because it might be the least understood and the most taken for granted in contemporary society that both creates artificially new aromas daily and provides multiple layers of safety. However, in the ancient world, the sense of smell was relied upon more than it is today because pleasant aromas were uncommon and because it often was the first warning sign of danger.
Furthermore, scientific research confirms that women, more than men, tend to have more sensitive senses of smell. This difference might explain why all four Gospels - that, in itself, is a very surprising occurrence - have an account of Jesus being anointed with a perfumed oil by a woman (Mt. 26:6-13; Mk. 14:3-9; Lk. 7:36-50; Jn. 12:1-11).
As we read in 2 Chronicles 16:14, King Asa of Judah was buried "in the tomb he had hewn for himself in the City of David, after laying him on a couch that was filled with spices and various kinds of aromatics compounded into an ointment; and they kindled a huge fire for him."
Thus, scholars tell us that Israelite deceased kings were so highly regarded that the stench of decomposing flesh was attacked by a combination of anointing the body with herbal compounds and a fire of pleasing fragrances (see also Jer. 34:5).
The mystery, though, lies in the purpose of the anointing of Jesus and why the sense of smell is actually used by the Evangelists to reveal the incomparable message that Jesus Christ is risen from the dead.
While we don't have space to analyze every detail of the Gospel accounts, we may simply point out that in Mt., Mk., and Jn.'s accounts, Jesus says that this aromatic anointing is in preparation for his burial. While it might have been a common practice in ancient times to wash and anoint every body with a pleasing aroma, it is written about very little, except in the case of someone like King Asa or Jesus.
Furthermore, Mk. 16:1 and Lk. 24:1 mention that the women who came to the tomb on Sunday morning did so in order to anoint the dead body of Jesus with spices.
However, Jesus was not dead. Nor, did his body begin the process of decomposition. We believe that his body did not begin to decay because, as we profess in the Niceno-Constantinopolitan Creed, "...he suffered death and was buried, and rose again on the third day in accordance with the Scriptures..." As the
Catechism
(627) summarizes the faith of the Church, "...[D]ivine power preserved Christ's body from corruption...because bodily decay was held to begin on the fourth day after death."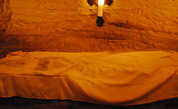 So, in saying that these anointings were preparation for his burial, was Jesus somehow ignorant of the incorruptibility of his sacred body? On the surface, it might seem that Jesus was not fully aware of his divinity, if he was giving instructions for his burial that was supposed to be like everyone else's corruptible death. With the eyes of faith, though, it makes more sense to see these anointings as a fulfillment of some other Scripture passages and as an indication of his prophetic, royal, and priestly offices.
Recall what the Risen Lord says to the two disciples on the road to Emmaus who are unable to recognize Jesus' physical appearance, "'Oh, how foolish you are! How slow of heart to believe all that the prophets spoke! Was it not necessary that the Messiah should suffer these things and enter into his glory?' Then beginning with Moses and all the prophets, he interpreted to them what referred to him in
all
the scriptures" (Lk. 24:25-27).
Although the New Testament does not quote Ps. 23, doesn't Jesus' death and resurrection fulfill this Psalm perfectly?
"In green pastures, he makes me lie down" (v. 2). It is no coincidence that Jesus is buried in a tomb in a Garden, presumably a very lush, green area.
"He restores my soul" (v. 3). Jesus' resurrection is the perfect restoration of his human soul.
We often pray this Psalm at Christian funerals, but who more perfectly walks through the valley of the shadow of death with no fear (v. 4) than Jesus?
The most famous incident of one's head being anointed with oil at a banquet happens to Jesus in Mt. and Mk. while Lk. remarks that it should have happened when a guest enters a house. "You anoint my head with oil" (v. 5) seems to have been fulfilled most clearly by Jesus, doesn't it?
Who else can claim most correctly, "Indeed, goodness and mercy will pursue me all the days of my life; I will dwell in the house of the Lord for endless days" (v. 6)?
With the apparent parallel to King Asa's burial anointing, it seems that Jesus should be treated as a king as well. Yet, Jesus seems to fulfill another prophecy beyond expectation. In Ps. 45, this love song extols the superlative power and grace of the king...for as long as he is alive..., until the Psalm turns to God as the King. Then, we certainly see fulfillment in these words, "Your throne, O God, stands forever; your royal scepter is a scepter for justice. You love justice and hate wrongdoing; therefore God, your God, has anointed you with the oil of gladness above your fellow kings. With myrrh, aloes, and cassia, your robes are fragrant" (vv. 7-9).
The
key
text, though, comes in the New Testament which harkens back to the Old Testament. In the Letter to the Ephesians, St. Paul writes, "So be imitators of God, as beloved children, and live in love, as Christ loved us and handed himself over for us as
a sacrificial offering to God for a fragrant aroma
" (Eph. 5:1-2). To say that Christ is "a sacrificial offering" is to identify him with the burnt offerings in the Old Testament and in the Temple in Jerusalem. The requirements of such sacrifices are detailed in the Books of Exodus, Leviticus, and Numbers.
Ex. 29:18 reads, "Then you shall burn the entire ram on the altar, since it is a burnt offering, a sweet-smelling oblation to the Lord."
Num. 28:6 speaks of the daily morning and evening sacrifices of a year old, unblemished lamb, "This is the regular burnt offering that was made at Mount Sinai for a pleasing aroma, an oblation to the Lord."
This sweet-smelling or fragrant aroma in Ephesians, Exodus, and Numbers appears as the exact phrase in Jn. 12:3 after Mary of Bethany anoints the feet of Jesus with a fragrant oil, the aroma of which fills the whole house.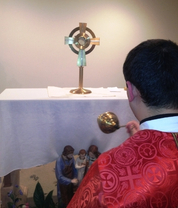 The point is this: Jesus is anointed to fulfill the prophecies spoken in the Psalms, Jesus is anointed as the king (messiah), Jesus is anointed as the high priest, Jesus is anointed as the altar, and Jesus is anointed as the sacrifice.
"Holy Redeemer, I have inhaled you. Sensitize me to be a hopeful witness to this fragrance." God's PEACE!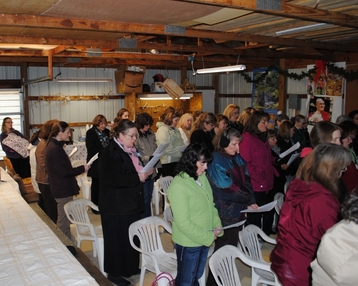 To the delight of all, SJHF hosted our first Women's Conference on Sat. Feb. 9. We had a packed cabin (where confessions were heard and the food was served), a packed pole barn (where Mass was celebrated and lunch took place) and a packed Welcome Center (where conferences were given and spiritual exercises took place in a warmer alternative to the seasonable, but chilly outdoors).
The evaluations were so positive that we look forward to hosting next year's conference on Feb. 8, 2014.
Mark your calenders now!
Thanks to Phyllis Hayden and her daughters, Mary and Sarah, for the organization of the day and the food.
Thanks to our priests, Fr. Chris Forler and Fr. Jeff Read.
Thanks to our conference presenters, Mary Altman, Colleen Buechler, and Donna Burry.
Thanks to Cris Goldbach for the traffic direction, golf cart chauffeuring, and water fall mechanics.
Thanks to the parishes, dioceses, and archdioceses for their promotion of the event.
Thanks to the women who attended and to the men in their lives who let them "come away to a deserted place and rest awhile."
God bless you all!
---
BOOK YOUR RETREAT FOR 2013 NOW!
We are booking retreats now for summer and fall 2013. Contact us as soon as possible for your school, parish, men's, women's, youth, Cursillo, or CHRP group. Daylong retreats are perfect for school groups. Our retreats and facilities are family-friendly.

---
Mission Statement

The Mission of St. Joseph's Holy Family, Inc., is the renewal of Catholic family life through the inspired and natural beauty of God's Country for those already pursuing a vocation as a domestic church, for youth discerning their vocation to service in communion, and for all of Christ's disciples who have a common vocation to holiness and to the mission of evangelizing the world.
Pillars:
To Learn - To Pray - To Work - To Play
St. Joseph's Holy Family, Inc.
is a
501(c)(3) Indiana non-profit
operating as an apostolate within the Archdiocese of Indianapolis.
Voice of the Gardener Newsletter,
Vol. 3, No. 2, March 1, 2013

©2013 Gardener's Servant Productions.
All Rights Reserved.
---
Testimony: Finding a 'Faith Haven' at God's Country

Tanya Williams
March 2013
I first heard of God's Country from my mother who had visited the property on a whim with two of her close friends. She had wanted to introduce me to this outdoor 'faith haven' over the course of several months until we finally found our schedules collide on a warm, sunny Sunday in August. With my two nieces in tow, we journeyed toward the first of many Christ-led excursions together. Little did I know at that time what a spiritually transforming experience this trip to a land called "God's Country" would turn out to be.

I was blown away by the hidden treasure of holiness and stunning terrain surrounding the fruitful efforts originated by one man and his idea. As a lover of the outdoors, I appreciated the sustained integrity of God's creations to serve as the backdrop for a much-needed setting for those who wish to escape the secular comforts of everyday life to pray and shift focus back to Him. After all, He has given us the tools and it is up to us to use them. I view God's Country as a workshop that is equipped and driven by our desire to serve.
While my mother, nieces and I were exploring the various trails and devotions on the land, Dr. Ginter arrived and came to greet us. This presented an unplanned opportunity for the will of God to intercede. As I expressed my favorable initial impression of the property, it occurred to me that I should get involved. Something from within was calling me to grow close to this peaceful place. I mentioned that I would like to help out in any capacity possible which led to a longer conversation concerning the needs of God's Country and St. Joseph's Holy Family.

After much discussion and prayer, Dr. Ginter and I agreed on a volunteer position to fulfill office duties as needed. In addition to college courses and other employment, I currently extend my time weekly on various tasks to advance this apostolate.
What I have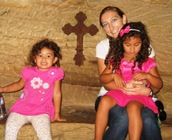 not yet mentioned is the personal conversion that had started just prior to my first visit to God's Country. Many events had occurred in the years and months leading up to this unforeseen blessing that culminated in the intense renewal of Jesus Christ back into my mind, heart, body and soul. I had been away from the Church but heard Him calling for my return. The realization, though, is that He didn't just want me back; He wanted me to be more active than before.

While my conversion continues and my role is revealed, I'm confident that I am exactly where He wants me to be at this time. The work I get to do at St. Joseph's Holy Family is indeed part of God's plan for me. I am so thankful for the Divine invitation to rediscover Christ and everything He has to offer. God's Country and the apostolate's mission to renew Catholic family life provide encounters like mine continuously through the natural landscape dedicated to our beautiful faith.
---
Your Needs Placed Before God's Mercy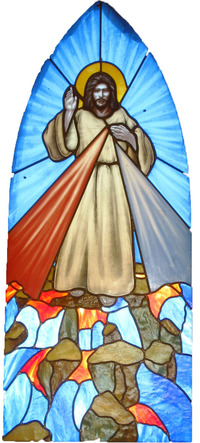 We invite you to send us your prayer requests. A binder rests below the only publicly available Divine Mercy stained glass window in the US in the Gardener's House. God's Country is America's most blessed 32 acres. God answers prayers here. We want the whole world to know it and to receive the blessings from a visit.
---
ATTENTION: Knights of Columbus, return to God's Country to build up your faith this year!
The 2nd Annual Men's Retreat for Knights of Columbus will be Sat. April 20. The detailed schedule is in the column above on the right.
The following information about the
conference presenters
could help you to invite your friends:
Priests from the Archdiocese of Louisville, Kentucky, Fr. James Bromwich and Fr. Dan Whelan have been invited by Bishop Kevin Rhoades of the Diocese of Fort Wayne-South Bend, Indiana, to begin the process of forming a new Oratory of St. Philip Neri. In August of 2012, they were issued a decree by Bishop Rhoades, making the Sons of Saint Philip Neri a clerical private association of the Christian faithful with juridic personality. In this decree, His Excellency also approved their statutes. They have now entered the second stage in the process of becoming an Oratory of St. Philip Neri in the Diocese of Fort Wayne-South Bend. As they establish their stability and receive vocations to their community, they will eventually become a Congregation of the Oratory of Pontifical Right.
"A Community-in-Formation of the Congregation of the Oratory. We are priests and brothers dedicated to living a life faithful to the charism of St. Philip Neri: a life of charity and evangelization. To this end, we are also committed to ministering to at-risk families and building a culture of life in the spirit of the New Evangelization. For more information and to support our apostolates, visit http://www.sonsofphilip.com/"
Work Session
In addition to free food, good fellowship, and spiritual exercise, the Knights will be asked to give back to f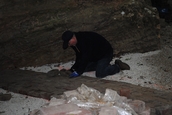 amilies by repairing broken and deteriorating Rosary Trail signs. BRING POST HOLE DIGGERS, 3' LEVELS, BATTERY OPERATED DRILLS, SHOVELS, RAKES, TAMPERS, WHEEL BARROWS, HAND TOOLS.
(Here a Knight lays brick along the Way of the Cross Trail at the 2012 Retreat/Work Session.)

Rise Up, O Men of Faith!
This is the theme for the retreat in this Year of Faith. All men who attend the retreat will receive a complimentary copy of Patrick Madrid's book
A Pocket Guide to Catholic Apologetics
. It gives basic tools to defend one's Catholic faith in the mission of evangelizing the world.
RSVP by April 1!
You may RSVP by phone, but you may also do so by sending us an e-mail (sjhf@psci.net) with the names of those attending and their K of C Councils.
We look forward to hosting you for a day of work and rest.
---
---
Coming Soon!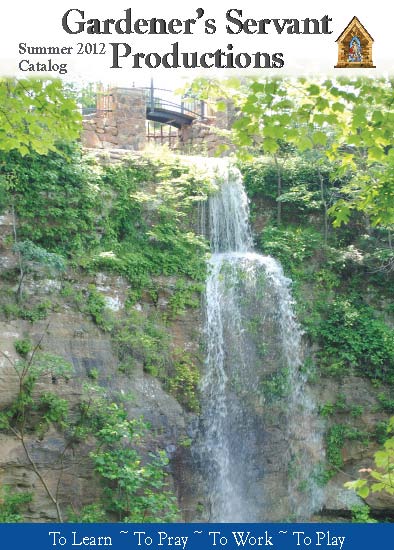 A catalog of catechetical tools and rosary aids to help you evangelize during the Year of Faith. We will let you know when
Gardener's Servant Productions
are available. Look for us at the Louisville Men's Conference on March 16 and Source and Summit Conference in Evansville.
---
THANK YOU! THANK YOU! THANK YOU!


FIRST SATURDAY DEVOTIONS
Winter Schedule (
Central Time
):
9:30
Registration at the Welcome Center

10:00
The Message of Fatima in the Pole Barn / Classroom

10:15
Examination of Conscience at Ten Commandments or in the Pole Barn

10:30 – 11:15
Confessions in the Gardener's House or in the Welcome Center

10:30 – 11:15
Stations of the Cross on the Trail or in the Pole Barn

11:30
Mass in the Welcome Center

12:00
Angelus before Pitch-in Meal

1:15
Rosary on Trail or in the Welcome Center

2:15
Teaching on Marian Apparition in the Welcome Center

3:00
Divine Mercy Chaplet at Gardener's House or in the Welcome Center
Afterwards, families are welcome to play and to cook out. To arrange a visit or to request a group retreat,
contact the Welcome Center (812.357.2119).
ALL SERVICES ARE GIFTS FROM GOD. SJHF IS A 501(c)(3) NON-PROFIT CORPORATION.
THANK GOD BY DONATING GENEROUSLY TO:
ST. JOSEPH'S HOLY FAMILY, INC.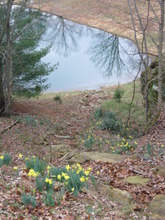 UPCOMING EVENTS AT GOD'S COUNTRY


March 14, 6:30 p.m.
- Second Thursday Holy Hour at St. Boniface Catholic Church, Evansville. Dcn. Tom Kempf will preside.
March 15, 6:00 p.m.
– Soup with Substance and D.R.E.s Speakers' Series with Pam Freyberger, D.R.E., St. Joseph Parish, Jasper. Bring soup and bread to share and flashlights for the twilight Stations of the Cross.
March 22, 6:00 p.m.
– Soup with Substance and D.R.E.s Speakers' Series TBA. Bring soup and bread to share and flashlights for the twilight Stations of the Cross.
March 29, GOOD FRIDAY, 6:00 p.m.
- Soup with Substance. Dr. Mark speaks on the Mystery of Redemption. Bring soup and bread to share and flashlights and flowers for the twilight Stations of the Cross and procession to the tomb.
April 6, EASTER SATURDAY, 9:30 a.m.
- First Saturday Devotions within the Octave of Easter. See schedule above. Teaching on Our Lady of Beauraing, Belgium. Sacraments will be celebrated by a priest TBA.
April 11, 6:30 p.m.
- Second Thursday Holy Hour at St. Boniface Catholic Church, Evansville. Dcn. Tom Kempf will preside.
++++++++++++++++++++
April 20
- MEN'S RETREAT. Theme: "Rise up, O Men of Faith!"
8:00
Introduction & Welcome - Dr. Mark
8:15
Pancake and Sausage Breakfast
9:00
Examination of Conscience
9:15
Confessions - Frs. James Bramwich and Dan Whelan
9:15 Joyful Mysteries of the Rosary
10:15
Mass
11:00
Conference 1
11:00 Confessions continue as needed.
12:00
Regina Coeli
and Lunch
1:00
Work Session
3:15
Divine Mercy Chaplet
3:45
Conference 2
4:30
Concluding Prayer for Families
++++++++++++++++++++

April 26, 6:30 p.m.
- Fourth Friday Free Family Flix For Fun. Bring snacks to share.
Saint Rita
, Part 1. Run time: 100 minutes (approx.)

My God, I believe, I adore, I hope, and I love you. I ask pardon of you for those who do not believe, do not adore, do not hope, and do not love you.
-prayer
taught to the Fatima children by the Angel of Peace in 1916


Please join us for the St. Joseph's Holy Family, Inc. Holy Hour every 2nd Thursday at the St. Boniface Catholic Church Grotto in Evansville.
We would love to expand our Holy Hours for the renewal of Catholic family life to a parish or chapel in the Archdiocese of Louisville or the Diocese of Owensboro on a different Thursday evening. Permanent Deacons are especially encouraged to contact us for more details.

---


Parishes & Mass Times in the Tell City Deanery

St. Paul, Tell City
Rev. Dennis Duvelius, V.F.,
Pastor
5:30 p.m.
Sat.
9:30 a.m.
Sun.
11:30 a.m.
Sun.
St. Mark, Perry County
5:30 p.m. (Summer)/
4:00 p.m. (Winter)
Sat.
8:00 a.m.
Sun.
-------------------

St. Augustine, Leopold
Rev. Brian Esarey,
Pastor
4:00 p.m.
Sat.
10:30 a.m.
Sun.
Holy Cross, St. Croix
9:00 am.
Sun.
St. Martin of Tours, Siberia
7:30 a.m.
Sun.
-------------------

St. Michael, Cannelton
Fr. Sengole Thomas Gnanaraj,
Admin
.
8:00 a.m.
Sun.
St. Pius V, Troy
10:30 a.m.
Sun.
-------------------

St. Isidore the Farmer, Perry County
Rev. Guy Mansini, OSB,
Pastor
6:00 p.m.
Sat.
9:30 a.m.
Sun.
-------------------

St. Meinrad, St. Meinrad
Rev. Anthony M. Vinson, OSB,
Pastor
8:00 a.m.
Sun.
St. Boniface, Fulda
5:00 p.m.
Sat.
6:00 a.m.
Sun.
-------------------

St. Joseph, Crawford County
Rev. John L. Fink,
Admin
.
9:15 a.m.
Sun
.
---


---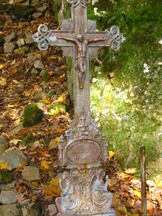 MEMORIALS
Donations have been given for:
Nita Smith

by Donna and Garry Burry
+ + +


and for

Walter Duing

by:
Dcn. Thomas and Sheldona Kempf
David D. and Anita Seger
Vincent & Victoria Granacher
Mary F. and David Uebelhor
Fr. J. Kevin Finnegan
Mary A. Altman
Stanley and Martha Steckler
~~~~~~~~~~~~~~
Eternal rest grant unto them, O Lord, and let perpetual light shine upon them.
May their souls and all the souls of the faithful departed through the mercy of God rest in peace. Amen.
May their memory be eternal!

Little Flower in the Garden of the Lord Blog