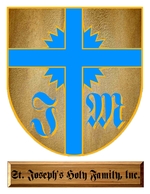 Dear Handmaids and Servants of the Gardener,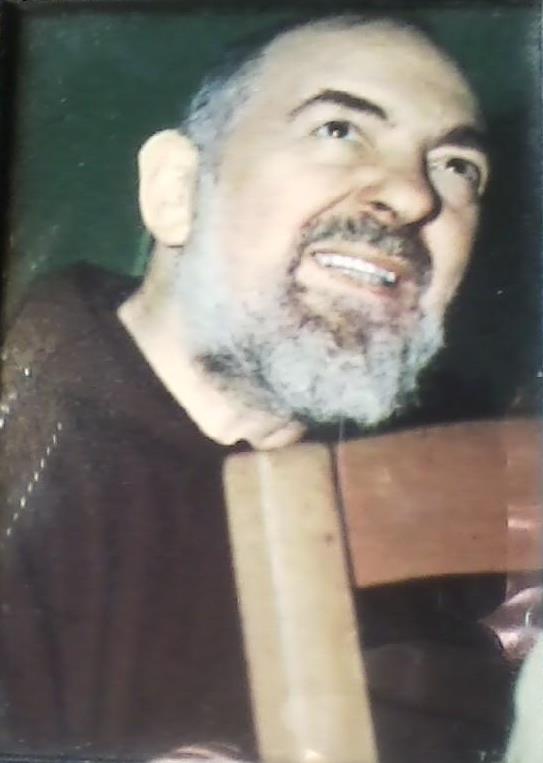 Happy Feast of St. Pio of Pietrelcina! This saint is known more widely as "Padre Pio." He figures significantly in our apostolate for several reasons. This is also the 17th anniversary of the death of Joseph I. Ubelhor (1909-1997), the Catholic church architect, builder, and master stone mason whose farm, partially, has become known all over the world now as "God's Country."

Padre Pio is also significant because Greg Haas believes that this brown robed man came to him in a dream even before Greg knew who he was. Greg is the grandson of Joseph Ubelhor and has designed and built the religious items on God's Country with help from his family and friends. The exact image of this bearded man was quite unusual, kneeling behind a chair and looking up. So, when Greg saw it in a gift shop in Conyers, GA in 1995, he knew that he had to purchase it. Only after he agreed to buy it, did Greg learn that the man in the photo was the famous Padre Pio. So, we do not believe that it is mere coincidence that Joseph Ubelhor died on the same day as Padre Pio.

Furthermore, today is the 5th anniversary of Greg's invitation to me to begin directing St. Joseph's Holy Family, Inc. Neither he nor I had the foresight to plan it that way. It just so happened to have worked into our schedules that way.

Could it be that such amazing things have been happeningly lately at God's Country in memory of Padre Pio...and Joseph Ubelhor? Let me tell you briefly about the many activities.



Yesterday, Sept. 22, 2014, we were visited by Archduke Markus Salvator von Hapsburg-Loth
ringen and Archduchess Hildegarde of Austria. They were visiting Indiana for various reasons, but especially to appear during the Ferdinand Folk Fest as one of the events of Ferdinand's 175th Anniversary Celebration. The town is named in honor of the Archduke's great, great uncle, Emperor Ferdinand I of Austria. Much to our delight, Kathy Tretter, co-publisher of the Ferdinand News and Spencer County Leader, called me to ask if a visit by his Lordship and Ladyship could be arranged.

God's timing was perfect! They, and their delightful entourage, arrived in time to enjoy a beautiful sunset over the Gardener's House, with sunrays streaming through the Divine Mercy stained glass window. Even though there were 10 people in their party, most of this group were local and had never been to God's Country before. Cris Goldbach fired up the diesel engine so that Mercy Falls was gushing thunderously over the rocks and cliffs. So, we are so thankful that Kathy thought about us and put God's Country as a top pick for these Catholic dignitaries to visit while in southern Indiana.

I quickly snapped this picture of the Archduchess, the Archduke, Greg, and Elizabeth just before the honorable couple departed from God's Country. What an unexpected and royal gift!



TO PLAY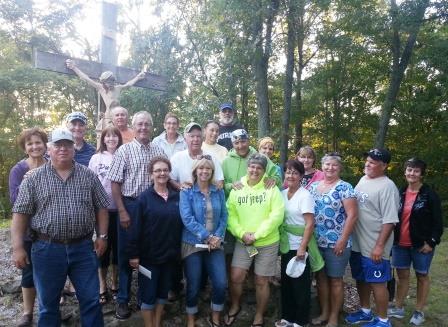 On Sunday evening, Sept. 21, 2014, God had given us a preview of his magnificent artistry. The Ireland, IN Jeep Club came for a visit. Margaret Brescher called a week ago and asked if they could come for a visit.

Of course, we welcomed them as we would anyone who has the same love for God's natural beauty that we do. Twenty members of the club drove in for a picture perfect sunset and a blessing of God's choicest gifts.

We are so thankful that they had the courtesy to call and that I could meet them for a prayerful, personal tour. While religion does not necessarily bring them together, we wanted their visit to be a personal encounter with the Lord Jesus Christ just as much as anyone else's visit to God's Country.

So, contact us for a tour by your social or civic group as well as by your parish or prayer group.


TO WORK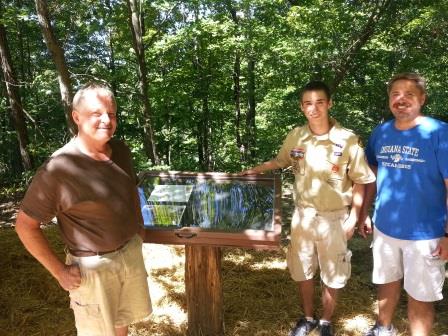 Earlier in the day on Sunday, Nick Freyberger put the finishing touches on his Eagle Scout Project. This has been in the works for over one year, but he sowed seeds of a new springtime of the Church ;) around his First Aid Shed.

Thanks to his dad's, Doug Freyberger, fatherly direction, Nick placed himself under Greg Haas' craftsmanship and learned a thing or two about constructing a stone building. Next to the First Aid Shed is a display map for pilgrims and visitors who wander onto God's Country without calling us ahead of time.

We prefer the phone call because we try to keep track of visits. However, based on what people tell me, there are many visits that we have no record of. We are just thankful that, now, even more people will be able to find their way around America's most blessed 32 acres. We sure would like some donations for signs along the highways to show people how to get here more easily.



TO PRAY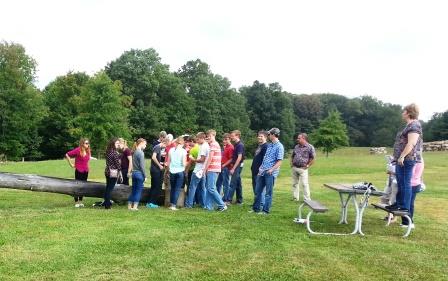 Even before I shot the above photo of Greg and Nick and Doug, we had an energetic visit from the St. Celestine and St. Raphael Confirmation Class. About 33 candidates and their sponsors came to God's Country for a mini-retreat Sunday morning. As we made our way along the 4 Steps of Discipleship, they became eager to embrace the challenge and the grace that the Sacrament of Confirmation brings. In this photo, their Parish Catechetical Leader, Glenda Prechtel, is giving directions while the disciples are nailing their sins, their concerns, their worries, their anxieties to the Old Rugged Cross so that they never have to shoulder them again.

At various times throughout the weekend, descendents of George and Theresa Ubelhor (Joseph's uncle and aunt and adopted parents) came for visits during the Annual Ubelhor Reunion at the G and T Farm. Cris Goldbach is a natural descendent of George and Theresa.



TO LEARN


Saturday, though, was an absolutely delightful day for our First Artists' Retreat. Thanks to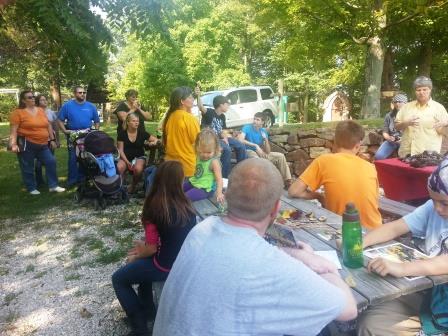 the generosity and planning by Lisa Bittner and her daughter, Anna Schulten, over 20 people plied themselves to their own crafts as well as took up some of the art at the different stations.

There were photographers, sketchers, chainsaw carvers, and routerers. We made pinecone bird feeders, acorn crosses, leaf impressions, wood signs, a bench, drawings, rosaries, and new friends.

Thanks to technology, Anna delivered a presentation virtually on "A Theology of Creativity," and yours truly shared briefly a presentation titled, "Full of Wonder," both of which relied heavily upon the writings of Pope St. John Paul II. Anna's presentation will be available soon on our website. Folded into the schedule was time for prayer, food, and fellowship. Again, the weather was A-W-E-S-O-M-E! THANKS, GOD!

We certainly hope to repeat this retreat in the future. When we tried it in the spring, we did not have enough response. However, we hope that the obvious momentum will carry us forward to a semi annual scheduling of Artists' retreats.

We love to share with you, our community spread all over God's beautiful earth, about the great blessings being showered down upon us. All of our retreats are by free will offerings. When God is generous to you, we pray that you will be generous with us. When times are difficult for you, we hope that we can be there for you to hold you up and give you hope in your time of need.

We are in our fifth year of full time operation, and we aren't operating in the black yet this year. Won't you blow us away with a gift beyond our imagining so that we can provide for even more renewal of Catholic family life? You have sustained us this far. Through your generosity, you can take us to a new level of touching more lives with the Good News of Jesus Christ.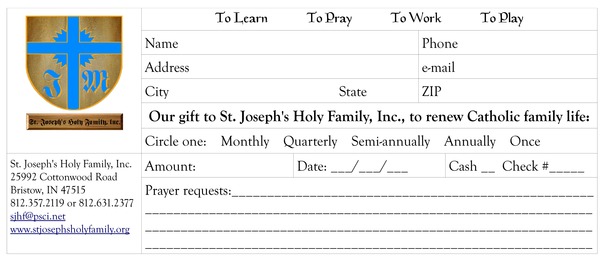 Through the intercession of Padre Pio, a great miracle worker, may you have your deepest need met. May the prayers of all of the Handmaids and Servants of the Gardener sustain us in our vocations to love.

God's PEACE!
Mark



---