Jan. 3, 2016

Dear Handmaids and Servants of the Gardener,

Happy Solemnity of the Epiphany (transferred)!

I am so thankful to everyone who works with us for the renewal of Catholic family life. Your End-of-the-Year efforts are deeply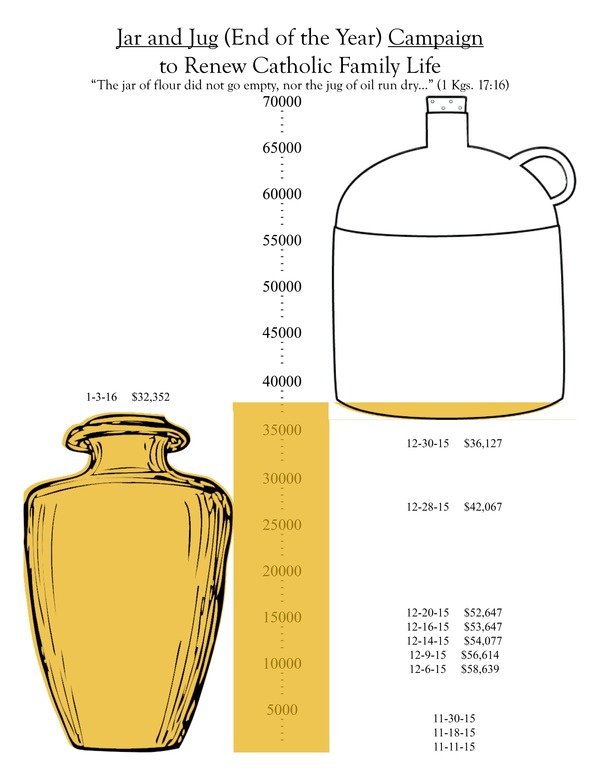 appreciated. I realize that many of you wanted to hear from me immediately on Jan. 1, but I needed to wait for the mail to arrive here on Jan. 2 to know what the final donations were. So, let me begin with what is likely to be the final result of our Jar and Jug Campaign.

Your original goal on Nov. 1 was $70,000. We ended with a shortfall of $32,352. So, you donated $37,648 in the past two months.

THANK YOU! THANK YOU! THANK YOU!



It's possible that there might be some other checks in the mail tomorrow that you want to count for your donations for 2015, but I'm not necessarily expecting any.

So, the conclusion seems obvious, . . . except for the call at 3:30 p.m. on Dec. 31. I was speaking with a possible benefactor about our financial need. I told this person that I cannot continue with SJHF unless we meet our financial goal. That person's response was, "

Mark, they're not going to shut you down

." This person expected a return on an investment on Dec. 30. That return has not arrived...yet. The new expected return date is mid-January.

You know how much I want to continue, and this person knows that, too. Therefore, trusting Jesus to provide through this anticipated imminent donation, we will proceed with our

2016 Plan to Expand

. At this time, I presume that our financial needs will be met very soon.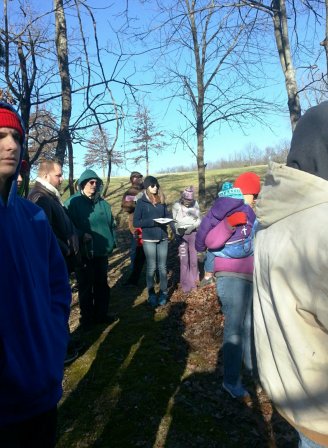 However, you can help me right now. I would like to show to this potential benefactor how wide and how deep our apostolate reaches. In our e-mails, I try to show as often as possible your notes, endorsements from priests and deacons, and testimonies. So many of you made heartfelt donations recently that I believe that you have been touched by our apostolate in a special way. Can you share those with me? I'd like to forward as many of these to this potential benefactor. Please let me know if I can use your name. If I can use your note in these newletters as well, just say, "Publish." Remember, this apostolate is not about you or me or anyone of us. It's about the Master Gardener, whom we serve. Yet, he gets the glory when you share your story of conversion, healing, or growth in the Holy Spirit.

I need you to help with our

2016 Plan to Expand

. Soon, we will be announcing dates of annual events and new experiences on God's Country. You need to help me get off campus as much as possible with the Good News of the Gospel of the Family and Life. It's the Extraordinary Jubilee of Mercy. Billions of souls need to be saved. Marriages need to be saved. Families need to be saved. Youth need to be saved. Babies need to be saved. Let's do it here and now.

Yesterday was the

First Saturday of January

. We had 26 pilgrims. Also, we have some new Fatima Fellows: the Chad and Yvonne Lueken Family. They just completed Five First Saturdays in a row. Chad and Yvonne, your family will receive every blessing promised by Our Lady.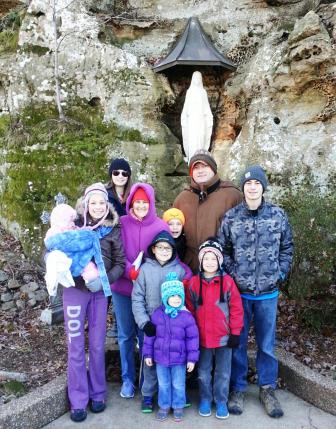 We have another candidate for Fatima Fellows: Tom Gehlhausen. He's completed his 2nd First Saturday in a row. He wants to do three more. Between February 2016 and October 2017, the 100th Anniversary of the last apparition of Our Lady of Fatima, there are only 21 First Saturdays left. Will you join the Fatima Fellows? Wouldn't that be a great goal for you and for your family for the Extraordinary Jubilee of Mercy?

Diane has begun her 54 holy hours in thanksgiving of your support. She and I spent 3 hours in adoration on Dec. 30. Having banked some extra hours, she spent a couple of hours today at Monastery Immaculate Conception in Ferdinand for you and your intentions.


Dec. 30, 2015 - Immaculate Heart of Mary Adoration Chapel, Washington, IN

Jan. 3, 2016 - Monastery Immaculate Conception Chapel, Ferdinand, IN


Jan. 3, 2016 - Fatima Shrine at Monastery Immaculate Conception, Ferdinand, IN
Diane asks, "

Our Lady of Fatima, what do you have in store for us in 2016?

"

Look for some new content very soon on our website. Follow us on Facebook and Twitter. Look for more opportunities to pray together via SKYPE.

Sts. Casper, Melchior, and Balthasar, pray for us to persevere in our quest to find Christ.
St. Joseph, provide and protect all families.
Queen of Peace, pray for peace to reign in our hearts, our homes, and our world.

God's PEACE!
Mark


---
---
St. Joseph's Holy Family, Inc.
25992 Cottonwood Road
Bristow, Indiana 47515
US


Read the VerticalResponse marketing policy.