Behold the Lamb of God who becomes the bread of life for all who believe.

by Dr. Mark Ginter
Head Coordinating Servant


What we eat and how we eat matters to our eternal salvation (see Jn. 6:53). In our consumeristic society, this idea seems totally alien. Rather, the creed of the here and now is, "Eat whatever you want and however much you want." Such a brutish mentality blinds us, though, to the human - and divine! - act of preparing, presenting, sharing, eating, and cleaning up a meal.
Our elder Jewish brothers, John Paul II called them, know that what they eat and how they eat expresses what they believe, what they celebrate, how they live, and how they pray. Observant Muslims, also, avoid unclean foods, prepare foods according to law, fast, and feast.
Since Christianity is inclusive of all races, cultures, and languages, Christians are not divinely commanded to avoid certain foods or to have certain foods ritually purified before eating them. Consequently, most Christians today feel no need to restrict what they eat or how they eat because they feel the press of society's consumerism as well as their universal, i.e., catholic, heritage.
However, such libertine perspective strays far from the truth. Instead, Catholics are bequeathed a banquet that is eternal. Since it is a banquet, then we should, first of all, prepare ourselves appropriately to join it, and, second, view all other foods and eating as incomparably inferior to this everl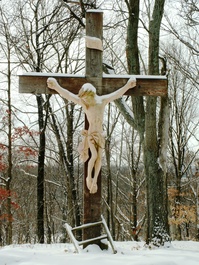 asting feast. The festival is the Sacred Eucharistic Liturgy. The Heavenly Father hosts this banquet in honor of His Son, Our Lord Jesus Christ, and serves to us, His guests, divine food. This food is none other than His Son's own flesh and blood as bread and wine made from the world's gardens. When we eat this deified meal, the very Spirit that raised the Son from death baptizes us as well in new life. Since those who believe are offered this precious heavenly food and drink, why remain attached to earthly food and drink? Therefore, at the least, we should fast regularly, and especially before the Eucharistic Liturgy; abstain regularly, especially from meat on Fridays; and eat only at establishments that do not support immorality.
"Sacrificial Lamb, I have tasted You. Sustain me to be a faithful witness to this banquet." God's PEACE!
St. James Catholic School Retreat

To mark the Feast of St. Francis of Assisi, patron saint of animals and the environment, about 60 students, faculty, and parents from St. James Catholic School in Haubstadt, IN came to God's Country on Oct. 4 for a day-long retreat.
Here the students are invited to wonder at the inspired and natural beauty of God's Country as they wa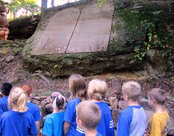 nder through the forests and ridges while examining their consciences before the Ten Commandments, walking the Way of the Cross, and praying the Rosary on one of the Trails.
---
BOOK YOUR RETREAT FOR 2013 NOW!
We are booking retreats now for 2013. Many weekends are already determined for spring. Contact us as soon as possible for your school, parish, men's, women's, youth, Cursillo, or CHRP group. Daylong retreats are perfect for school groups. Our retreats and facilities are family-friendly.

---
Women's Conference and Knights of Columbus Work Session/Retreat
Our first Women's Conference will be Sat. Feb. 9, 2013. What a great way to begin Lent during the Year of Faith! Phyllis Hayden is coordinating this. We invite CHRP or Cursillo Groups, Daughters of America or Isabella, Prayer Groups, and Mom's Groups.
Our second annual Knights of Columbus Retreat will be Sat. April 20, 2013. What a great way to celebrate Easter during the Year of Faith! The morning will be a work session and the theme of the afternoon retreat is, "Rise Up, O Men of Faith." Steve Luegers is coordinating this again. Any K of C member from any council in any state is invited to attend.
Mark your calendars now for these two great opportunities to become more faithful Catholics!
Mission Statement

The Mission of St. Joseph's Holy Family, Inc., is the renewal of Catholic family life through the inspired and natural beauty of God's Country for those already pursuing a vocation as a domestic church, for youth discerning their vocation to service in communion, and for all of Christ's disciples who have a common vocation to holiness and to the mission of evangelizing the world.
Pillars:
To Learn - To Pray - To Work - To Play
St. Joseph's Holy Family, Inc.
is a
501(c)(3) Indiana non-profit
operating as an apostolate within the Archdiocese of Indianapolis.
Voice of the Gardener Newsletter, Vol. 2, No. 5, Nov. 1, 2012

©2012 Gardener's Servant Productions.
All Rights Reserved.
---
Testimony: Living for Christ or for the World?
Bob, Kathy, and Hannah Smith
Often times in parenting it is a challenge to understand what will provide a deeper faith formation for our children and for ourselves. It is always a struggle to know where we should spend our time, our talent and our treasure.
About ten years ago, Kathy and I began attending First Saturday Devotions at God's Country. Let us say clearly, Saturdays are no easy task to give up. We have chores and our hobbies and those

occasional calls just to go do something with a friend. However, we ask ourselves, "Are we living for Christ or for the World?" Satan will find a way to distract us from those things that grow our relationship to Christ.
There were two things that always helped us prioritize what First Saturdays should be about and why we must hold them sacred, at least the April through October time frame, in all that we do.
First and foremost, Our Lady of Fatima asks us to set aside this time to honor, grow and sacrifice for all of the challenges of our world that lead us away from Christ and towards a world without grace, sacrifice, joy and hope.
Second, Kathy and I saw the intense love, work, and devotion in the many shrines and spiritual works by the Haases, and especially Greg, that fulfilled our understanding of the importance to leave behind something that would inspire our future generations to grow in our Catholic faith. It is, after all, the most important thing parents and individuals can do….and that is, leave a legacy for our children and theirs.
We also noticed that the more we sacrificed attending First Saturdays, the more peace and graces that we received that, even for a short time, made it easier to live our faith when we returned to home and work. God has a mysterious way of getting our attention when we are in his presence through the outdoors.
Over the years we have grown to plan our times as best we can to attend, whenever possible, the First Saturdays and the All Saints' Day Party. By Our Lady's example and the many graces that have flowed from honoring and practicing many of the cherished traditions of our faith, God's Country has given our family many new friendships, memories, and, most of all, helped grow our faith to be better Catholics in our everyday lives. Each and every day we try to live by this awe inspiring bible verse, "As for me and my household, we will serve the Lord" (Joshua 24:15).
Your Needs Placed Before God's Mercy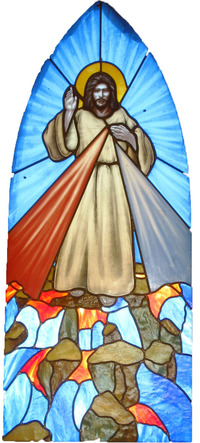 We invite you to send us your prayer requests. A binder rests below the only publicly available Divine Mercy stained glass window in the US in the Gardener's Hut. God's Country is 32 of America's most blessed acres. God answers prayers here. We want the whole world to know it and to receive the blessings from a visit.
---
"Eagles" Soar at God's Country!
God's Country provides many opportunities for Boy Scouts who have attained the rank of Life to work toward their Eagle Scout rank. As of this writing, John Ginter is over halfway through his Eagle Scout project of replacing rotten railroad tie steps between the Third and Fourth Stations of the Cross with highly durable stone.
Coordinating Servant for God's Country, Greg Haas, is overseeing this project. We invite other Life Scouts to earn their Eagle "wings" at God's Country with their projects. Please contact us for more information and to arrange a visit to discuss the details of potential work sites.
---
St. Joseph's Holy Family, Inc. provides
~ Retreats at God's Country or an acceptable alternate location;
~ 3-D 4-P Catechetical Materials through Gardener's Servant Productions.
~ Evangelization Training through the John Paul Institute for lay persons.
---
Coming Soon!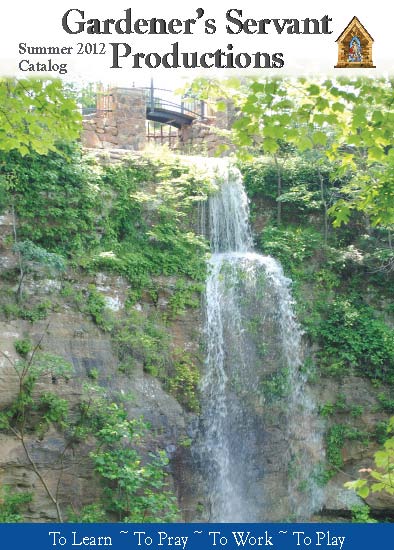 A full catalog of catechetical tools and rosary aids to help you evangelize during the Year of Faith. We will let you know when
Gardener's Servant Productions
are available. In November, we will be at the Mid-South Catholic Leadership Conference and the Indiana Conference for Catechetical Leadership.
Available NOW:
Portable Rosary TrailSigns
~Joyful ~Sorrowful ~Luminous ~Glorious Mysteries
175th Anniversary Video Tour
of St. Joseph Catholic Church in Jasper.
Equipment for the New Evangelization
DVD by Dr. Mark Ginter, including digital video footage of the General Audience when Dr. Ginter's Seminary Class sang for Pope Blessed John Paul II on Jan. 5, 2005.
---
THANK YOU! THANK YOU! THANK YOU!

FIRST SATURDAY DEVOTIONS
Winter Schedule (
Central Time
):
9:30
Registration at the Welcome Center
10:00
The Message of Fatima in the Pole Barn / Classroom
10:15
Examination of Conscience at Ten Commandments or in the Pole Barn
10:30 – 11:15
Confessions in the Gardener's House or in the Welcome Center
10:30 – 11:15
Stations of the Cross on the Trail or in the Pole Barn
11:30
Mass in the Welcome Center
12:00
Angelus before Pitch-in Meal
1:15
Rosary on Trail or in the Welcome Center
2:15
Teaching on Marian Apparition in the Welcome Center
3:00
Divine Mercy Chaplet at Gardener's House or in the Welcome Center
Afterwards, families are welcome to play and to cook out. To arrange a visit or to request a group retreat,
contact the Welcome Center (812.357.2119).
ALL SERVICES ARE GIFTS FROM GOD. SJHF IS A 501(c)(3) NON-PROFIT CORPORATION.
THANK GOD BY DONATING GENEROUSLY TO:
ST. JOSEPH'S HOLY FAMILY, INC.

UPCOMING EVENTS AT GOD'S COUNTRY

Nov. 2, 9:30 a.m.
– First Friday Reparation Work Day. Bring garden tools and work gloves. Bring your own lunch.
Nov. 3, 9:30 a.m.
- First Saturday Devotions. Fr. Jeff Read celebrates the sacraments. Edwin Reyes Nalagan teaches on "Our Lady of the Miraculous Medal."
Nov. 8, 6:30 p.m.
– Second Thursday Holy Hour at St. Boniface Catholic Church, Evansville. Dcn. Tom Kempf will preside.

Nov. 23, 6:00 p.m.
– Fourth Friday Free Family Flix For Fun -
Double Feature
, Francis:
Knight of Assisi
(animation) and
Blessed Duns Scotus: Defender of the Immaculate Conception
(live action).
Nov. 30, 9:30 a.m.
– Friday Reparation Work Day.
Dec. 1, 9:30 a.m.
– First Saturday Devotions. Fr. Sengole Thomas celebrates the sacraments. Seminarian teaches on "Our Lady of Guadalupe."
Dec. 13, 6:30 p.m.
– 2nd Thursday Holy Hour at St. Boniface's Grotto.
Dec. 28, 6:00 p.m.
– 4th Friday Free Family Flix For Fun,
Double Feature
,
Juan Diego
(animation) and
The Nativity Story
(live action).

My God, I believe, I adore, I hope, and I love you. I ask pardon of you for those who do not believe, do not adore, do not hope, and do not love you.
-prayer
taught to the Fatima children by the Angel of Peace in 1916


Please join us for the St. Joseph's Holy Family, Inc. Holy Hour every 2nd Thursday at the St. Boniface Catholic Church Grotto in Evansville.
---


Parishes & Mass Times in the Tell City Deanery

St. Paul, Tell City
Rev. Dennis Duvelius, V.F.,
Pastor
5:30 p.m.
Sat.
9:30 a.m.
Sun.
11:30 a.m.
Sun.
St. Mark, Perry County
5:30 p.m. (Summer)/
4:00 p.m. (Winter)
Sat.
8:00 a.m.
Sun.
-------------------

St. Augustine, Leopold
Rev. Brian Esarey,
Pastor
4:00 p.m.
Sat.
10:30 a.m.
Sun.
Holy Cross, St. Croix
9:00 am.
Sun.
St. Martin of Tours, Siberia
7:30 a.m.
Sun.
-------------------

St. Michael, Cannelton
Fr. Sengole Thomas Gnanaraj,
Admin
.
8:00 a.m.
Sun.
St. Pius V, Troy
10:30 a.m.
Sun.
-------------------

St. Isidore the Farmer, Perry County
Rev. Guy Mansini, OSB,
Pastor
6:00 p.m.
Sat.
9:30 a.m.
Sun.
-------------------

St. Meinrad, St. Meinrad
Rev. Anthony M. Vinson, OSB,
Pastor
8:00 a.m.
Sun.
St. Boniface, Fulda
5:00 p.m.
Sat.
6:00 a.m.
Sun.
-------------------

St. Joseph, Crawford County
Rev. John L. Fink,
Admin
.
9:15 a.m.
Sun
.
---