Preparing for a New Springtime during a Drought of Death and Deception
by Dr. Mark Ginter
Head Coordinating Servant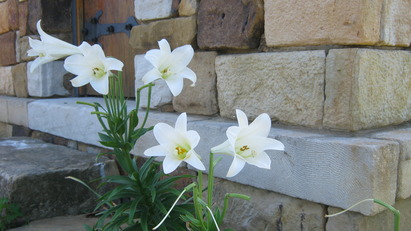 A successful gardener accurately reads the meteorological signs of the times for planting and harvesting. However, we can become confused about the moral signs of the times because original sin affects our perception. Jesus pinpoints this inflated confidence in our (mis)perception when he teaches, "You know how to interpret the appearance of the sky, but you cannot interpret the signs of the times" (Mt. 16:3, RSV).

In the U.S., the present drought and excessive heat wave has led many to ask about these signs of the times. In the midst of this meteorological drought, could we not ask about the moral drought of death and deception in our country? In other words, many of us see and feel the grass, the plants, the trees, and the ground dying. Don't we also see and feel in the same way traditional marriage, the family, the unborn, and religious freedom dying?

On his way to Calvary, Jesus meets the women of Jerusalem and "... said, 'Daughters of Jerusalem, do not weep for me, but weep for yourselves and for your children. For behold, the days are coming when they will say, 'Blessed are the barren, and the wombs that never bore, and the breasts that never gave suck!' Then they will begin to say to the mountains, 'Fall on us'; and to the hills, 'Cover us.' For if they do this when the wood is green, what will happen when it is dry?" (Lk. 23:28-31, RSV)

Sadly, we are in those days that Jesus predicted. The natural wood as well as the social fabric feel dry. Are we surrendering, though, giving over to the power of death and deception? Do we let the torture of the cross have the last word? Or, rather, do we believe in the resurrection of Our Lord Jesus Christ? Are we not witnesses to the end of death itself? Indeed, we have hope. So, let us prepare for a new springtime of the Church when life and love will prevail. "Master Gardener, I have seen You. Convict me to be a humble apostle of this vision." God's PEACE!
SJHF's New Information Video!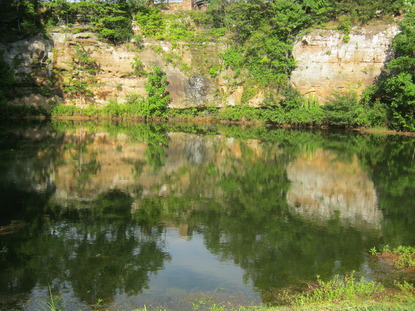 They say a picture's worth a thousand words. So, a video should certainly spark a few comments. Check out our new information video on Gloria.tv! And don't hesitate to share with your friends. Approx. 13 min.

Mission Statement

The Mission of St. Joseph's Holy Family, Inc., is the renewal of Catholic family life through the inspired and natural beauty of God's Country for those already pursuing a vocation as a domestic church, for youth discerning their vocation to service in communion, and for all of Christ's disciples who have a common vocation to holiness and to the mission of evangelizing the world.

Pillars:
To Learn - To Pray - To Work - To Play
St. Joseph's Holy Family, Inc.
is a
501(c)(3) Indiana non-profit
operating as an apostolate within the Archdiocese of Indianapolis.
Voice of the Gardener Newsletter, Vol. 2, No. 2, May 1, 2012

©2012 Gardener's Servant Productions.
All Rights Reserved.
---
Testimony
God's Country
By Colleen Buechler
July 2012
God's Country is a wonderful treasure in southern, Indiana. I discovered this treasure just over a year ago, but don't know why it took me so long to find it. I had heard about it several times - "beautiful land… rosary trails in the woods…wonderful people…such a prayerful place" - but I didn't truly understand that God's country is pure gold.
My first "visit" to God's Country was the first Saturday of May, 2011. Not too long ago, I learned that the first Saturday of each month is special. In the early 1900's, Mary, our Blessed Mother, appeared to three children in Fatima, Portugal, and requested that the first Saturday of each month be consecrated to her Immaculate Heart. This devotion is a way of showing her our love and our love for God and others. She asked this of all people, and I finally realized that this includes me!
Saturdays are not an easy day for me to leave the house. My husband, Jim, and our four kids are home, and there are always lists and projects that need to be done. I had to tell myself that there were three other Saturdays in the month and that helping God and Mary was more important. Jim and the kids gave me their blessing as I headed out the door that morning…"Enjoy your day…drive safe…Bye Mom!"
"It is in giving that we receive," and that is exactly what happened on that First Saturday. Dr. Mark Ginter welcomed me when I arrived. People were gathered by the St. Michael statue, talking and laughing. I signed in, and within a few minutes had met many nice people, including Elizabeth Haas, whose family started "God's Country" on her husband's grandfather's land. She was so friendly, and even now I get excited to see her when I go there. She is a gem!
Before long,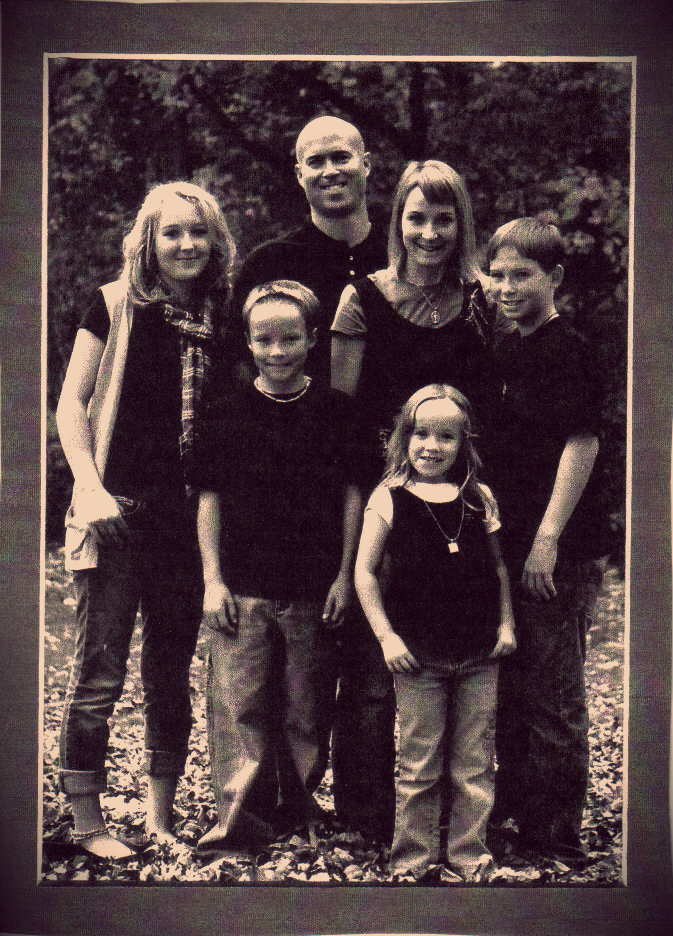 we all walked into the woods and stood before a statue of Mary in a grotto in one of the natural rock "walls" at God's Country. It was like a diamond in the treasure box! Dr. Ginter explained Fatima and how the day would go, and then we headed to the 14 foot replica of the Ten Commandments – WOW! The day continued with Stations of the Cross among rock walls that gave me a sense of the narrow streets of Jerusalem, outdoor Mass, and a pitch-in lunch where I met several more wonderful people. The afternoon was just as special, but I'll let you discover those nuggets of gold and precious gems when you come.
God's Country has now become a part of my life –and a part of my family's life. Since that First Saturday, our family has been there many times. When volunteers are needed to lead prayers and read reflections, the children and teens are included as well. Our children now volunteer, and it touches me (and Jim) deeply to see them excited about prayer and their Catholic faith. We are inspired by all the people – young families with babies, toddlers, children, teens, young adults, middle-agers and the young at heart – who come for First Saturdays and Friday evening movie nights and other special gatherings. We all come to love and help God and His Blessed Mother, and to spend time together. We would love for you to join us - and discover this priceless treasure that God had so graciously given us.
Your Needs Placed Before God's Mercy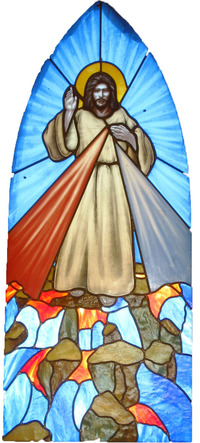 We invite you to send us your prayer requests. A binder rests below the only publicly available Divine Mercy stained glass window in the US in the Gardener's Hut. God's Country is 32 of America's most blessed acres. God answers prayers here. We want the whole world to know it and to receive the blessings from a visit.
July Fourth Friday Free Family Flix For Fun!
This Friday, July 27, at 7:00 pm CST we will be showing a double-feature as part of our FFFFFFF, an effort to bring together Catholic families through the experience of great Catholic films.
First we will show
Blessed Pier Giorgio: My Catholic Family
in honor of Bl. Pier Giorgio Frassati whose Feast day is July 4. Next, we will enjoy a film about the Santiago de Compostela in
The Way of St. James
. St. James' feast is July 25. Bring snacks to share. As always, all are welcome. And if you have suggestions for future film events, by all means please share them with us!
---
THANK YOU! THANK YOU! THANK YOU!
- to all of our benefactors.
Due to your generous gifts, this apostolate serves families, youth, parishes, men's and women's groups and the Particular Churches in Indiana, Kentucky, and Illinois.
Thanks especially to
Jim and Cheri Durkholz and Bob Pfiefer, Jr.,
for their generous gifts.
---
Coming Soon!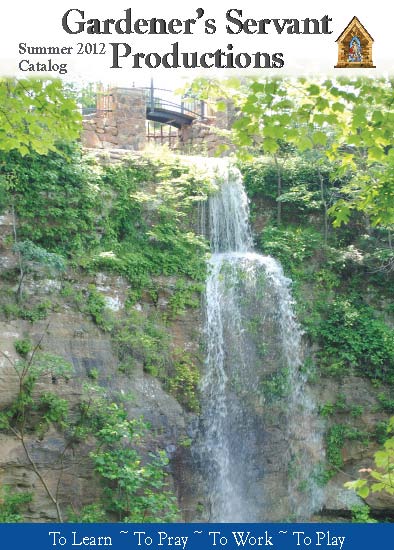 A catalog of catechetical tools and rosary aids to help you evangelize during the Year of Faith. We will let you know when
Gardener's Servant Productions
are available.

FIRST SATURDAY DEVOTIONS
Summer Schedule (
Central Time
):
9:30
Registration at the St. Michael Statue
10:00
The Message of Fatima at Our Lady of Grace Grotto
10:15
Examination of Conscience at Ten Commandments
10:30 – 11:15
Confessions at Gardener's Hut
10:30 – 11:15
Stations of the Cross
11:30
Mass at Sacred Heart Chapel
12:00
Angelus before Pitch-in Meal
1:15
Rosary on Trail or in the Chapel
2:15
Teaching in Amphitheater or Chapel
3:00
Divine Mercy Chaplet at Gardener's Hut
Afterwards, families are welcome to play and to cook out. To arrange a visit or to request a group retreat,
contact the Welcome Center (812.357.2119).
ALL SERVICES ARE GIFTS FROM GOD. SJHF IS A 501(c)(3) NON-PROFIT CORPORATION.
THANK GOD BY DONATING GENEROUSLY TO:
ST. JOSEPH'S HOLY FAMILY, INC.

UPCOMING EVENTS AT GOD'S COUNTRY
July 27, 7:00 pm
– 4th Friday Free Family Flix For Fun. Double Feature;
Blessed Pier Giorgio: My Catholic Family
(Feast, July 4) and
The Way of St. James
(Feast, July 25)
Aug. 3, 9:30 am
– First Friday
Reparation Work Day.
Aug. 8, 9:30 am
– First Saturday
Devotions. Talk by Dcn. Chris Droste on Our Lady of Knock
Aug. 9, 6:30 pm
– 2nd Thursday Holy Hour at St. Boniface's Grotto.
Aug. 17, 6:30 pm
– 3rd Friday Young Adult (18-35) Festival of Praise.
Aug. 24, 7:00 pm
– 4th Friday Free Family Flix For Fun,
Bakhita: From Slave to Saint
(Feast, Feb. 9)

My God, I believe, I adore, I hope, and I love you. I ask pardon of you for those who do not believe, do not adore, do not hope, and do not love you.
-prayer
taught to the Fatima children by the Angel of Peace in 1916


Please join us for the St. Joseph's Holy Family, Inc. Holy Hour every 2nd Thursday at the St. Boniface Catholic Church Grotto in Evansville.
---


Parishes & Mass Times in the Tell City Deanery

St. Paul, Tell City
Rev. Dennis Duvelius, V.F.,
Pastor
5:30 p.m.
Sat.
9:30 a.m.
Sun.
11:30 a.m.
Sun.
St. Mark, Perry County
5:30 p.m. (Summer)/
4:00 p.m. (Winter)
Sat.
8:00 a.m.
Sun.
-------------------

St. Augustine, Leopold
Rev. Brian Esarey,
Pastor
4:00 p.m.
Sat.
10:30 a.m.
Sun.
Holy Cross, St. Croix
9:00 am.
Sun.
St. Martin of Tours, Siberia
7:30 a.m.
Sun.
-------------------

St. Michael, Cannelton
Fr. Sengole Thomas Gnanaraj,
Admin
.
8:00 a.m.
Sun.
St. Pius V, Troy
10:30 a.m.
Sun.
-------------------

St. Isidore the Farmer, Perry County
Rev. Guy Mansini, OSB,
Pastor
6:00 p.m.
Sat.
9:30 a.m.
Sun.
-------------------

St. Meinrad, St. Meinrad
Rev. Anthony M. Vinson, OSB,
Pastor
8:00 a.m.
Sun.
St. Boniface, Fulda
5:00 p.m.
Sat.
6:00 a.m.
Sun.
-------------------

St. Joseph, Crawford County
Rev. John L. Fink,
Admin
.
9:15 a.m.
Sun
.
---