Your faith has saved you; go in peace.

by Dr. Mark Ginter
Head Coordinating Servant
On Oct. 11, 2012, the Fiftieth Anniversary of the Opening of the Second Vatican Council and the Twentieth Anniversary of the First Edition of the
Catechism of the Catholic Church
, Pope Benedict XVI formally opened the Year of Faith. If you will, it was a quasi-official beginning to the new evangelization. The official beginning of the new evangelization was Pentecost nearly 2000 years ago, but throughout her history, the Church needs to return to the Source of her mission to draw forth into the present new ardor, new methods, and new expression.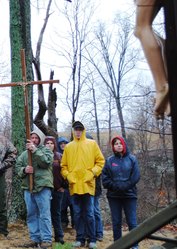 One of the strongest Gospel stories about faith relates the healing of the woman with the flow of blood (Mt. 9:22; Mk. 5:34; Lk. 8:48). It sits in the middle of the story of the raising of Jairus's daughter from the dead. However, the story of the anonymous woman who has been bleeding for 12 years actually reveals that Jesus Christ is a priest in the line of Aaron. He is wearing a tassel, power goes out from him, and the woman is ritually unclean. No doctor has been able to heal her. She can only by healed by a priest. Most amazingly, she did not find healing by observing the prescriptions of the Levitical code. Rather, Jesus says, "Daughter, your faith has saved you" or "...your faith has made you whole." The Greek word here for "to save" and "to be made whole" is the same:
sozo
. Then, Jesus finishes by saying, "Go in peace." As St. Luke recounts it, the whole encounter is quite ritualistic.
We have no other written record of what that unnamed woman did afterword, but I like to think that she became a powerful evangelizer. I suspect this because when Jesus asked, "Who touched me?" and Peter seemed to want to "calm down" Jesus, the woman gave a "tell all" testimony. "When the woman realized that she had not escaped notice, she came forward trembling. Falling down before him, she explained in the presence of all the people why she had touched him and how she had been healed immediately" (Lk. 8:47).
To explain to "all the people why she had touched him" meant that she had to admit publicly that she had been ritually unclean for 12 years. Any person or thing that she touched, including all of the people pressing in on Jesus, were also ritually unclean due to her impurity (See Lev. 15:25-30).
Can you imagine her fear, first, at being caught and, second, at being forced to confess what is, basically, her private sin in front of a whole crowd? But what relief she must have felt when she was healed!!! How could she hold back her testimony of being made whole? She had been set free from a bondage that weighed on her as heavy as the world for 12 years. (The "12" here might represent Israel, in which case this woman represents Israel who is now being freed from ritual impurity forever by the One anointed by God's Spirit to herald God's Reign.)
One reason that St. Luke puts this seemingly minor story within a story of a resurrection is because, according to Jewish purity codes, this woman was essentially delivered from a death sentence, too, by God's Holy One, Jesus Christ (See Lev. 15:31). I speculate that Luke places this smaller story within the larger one because he is making an appeal to his minority Jewish audience while at the same time addressing his majority Gentile audience.
On the human side, this story reminds me of the hundreds of millions of women in the world who have aborted their children. "Can a mother forget her infant, be without tenderness for the child in her womb?" (Is. 49:15)
So many women carry the secret of their unborn child's slaughter like they are carrying the weight of the world in a similar way to the woman who had a continuous flow of blood. Some aborted women find healing through diocesan programs such as
Project Rachel
and weekend retreats such as
Rachel's Vineyard
. Some visit cemeteries that have
memorials to unborn children
, and some make
a public statement of regret
. As the unnamed woman sought out Jesus, it also takes courage to come to Christ's Church for healing.

We pledge to help any mother, or father for that matter, of an aborted child to find reconciliation and peace through the Church. Do not be afraid. Simply contact us and we will help.
Overall, the
primary lesson
is this: Jesus Christ is the Eternal High Priest who comes to us today, here and now, in the sacraments of His Holy Catholic Church. Especially after we receive His healing touch in the Eucharist, we should become fearless witnesses to everyone we meet that Jesus wants to heal them, too, through His Church, the sacrament of salvation to the world. Whenever we hear the words at the end of Mass, "Go in peace!" we should recall that our faith in the Lord Jesus Christ has saved us. For this very reason, we must overcome the spirit of fear and joyfully tell others about Him.
"Merciful Savior, I have touched You. Cleanse me to be a loving messenger of this healing." God's PEACE!
Holy Trinity Confirmation Retreat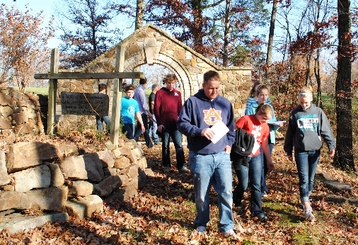 Confirmation Class from Holy Trinity Parish in Evansville came to God's Country on Nov. 10, 2012, for their retreat. Here candidates and sponsors continue walking on the Joyful Mysteries Trail after meditating at the Annunciation Wall.
We believe that the inspired and natural beauty of God's Country heals persons suffering from "nature deficit disorder," as some researchers are calling it, by reconnecting them with the Creator of the Universe, His Son, Our Lord Jesus Christ, and the Holy Spirit, the Giver of Life.

---
BOOK YOUR RETREAT FOR 2013 NOW!
We are booking retreats now for summer and fall 2013. Contact us as soon as possible for your school, parish, men's, women's, youth, Cursillo, or CHRP group. Daylong retreats are perfect for school groups. Our retreats and facilities are family-friendly.

---
Mission Statement

The Mission of St. Joseph's Holy Family, Inc., is the renewal of Catholic family life through the inspired and natural beauty of God's Country for those already pursuing a vocation as a domestic church, for youth discerning their vocation to service in communion, and for all of Christ's disciples who have a common vocation to holiness and to the mission of evangelizing the world.
Pillars:
To Learn - To Pray - To Work - To Play
St. Joseph's Holy Family, Inc.
is a
501(c)(3) Indiana non-profit
operating as an apostolate within the Archdiocese of Indianapolis.
Voice of the Gardener Newsletter,
Vol. 3, No. 1, January 1, 2013

©2013 Gardener's Servant Productions.
All Rights Reserved.
---
Testimony: 'Weight lifting' your way to PEACE

Anita Seger
January 2013
Hi, Everyone! My name is Anita Seger and I have many BLESSINGS in my life. My husband, Dave, is a hard working Shipping Clerk at Jasper Desk. Our son, Shawn, is a graduate student in Theology at Franciscan University in Steubenville, Ohio. Along with being a catechist for several Religion Classes at St. Joseph's Parish in Jasper, I also homeschool our daughter, Joy, through John Paul the Great Catholic High School Homeschool Coop. And, over Christmas we were BLESSED with the news from our daughter and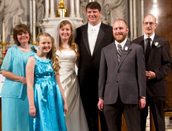 son-in-law, Amy and Nick, that we are going to be GRANDPARENTS. My Blessings go on and on, including family and friends, etc.
Even though I am so Blessed, sometimes the worries and concerns of my life bog me down. However, I would like to share with you another Blessing in my life, God's Country. Sometimes, before I go there for a First Saturday, a Fun Flix night, or some other gathering (such as the All Saints' Party), I have wondered in the back of my mind, "Should I go? I have so much to do." But, every time I am there, the weight of the world on my shoulders seems to lift, and I get such a sense of PEACE. I have never regretted going.
When I return home, my work still waits for me, but I have this new sense of Peace to greet, and maybe complete, some of it in the weeks ahead. Then another gathering at God's Country comes along to renew me again.
In the past few months, things and weather have prevented me from going to God's Country. I didn't realize just how much I missed it until I was at the First Saturday Devotions on Jan. 5. I plan to be a regular, again.
Here is what my husband has to say, "God's Country, where you get your spiritual and physical exercise! The spiritual talks are inspiring. The pitch-in meal is sooo good!!
Shawn says, "A great place to enjoy your Catholic Faith."
Fifteen year old Joy had lots to say about it, "God's Country is an amazing gift from God. It is one of my favorite places to go. The scenery is breathtaking. You feel so much closer to God when you are there. The different signs for the Rosary and Stations of the Cross Trails help you really meditate and think about how much Jesus went through for us. No matter how many times I go to God's Country, I will never get tired of it. I hope and pray that God's Country will be around forever!"
If you have not been to God's Country, or maybe have not come for a while, I encourage you to come on out and feel some of that PEACE. You won't regret it!!
---
Your Needs Placed Before God's Mercy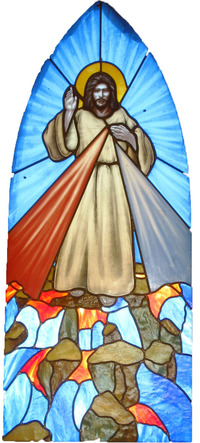 We invite you to send us your prayer requests. A binder rests below the only publicly available Divine Mercy stained glass window in the US in the Gardener's House. God's Country is America's most blessed 32 acres. God answers prayers here. We want the whole world to know it and to receive the blessings from a visit.
---
You are invited to our first Women's Conference!
While the date and the detailed schedule is in the column above on the right, the following information about the conference presenters could help you to invite your friends.

Dr. Mark Ginter is the Head Coordinating Servant of St. Joseph's Holy Family, Inc. He is married to Diane and the father of 7 children. Dr. Mark is the emcee for the conference.

Fr. Chris Forler is the Pastor of St. Bernard Parish in Rockport, IN and St. Martin Parish in Chrisney, IN. He is the main celebrant of the Sacraments of Penance and Reconciliation and of the Eucharist for the conference.

Mary Altman is the Director of Religious Education for Holy Family Parish in Jasper, IN. She is divorced and the mother of a U.S. Serviceman. She is a retired U.S. Army officer. She will speak on "Sacrificial love."

Colleen Buechler is Co-Coordinator of John Paul the Great Catholic High School Homeschool Cooperative in Jasper, IN. She is married to Jim and the mother of 4 children. She will provide music for Mass and will share the inspired songs that she has been given since coming to God's Country the first time in 2011.

Donna Burry is Co-Coordinator for the Respect Life Committee for St. Patrick Parish in Louisville, KY. She is married to Garry and the mother of 2 children. She will speak on "Forming True Conscience," a topic similar to her speech at the October 2012 Stand Up For Religious Freedom Rally in Louisville.

Phyllis Hayden is special coordinator for the Evansville Diocesan Council on Catholic Scouting. She is married to Joe and the mother of 10 children and the grandmother of 4 children. She originated the conference and has coordinated all of the details.

You may RSVP by phone, but you may also do so by sending us and e-mail (sjhf@psci.net) with the names of those attending.

We look forward to hosting you for a day of resting in the Lord's presence.
---
Lenten Soup with Substance and D.R.E. Speakers' Series
We invite you to make Lent during this Year of Faith particularly memorable by praying the Stations of the Cross every Friday. You should do so at your local parish, but a pilgrimage to God's Country for Fridays during Lent could be life changing!

During First Saturdays we pray the Stations of the Cross with meditations from Karol Cardinal Wojtyla. However, during Fridays in Lent, we pray the Stations with the meditations that he wrote as Pope John Paul II for the Jubilee Year 2000. His papal meditations are longer and give us a fuller immersion into his spirituality. If someone wants to learn one of the unique perspectives on his spirituality, these meditations are a good place to go.

We also invite Directors of Religious Education from area parishes to share a short meditation on the Mystery of Redemption. Our hope is that as more D.R.E.s come to God's Country more of their colleagues will find it a great place for their parish's retreats.

Finally, the penance for us on these Fridays is twofold: in a simple, pitch-in, soup meal and in the weather conditions of praying outside during the last half of winter.

Dates are listed in the column on the right. The schedule is

6:00 Angelus and pitch-in meal of soup and bread
6:45 Candlelight/Flashlight Way of the Cross on Trail
7:45 D.R.E. Speaker

Good Friday is very special. We hope that you can join us every Friday, but this Friday is particularly blessed.

---
Coming Soon!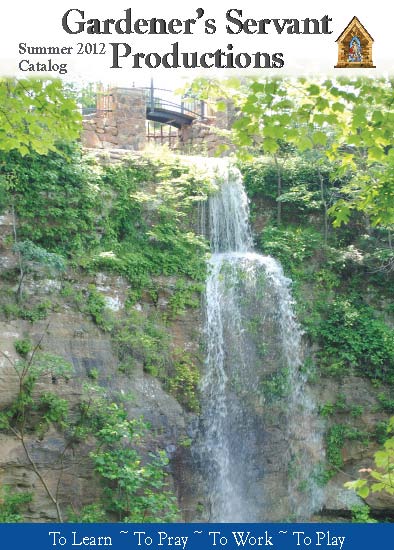 A catalog of catechetical tools and rosary aids to help you evangelize during the Year of Faith. We will let you know when
Gardener's Servant Productions
are available. Look for us at the Louisville Men's Conference on March 16.
---
THANK YOU! THANK YOU! THANK YOU!


FIRST SATURDAY DEVOTIONS
Winter Schedule (
Central Time
):
9:30
Registration at the Welcome Center

10:00
The Message of Fatima in the Pole Barn / Classroom

10:15
Examination of Conscience at Ten Commandments or in the Pole Barn

10:30 – 11:15
Confessions in the Gardener's House or in the Welcome Center

10:30 – 11:15
Stations of the Cross on the Trail or in the Pole Barn

11:30
Mass in the Welcome Center

12:00
Angelus before Pitch-in Meal

1:15
Rosary on Trail or in the Welcome Center

2:15
Teaching on Marian Apparition in the Welcome Center

3:00
Divine Mercy Chaplet at Gardener's House or in the Welcome Center
Afterwards, families are welcome to play and to cook out. To arrange a visit or to request a group retreat,
contact the Welcome Center (812.357.2119).
ALL SERVICES ARE GIFTS FROM GOD. SJHF IS A 501(c)(3) NON-PROFIT CORPORATION.
THANK GOD BY DONATING GENEROUSLY TO:
ST. JOSEPH'S HOLY FAMILY, INC.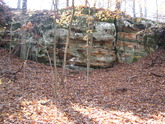 UPCOMING EVENTS AT GOD'S COUNTRY



Jan. 25, 6:30 p.m.
– Four Friday Free Family Flix For Fun - Movie:
Bakhita: From Slave to Saint
. This is an encore presentation from one of last year's favorite movies. Bring snacks to share. Run time: 190 minutes.
Feb. 2, 9:30 a.m.
- First Saturday Devotions. Feast of the Presentation of the Lord. Priest Celebrant: TBA. Seminarian teaching on Our Lady of Lourdes: TBA.
++++++++++++++++++++
Feb. 9
- WOMEN'S CONFERENCE. Theme: "Come away by yourselves to a deserted place and rest a while" (Mk. 6:31)
8:30
Introduction & Welcome - Dr. Mark
8:45
Examination of Conscience
9:00
Confessions - Fr. Chris Forler
9:30
Mass - Fr. Chris Forler
10:15
Break (Confession available if needed.)
10:30
"Sacrificial Love" by Mary Altman
11:15
Break
11:30
"Inspired Songs" by Colleen Buechler
12:00
Angelus, Lunch provided
1:15
Rosary Trail - Sorrowful Mysteries
2:15
Break
2:40
"Forming True Conscience" by Donna Burry
3:15
Divine Mercy Chaplet
3:45
Questions and Answers (Panel Discussion)
4:15
Concluding Prayer for Families
++++++++++++++++++++

Feb. 14, 6:30 p.m.
- Second Thursday Holy Hour at St. Boniface Catholic Church, Evansville. Dcn. Tom Kempf will preside.
Feb. 15, 6:00 p.m
. – Friday After Ash Wednesday, Soup with Substance and D.R.E. Speakers' Series - Mary Altman
Feb. 22, 6:00 p.m.
- Chair of St. Peter, Soup with Substance and D.R.E. Speakers' Series - TBA

My God, I believe, I adore, I hope, and I love you. I ask pardon of you for those who do not believe, do not adore, do not hope, and do not love you.
-prayer
taught to the Fatima children by the Angel of Peace in 1916


Please join us for the St. Joseph's Holy Family, Inc. Holy Hour every 2nd Thursday at the St. Boniface Catholic Church Grotto in Evansville.
We would love to expand our Holy Hours for the renewal of Catholic family life to a parish or chapel in the Archdiocese of Louisville or the Diocese of Owensboro on a different Thursday evening. Permanent Deacons are especially encouraged to contact us for more details.

---


Parishes & Mass Times in the Tell City Deanery

St. Paul, Tell City
Rev. Dennis Duvelius, V.F.,
Pastor
5:30 p.m.
Sat.
9:30 a.m.
Sun.
11:30 a.m.
Sun.
St. Mark, Perry County
5:30 p.m. (Summer)/
4:00 p.m. (Winter)
Sat.
8:00 a.m.
Sun.
-------------------

St. Augustine, Leopold
Rev. Brian Esarey,
Pastor
4:00 p.m.
Sat.
10:30 a.m.
Sun.
Holy Cross, St. Croix
9:00 am.
Sun.
St. Martin of Tours, Siberia
7:30 a.m.
Sun.
-------------------

St. Michael, Cannelton
Fr. Sengole Thomas Gnanaraj,
Admin
.
8:00 a.m.
Sun.
St. Pius V, Troy
10:30 a.m.
Sun.
-------------------

St. Isidore the Farmer, Perry County
Rev. Guy Mansini, OSB,
Pastor
6:00 p.m.
Sat.
9:30 a.m.
Sun.
-------------------

St. Meinrad, St. Meinrad
Rev. Anthony M. Vinson, OSB,
Pastor
8:00 a.m.
Sun.
St. Boniface, Fulda
5:00 p.m.
Sat.
6:00 a.m.
Sun.
-------------------

St. Joseph, Crawford County
Rev. John L. Fink,
Admin
.
9:15 a.m.
Sun
.
---


---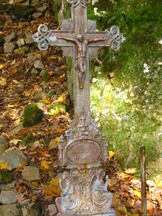 MEMORIALS
Donations have been given for:
Jim & Ruth Lyons

by Gayle Lyons and Nanette Dahlquist
~~~~~~~~~~~~~~
Eternal rest grant unto them, O Lord, and let perpetual light shine upon them.
May their souls and all the souls of the faithful departed rest in peace.
May their memory be eternal!