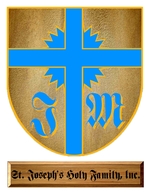 Dear Handmaids and Servants of the Gardener,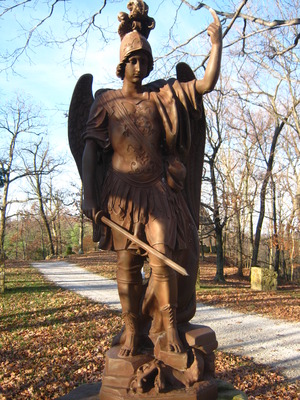 Happy Feast of the Archangels Michael, Gabriel, and Raphael! What a wonderful day to celebrate these spiritual persons who assist us in invisible ways to reach our eternal destiny, happiness with God in heaven! As most of you who are reading this already know, God works in our lives through the cooperation of other persons, human and angelic. He does so because His plan for our eternal happiness is a plan of love based upon the gift of free will.


+ + +


This Gift of Love is called the Holy Spirit. On Saturday, 68 people from St. Philip Parish in Posey County, IN came to God's Country for a Confirmation Retreat. Dcn. Charlie Koressel organized the day. Thanks Dcn. Charlie. Katie Goebel, youth minister of the parish, was an irreplaceable asset. Internationally known rap artist, Fr. Claude Burns, Pastor of St. Philip, celebrated the sacraments of Penance and Reconciliation and of the Eucharist. Fr. Jack Durchholz, Pastor of St. Ferdinand Parish, helped with the confessions.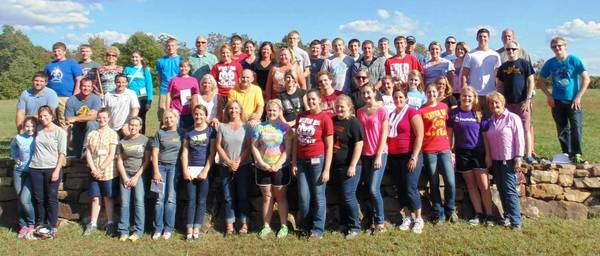 Our Confirmation Retreats equip youth to transition from being disciples to becoming apostles. In other words, all of our spiritual exercises are aimed at helping them to witness to the resurrection of Our Lord Jesus Christ in the power of the Holy Spirit. Such witness among Catholics is crucial.


+ + +


Have you ever been intimidated about mentioning your belief in angels to other persons? We do live in an increasingly secularized society, for now. However, most of the people you meet have reported supernatural events in their lives, including a belief in angels, even if they have never seen them (See U.S. Landscape Survey by the Pew Research Religion and Public Life Project).

Several people have told me that they have experienced angels at God's Country. One such event was reported by Cheryl Hurst in the April 1, 1999, edition of the Spencer County Leader. She had been interviewing Roberta (Drexler) Ubelhor, Joe Ubelhor's widow. Cheryl writes:

Roberta recalls a time when she was mowing with the farm tractor and got it in the wrong gear. "It went down the hill too fast and I couldn't get it stopped. I was getting close to the lake and I said, 'God help me!' and it stopped like that (she hits the table with her fist to emphasize)." No one knows how she was able to drive the tractor back up the hill to the cabin - it had a wheel missing.

+ + +


If you still need motivition to be more evangelistic, then imitate the example of Julius Chirchir. He is the lay missionary in Kenya who discovered our First Saturday Devotions and to whom YOU SENT 380 rosaries and 4 Praying the Mysteries of the Rosary in Readers' Theater. Below is the message from Julius along with a small picture of the package that we sent with your donations.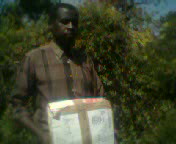 Dear Friends in Christ,
Thank you for the work you are doing for the salvation of souls. I received the Rosaries on Padre Pio's day [Sept. 23]. He is one of my greatest heavenly friends with St. Joseph whom i have been asking for their intercession. Tell the donors that iam with them in my prayers especially during the month of the Rosary. Please remember [me]also in your prayers.
If you read my last e-mail, you, too, know how important Padre Pio is to us here at St. Joseph's Holy Family, Inc. Could you help us send more rosaries and books to Julius? He had the courage to reach out to us, and we want to have the ability to help him spread love for Our Lady and faith in her son, Jesus Christ.

The Holy Spirit must have found some very fertile ground in Posey County because the St. Philip Rosary Club, under the direction of Sarah Kieffer, provided the first shipment of rosaries. From the artists' retreat, rosary makers Vicki Granacher and Janessa Schepers almost have us ready to send another shipment. Yet, we need donations to cover the postage, money to buy more raw materials with which to assemble more rosaries, and financial gifts for the Gardener's Servant Production books to send him.

+ + +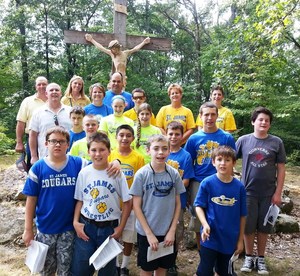 Yesterday, we had a "God's Country Experience with the Angels and Archangels." With the youth of St. James Parish in Haubstadt, IN, we retraced the presence of angels from the beginning of Jesus' earthly existence at the Annuciation by the Archangel Gabriel to the Blessed Virgin Mary all the way to Our Lady's glorification in heaven, stopping at different grottos and walking trails along the way to pray and to sing together. Thanks to Connie Baehl and the adult chaperones. What a beautiful day and what a blessed time!


+ + +


This coming First Saturday, Oct. 4, 2014, Fr. Eugene Schmitt, Pastor of St. Celestine Parish, Celestine, IN will celebrate the sacraments for us. In addition, we hope to have a guest speaker on an aspect of Marian spirituality. We are planning all activities to be in the beautiful outdoors, with the fall colors surrounding us. Please dress appropriately and wear walking shows.

The schedule is as follows (central/Evansville/Owensboro time):

9:30 registration at St. Michael Statue
10:00 Introduction to the message of Our Lady of Fatima (Grotto of Our Lady of Grace)
10:15 Examination of Conscience (Ten Commandments)

10:30 Confessions (Gardener's House or Commons Area)
10:30 Stations of the Cross

11:30 Celebration of the Sacred Liturgy (Sacred Heart Chapel)
12:15 Angelus (at Annunciation Wall) and Lunch
1:15 Joyful Mysteries (on trail)
2:30 Speaker
3:00 Divine Mercy Chaplet (Gardener's House)
3:30 Clean up and Departure

PLEASE RSVP to sjhf@psci.net or 812-631-2377 by Thurs. Oct. 2, 9:00 a.m. with the number of people you are planning to bring along. We will provide the meat, but you need to bring a side dish to share and drinks for your family. FREE WILL DONATION will be taken, and Holy Heart Art T-shirts and Gardener's Servant Productions will be available.

Families are always welcome to stay afterward to play and explore some more.

We believe that we are stewards of America's most blessed 32 acres. We would like you to join us. If you can't physically join us this Saturday, please send us your prayer requests to be offered at Mass and Rosary.

I wish that we could provide the beauty of God's Country, all of our planned experiences and events, all of our books and services as generously as God provides life and health and goodness for all of His creatures. However, that is not happening, yet. Only by your generous donations can we keep operating. We get no regular funding through any arch/diocesan structure. We are not operating in the black this year, yet. So, we need your largest gift to continue the momentum that has been building for the past several years.

You might consider donating in thanksgiving for all of the protection provided by your guardian angel and the other angelic persons whom you know have helped you in a myriad of ways...to keep you and your children safe...to provide you with that parking spot in the right place...to help you when you were accidentially injured...to lead you out of a confusing situation...to show you the direction when you were lost...to bring a loved one back to God and to the Church...to send that special someone into you life who has given you tremendous happiness.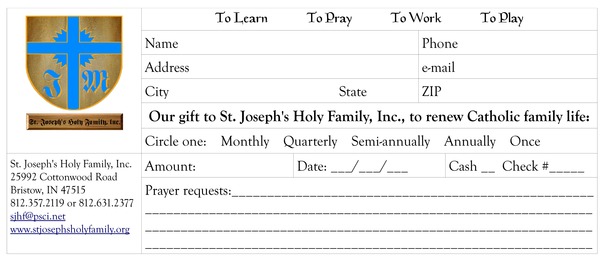 We give thanks for your presence in our lives and for the amazingly good work that your prayers, volunteer service, and financial support provide for us.

May the angels continue to watch over you.

St. Michael, pray for us.
St. Gabriel, pray for us.
St. Raphael, pray for us.

God's PEACE!
Mark


---