The earth is full of the goodness of the Lord (Ps. 33:5).

by Dr. Mark Ginter
Head Coordinating Servant
This verse from Psalm 33 is
one suggested response
between the Old and New Testament readings for Catholic wedding liturgies. While the reason might be self-evident, it is still worth commenting upon.
In God's plan, the purpose of marriage is for a man and a woman to form a community of love and life that imitates the Most Holy Trinity. God is an eternal union of divine persons. When humanity was created in the image of God, we were created to reflect among ourselves that union. The first reflection is a created union of human persons: one male and one female. That union is the basis of every other human community, institution, and society. The conjugal relationship of husband and wife provide the basis for the family in the same way that the eternal love within the Trinity is the fount of everlasting life.
Since, by its nature, love cannot be selfish, it must be fruitful. Thus, to say that God is love is, essentially, to say that God is life. Likewise, to say that a husband and wife love each other is to say that their married love is naturally intended to beget children. As Venerable Pope Paul VI wrote in his last and famous encyclical,
Humanae Vitae, #11-12
, "each and every marital act must of necessity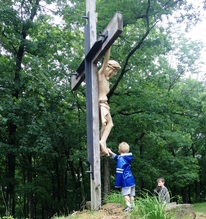 retain its intrinsic relationship to the procreation of human life...This particular doctrine is based on the inseparable connection, established by God, which man, on his own initiative, may not break between the unitive significance [love] and the procreative significance [life] which are both inherent to the marital act."
Government officials and citizen-voters throughout the U.S., and other countries, are redefining marriage because, first, the naturally intended fruit of sexual union between a man and a woman has been necessarily separated from that complementary act of union, and, second, God is no longer our reference point for understanding ourselves. In other words, because sexual morality has no more boundaries, other than relativistic etiquette, God has no more place in our lives.
The solution to the attack upon marriage, either by redefining it or by ignoring it through cohabitation or by destroying its indissolubility through divorce or by sterilizing it through contraception and mutilation is a new evangelization. If God has been driven out of our lives by the pursuit of every venereal pleasure, then we have no way back to sexual sanity than to hear and to accept the message of salvation in a fresh and vibrant way.
The Church cannot continue in a society that has been contracepting and aborting itself into oblivion since the 1960s and 1970s, with euthanasia spreading like unwelcome crabgrass. The garden of the world is changing because of falling birth rates in
a demographic autumn
. Although the chilly cultural winds that foreshadow a cold winter already blow across the land, we are preparing fertile soil and sowing seeds for a new springtime of the Church where, by God's grace, we accept Jesus' teachings on love, marriage, and family and aim to live them.
May St. Mary Magdalene (Feast, July 22), who first encountered the risen Gardener, intercede for the world to be delivered from these demons that destroy sexual purity. May St. Bridget of Sweden (Feast, July 23) intercede for all those who are married, for all those who are engaged, and for all those who are called to holy matrimony, to pursue conjugal chastity by rejecting fornication, cohabitation, contraception, sterilization, adultery, and divorce. May St. Sharbel Makluf (Feast, July 24) intercede for the light of Christ to permeate our dark age with the truth about God's plan for love, marriage, and family. May St. James, the first of the Twelve Apostles to be martyred (Feast, July 25), intercede for Pope Francis and all of the world's bishops to present Jesus' teaching boldly. May Sts. Joachim and Anne, parents of the Blessed Virgin Mary (Feast, July 26), intercede for all those who are married and who also carry the cross of infertility to reject artificial reproductive technologies and to find their hearts open to adoption of children in need. God's PEACE!
June 2013 First Saturday Devotions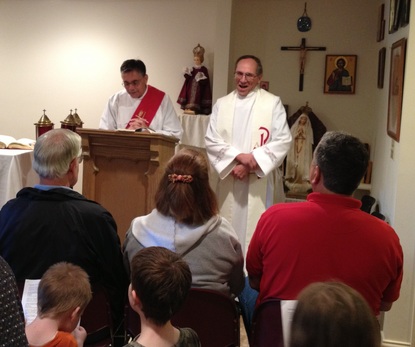 Deacon Tom Kempf, Jr., and Fr. Jean Vogler, both of the Diocese of Evansville, prepare the pilgrims for the Holy Sacrifice of the Mass on First Saturday, June 1.
Our Welcome Center provides protection from heat or cold, sun or rain when the weather outside is not favorable to the celebration of the Sacraments. However, we can only handle 40 people comfortably.
For our First Saturday in July, we welcomed 60 pilgrims and had to use the Welcome Center patio with a pop-up tent for the overflow crowd for Mass.
We some sizable donations, we could build a larger facility for pilgrims and families. Please contact us for more information about our capital campaign to meet these growing needs.

---
BOOK YOUR RETREAT FOR 2013 NOW!
We are booking retreats now for fall 2013 and spring 2014. Contact us as soon as possible for your school, parish, men's, women's, youth, Cursillo, or CHRP group. Daylong retreats are perfect for school groups. Our retreats and facilities are family-friendly.

---
Mission Statement

The Mission of St. Joseph's Holy Family, Inc., is the renewal of Catholic family life through the inspired and natural beauty of God's Country for those already pursuing a vocation as a domestic church, for youth discerning their vocation to service in communion, and for all of Christ's disciples who have a common vocation to holiness and to the mission of evangelizing the world.
Pillars:
To Learn - To Pray - To Work - To Play
St. Joseph's Holy Family, Inc.
is a
501(c)(3) Indiana non-profit
operating as an apostolate within the Archdiocese of Indianapolis.
Voice of the Gardener Newsletter,
Vol. 3, No. 4, July 1, 2013

©2013 Gardener's Servant Productions.
All Rights Reserved.
---

DONOR CARD

Print this and mail it along with your tax deductible donation and prayer requests.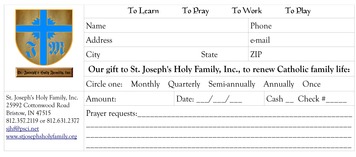 ---
Testimony: The peace that only God can give

Mark Messmer
July 2013
My wife, Kim, and I and our son, Luke, have had the pleasure of finally experiencing God's Country. After hearing so many positive things about it, we decided to quit making excuses of why we were too busy, and spent the afternoon with Dr. Ginter and Greg Haas, touring the facility, praying, and learning the history of the Ubelhor Family and St. Joseph's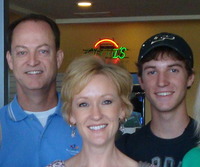 Holy Family, Inc.
There is a sense of peace you get as you are walking through the woods, praying and meditating on the Stations of the Cross, or the Rosary Trail, that draws you close to God in a truly unique way. I was able to hear God's call to me that afternoon to put behind me some hurtful things that happened to me earlier this year, and experience the peace that only God can give.
The stories that were shared about how God has spoken to Greg over the years on what to build, and how the Lord has time and time again put the right people and the material needed into place at the right time, were inspiring, to say the least. When you look back over the decades, no one could have anticipated where God was leading Greg and his family with God's Country. But now looking back, you can see the finger of God at work in putting together a place for families to get away and be built up spiritually like few other places can offer.
---
Your Needs Placed Before God's Mercy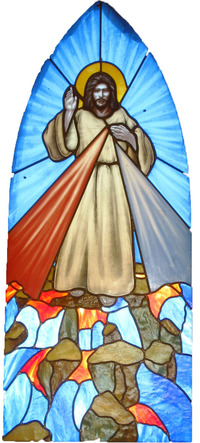 We invite you to send us your prayer requests. A binder rests below the only publicly available Divine Mercy stained glass window in the US in the Gardener's House. God's Country is America's most blessed 32 acres. God answers prayers here. We want the whole world to know it and to receive the blessings from a visit.
---
God's Country Kids (formally "The PS Spot")
After a little further consideration, Anna Buechler, and her mom, Colleen, decided to place children from our community "on" God's Country in different places. The result is God's Country Kids, a light-hearted feature that replaces "The PS Spot." Look for a new God's Country Kids in every newsletter. God bless all artists who lay their gifts before the Handmaids and Servants of the Gardener!

---
How do you serve the Gardener?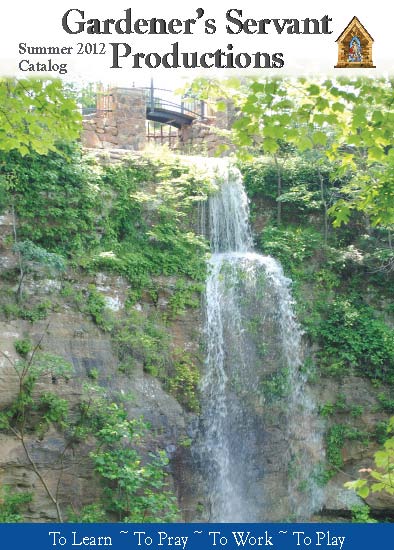 According to the
1912 Catholic Encyclopdia online
, with our bold added, the "monastic scapular, like the whole monastic habit and indeed the liturgical vestments of the priest, developed from the ordinary clothing of the
laity
. And, just as the stole is the special sign of the priestly dignity and power, the scapular is now the sign of the monk. In the West, in the case of St. Benedict,
the scapular was at first nothing else than a working garment or apron such as was then worn by agricultural labourers
."
Instead of a scapular, we have proposed another small working garment, as it were, for handmaids and servants of the Gardener. It is a rosary bandana. We invite you to wear it as you wish. The St. Joseph Bandana is green and the St. Mary Bandana is purple. We ask a $5 donation for 1 or an $8 donation for 2. Let us know how many you want and to what address we can send them.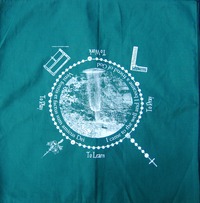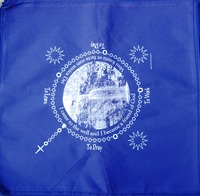 ---
THANK YOU! THANK YOU! THANK YOU!
- to all of our benefactors.
Due to your generous gifts, this apostolate serves families, youth, parishes, men's and women's groups and the Particular Churches in Indiana, Kentucky, and Illinois.
Thanks especially to
an Anonymous Couple
for their generous gifts.
---


FIRST SATURDAY DEVOTIONS
Summer Schedule (
Central Time
):
9:30
Registration at the St. Michael Statue

10:00
The Message of Fatima at the Grotto of Our Lady of Grace

10:15
Examination of Conscience at Ten Commandments

10:30 – 11:15
Confessions in the Gardener's House

10:30 – 11:15
Stations of the Cross on the Trail

11:30
Mass at the Outdoor Chapel

12:00
Angelus before Pitch-in Meal in the Amphitheater

1:15
Rosary on Trail or in the Amphitheater

2:15
Teaching on Image of Mary

3:00
Divine Mercy Chaplet at Gardener's House
Afterwards, families are welcome to play and to cook out. To arrange a visit or to request a group retreat,
contact the Welcome Center (812.357.2119).
ALL SERVICES ARE GIFTS FROM GOD. SJHF IS A 501(c)(3) NON-PROFIT CORPORATION.
THANK GOD BY DONATING GENEROUSLY TO:
ST. JOSEPH'S HOLY FAMILY, INC.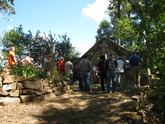 UPCOMING EVENTS AT GOD'S COUNTRY


July 5, 9:30 a.m.
- First Friday Reparation Work Day. Bring gloves, gardening tools, lunch.
July 6, 9:30 a.m.
- First Saturday Devotions. Fr. Eugene Schmitt, presiding, and with a teaching on "Our Lady of Mt. Carmel" by seminarian Andrew Thomas.
July 11, 9:30 a.m.
- Second Thursday Holy Hour at St. Boniface Catholic Church, Evansville. Dcn. Tom Kempf will preside.
July 26, 7:00 p.m.
- Fourth Friday Free Family Flix for Fun. Bring snacks to share.
John XXIII: The Pope of Peace
Run Time: 200 minutes.
Aug. 2, 9:30 a.m.
- Friday Reparation Work Day. Bring gloves, gardening tools, lunch.
Aug. 3, 9:30 a.m.
- First Saturday Devotions. Fr. Ralph Schipp, presiding, and with teaching on "Our Lady of the Snows" by seminarian Kevin Effron.
Aug. 8, 6:30 p.m.
- Second Thursday Holy Hour at St. Boniface Catholic Church, Evansville. Dcn. Tom Kempf will preside.

Aug. 23, 7:00 p.m.
- Fourth Friday Free Family Flix For Fun. Bring snacks to share.
Padre Pro
, (The story of the Mexican Cristero Martyr, Fr. Augustin Miguel Pro) Run time: 98 minutes.

My God, I believe, I adore, I hope, and I love you. I ask pardon of you for those who do not believe, do not adore, do not hope, and do not love you.
-prayer
taught to the Fatima children by the Angel of Peace in 1916


Please join us for the St. Joseph's Holy Family, Inc. Holy Hour every 2nd Thursday at the St. Boniface Catholic Church Grotto in Evansville.
We would love to expand our Holy Hours for the renewal of Catholic family life to a parish or chapel in the Archdiocese of Louisville or the Diocese of Owensboro on a different Thursday evening. Permanent Deacons are especially encouraged to contact us for more details.

---


Parishes & Mass Times in the Tell City Deanery

St. Paul, Tell City
Rev. Dennis Duvelius, V.F.,
Pastor
5:30 p.m.
Sat.
9:30 a.m.
Sun.
11:30 a.m.
Sun.
St. Mark, Perry County
5:30 p.m. (Summer)/
4:00 p.m. (Winter)
Sat.
8:00 a.m.
Sun.
-------------------

St. Augustine, Leopold
Rev. Brian Esarey,
Pastor
4:00 p.m.
Sat.
10:30 a.m.
Sun.
Holy Cross, St. Croix
9:00 am.
Sun.
St. Martin of Tours, Siberia
7:30 a.m.
Sun.
-------------------

St. Michael, Cannelton
Fr. Sengole Thomas Gnanaraj,
Admin
.
8:00 a.m.
Sun.
St. Pius V, Troy
10:30 a.m.
Sun.

St. Isidore the Farmer, Perry County
6:00 p.m.
Sat.
9:30 a.m.
Sun.
-------------------

St. Meinrad, St. Meinrad
Rev. Anthony M. Vinson, OSB,
Pastor
8:00 a.m.
Sun.
St. Boniface, Fulda
5:00 p.m.
Sat.
6:00 a.m.
Sun.
-------------------

St. Joseph, Crawford County
Rev. Joseph Villa,
Admin
.
9:15 a.m.
Sun
.
---
Little Flower in the Garden of the Lord Blog

Kate Bittner shares her creative and spiritual writing as a handmaid of the Gardener on her blog. Check out her profound meditations
here
.

---
---
Look for SJHF at these Upcoming Events:
• July 26-27, 2013, The Catholic Diocese of Peoria 27th Annual Charismatic Renewal Conference, "Healed and Empowered." In addition to our display table, Dr. Mark will emcee the Conference. For more information, visit ccr-cdop.org.

• Aug. 11, 2013, Showplace East Cinema, Evansville, IN, matinee showing of Restless Heart: The Confessions of St. Augustine. Doors open at 3:30 p.m. (central) Tickets may only be bought at that time for a 4:30 showing; $7 per ticket. DVDs of the movie will be available exclusively at this showing. Although we are not organizing this event, you may contact us for more information.