Concerning the crisis in family life, Christ gives the answer through His Church.

by Dr. Mark Ginter
Head Coordinating Servant
As everyone agrees, the family is in crisis. Likewise, society is in crisis because the family is the basic cell of society. Our apostolate originated from the desire of Joseph and Roberta Ubelhor to have their family live an authentic Catholic life and to draw renewing energy for this vocation from the natural beauty of God's Country. Yet their descendants are challenged today like every other Catholic family to remain true to the call to radiate the Holy Trinity in the everyday world.
Our present mission, "to renew Catholic family life," is the logical extension of Joseph and Roberta's original desire because it is the desire of Christ for his Holy Catholic Church. In reality, the family has been in crisis since Adam and Eve were banned from the Garden of Eden because of their covetness, ignorance, cowardice, and divisiveness. If the first family suffered from fratricide when Cain slew his brother, Abel, can we really expect a better outcome unless we are born again into God's grace-filled family? So, the answer to the crisis is Jesus Christ, born of the Blessed Virgin Mary and adopted by St. Joseph, and the Holy Spirit's grace from the Father through the Church.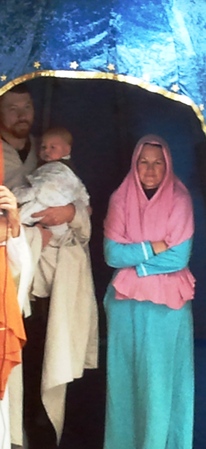 However, the present crisis is slouching toward deeper lows in comparison to a relatively moral era in the mid-20th Century. Worldwide, traditional marriages are decreasing; same-sex "marriages" are increasing; more older and unmarried women are giving birth to children; more fathers are absent from their children and men are confused about their role; abortions continue to increase, especially in Asian countries; the production of frozen embryo children is increasing dramatically; family cohesiveness is decreasing with more mobility and greater disparity between rich and poor; more government regulation replaces family discipline and accomplishment; decreasing family size dilutes family identity; more parents and grandparents are abandoned in nursing homes and hospitals as they near the end of their earthly lives, and God is honored less because fathers and mothers are honored less.
Join our mission: to renew Catholic family life in the Church with the Church through the Church. God's PEACE!
Slavic Evangelical Christian Baptist Camp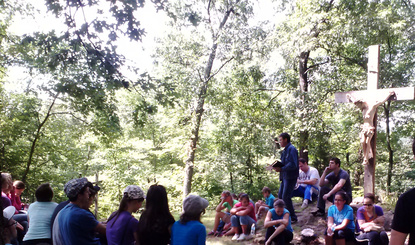 God's Country is open to the public. Anyone who has the same love for God's natural and inspired beauty as we do is welcome. So, "Living Spring" Slavic Evangelical Christian Baptist Camp visited God's Country on July 29, 2013.
The Pastor of Church of God Evangelical Christian Baptist in Evansville, IN, Oleg Kuksenko, preaches the message of salvation on Calvary Hill to 52 youth and adult Russians and Ukrainians.

---
BOOK YOUR RETREAT FOR 2014 NOW!
We are booking retreats now for spring and summer 2014. Contact us as soon as possible for your school, parish, men's, women's, youth, Cursillo, or CHRP group. Daylong retreats are perfect for school groups. Our retreats and facilities are family-friendly.

---
Mission Statement

The Mission of St. Joseph's Holy Family, Inc., is the renewal of Catholic family life through the inspired and natural beauty of God's Country for those already pursuing a vocation as a domestic church, for youth discerning their vocation to service in communion, and for all of Christ's disciples who have a common vocation to holiness and to the mission of evangelizing the world.
Pillars:
To Learn - To Pray - To Work - To Play
St. Joseph's Holy Family, Inc.
is a
501(c)(3) Indiana non-profit
operating as an apostolate within the Archdiocese of Indianapolis.
Voice of the Gardener Newsletter,
Vol. 3, No. 5, September 1, 2013

©2013 Gardener's Servant Productions.
All Rights Reserved.
---

DONOR CARD

Print this and mail it along with your tax deductible donation and prayer requests.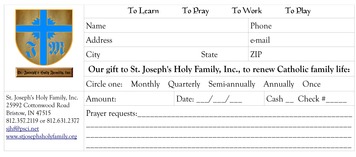 ---
Testimony: God's Wonderful Ways

Monica Morris
September 2013
One of the recent wonderful ways God has worked in our life is our introduction to the Ginter Family and God's Country. We first met Dr. Mark at a Catholic educator's conference at Lake Barkley, KY. He was there to share info about St. Joseph's Holy Family, Inc., and David was there to play music for Mass. After a mutual friend introduced us, my husband immediately asked a theological question, and Dr. Mark was delighted to provide a detailed answer. Before we parted, he had also given us literature about God's Country.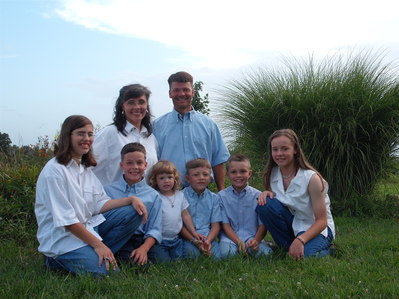 It seemed an isolated chance encounter, but a few months later we saw Dr. Mark again at a reception in our parish in Whitesville, KY, and had the pleasure of meeting his family. Upon closer questioning, we discovered that God's Country was only a little more than an hour from us, and we soon visited there. The natural beauty of the place impressed us; it is poetic. David was especially impressed by the peaceful quiet, and deemed it a perfect place for songwriting.
Shortly after that, we provided music for a First Saturday Mass, and entertainment after lunch. Now David is playing on every First Saturday, and I'm sure he will, occasionally, be accompanied by me and the kids.
We have enjoyed our experiences with God's Country and the Ginters. Dr. Mark is an excellent leader and a captivating speaker. His enthusiasm for ministry to families and the New Evangilization is immense and contagious. We are excited by the great potential that lies in the project of God's Country, and pray that God will make use of the beautiful location and the beautiful Ginter Family for His greater glory. It will be an adventure to see what He does next.
---
Your Needs Placed Before God's Mercy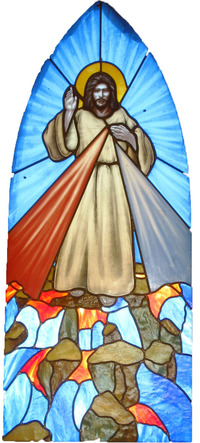 We invite you to send us your prayer requests. A binder rests below the only publicly available Divine Mercy stained glass window in the US in the Gardener's House. God's Country is America's most blessed 32 acres. God answers prayers here. We want the whole world to know it and to receive the blessings from a visit.
---