As from a fountain of living water, the Spirit will flow over humanity.

by Dr. Mark Ginter
Head Coordinating Servant
In general, Catholics are not accustomed to think of the Holy Spirit when they think of Christ's Body and Blood. However, the Trinitarian consciousness in all of Pope Blessed John Paul II's theology changes this centuries old custom by making an intrinsic link between the Holy Spirit and the Eucharist. In the "Prayer of the Handmaids and Servants of the Gardener for a New Springtime of the Church through a New Evangelization," we take up this link and make it explicit.
In his 1989 Catechesis on the Creed, the saintly pope replies to the concerns of Charismatic Catholics and Pentecostal Christians by explaining the "baptism of the Holy Spirit" as follows: "'Baptizing in the Holy Spirit' means regenerating humanity with the power of God's Spirit. That is what the Messiah does. As Isaiah had foretold (11:2; 42:1), the Spirit rests on him, filling his humanity with divine strength, from his Incarnation to the fullness of the resurrection after his death on the cross (cf. Jn 7:29; 14:26; 16:7, 8; 20:22; Lk 24:49). Having acquired this fullness, Jesus the Messiah can give the new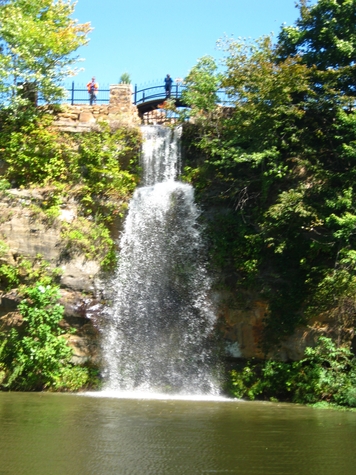 baptism in the Spirit of whom he is full (cf. Jn 1:33; Acts 1:5). From his glorified humanity, as from a fountain of living water, the Spirit will flow over the world (cf. Jn 7:37-39; 19:34; cf. Rom 5:5)." It is Christ's glorified humanity, filled with the Spirit, which we receive in Holy Communion.
One clear link between the Eucharist, the Holy Spirit and the New Evangelization concerns the sacred place where the Last Supper was celebrated and where the disciples received the Holy Spirit: the Upper Room. There is a spiral dynamic here that underlies the mission of the Church: from the World to the Upper Room, from the Upper Room to the Cross, from the Cross to the Tomb, from the Tomb to the Upper Room, from the Upper Room to the World.
"Heavenly Father, thank you for giving us the Body and the Blood of Your Son, Our Lord Jesus Christ, in the Most Holy Sacrament of the altar. Baptize us anew in your Holy Spirit with this Holy Communion. May our light shine before all so that our good works give you glory. Accept this prayer of praise and thanksgiving in Jesus' Name. Amen." God's PEACE!
Men's Retreat and Work Session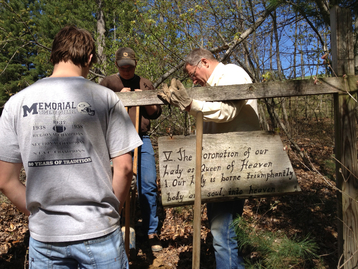 For our Second Annual Men's Retreat and Work Session on April 20, 2013, Fr. Daniel Whelan of the Sons of St. Philip Neri in Ft. Wayne, IN, celebrated the sacraments and gave two conferences on the theme "Rise Up, O Men of Faith!" Thirty men, young and younger, from nine Knights of Columbus Councils participated.
Jim Durchholz, Indiana K of C District 33 Deputy, guides his son, David (left), and cousin, Allen Lascher (middle), as they repair a rosary trail sign. Of the 70 signs that needed repair about half were fixed that day. (photo by Cris Goldbach)
The evaluations were so positive that we look forward to hosting next year's conference on April 26, 2014.
Mark your calenders now!
Thanks to Fr. Daniel Whelan who shared the Gospel of Life and Reconciliation with truth and compassion.

Thanks to Greg Haas, Cris Goldbach, Jim Durchholz, and Dcn. Tom Kempf, who led teams of workers.
Thanks to Tim Erney, Ron Hoppenjans, and the Jasper Knights of Columbus Council, especially Grand Knight Don Dewig, for breakfast.
Thanks to Steve Luegers and Bernie Fallon for lunch.
Thanks to Ed Hopf and Jason Butler for their ATVs to carry supplies to the rosary trails.
Thanks to the men who decided to visit God's Country for the first time.
God bless you all!
---
BOOK YOUR RETREAT FOR 2013 NOW!
We are booking retreats now for fall 2013. Contact us as soon as possible for your school, parish, men's, women's, youth, Cursillo, or CHRP group. Daylong retreats are perfect for school groups. Our retreats and facilities are family-friendly.

---
Mission Statement

The Mission of St. Joseph's Holy Family, Inc., is the renewal of Catholic family life through the inspired and natural beauty of God's Country for those already pursuing a vocation as a domestic church, for youth discerning their vocation to service in communion, and for all of Christ's disciples who have a common vocation to holiness and to the mission of evangelizing the world.
Pillars:
To Learn - To Pray - To Work - To Play
St. Joseph's Holy Family, Inc.
is a
501(c)(3) Indiana non-profit
operating as an apostolate within the Archdiocese of Indianapolis.
Voice of the Gardener Newsletter,
Vol. 3, No. 3, May 1, 2013

©2013 Gardener's Servant Productions.
All Rights Reserved.
---

DONOR CARD

Print this and mail it along with your tax deductible donation and prayer requests.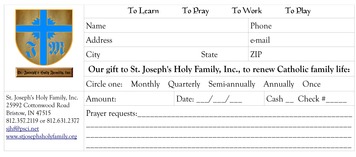 ---
Testimony: A Better Approach to the Healing of Our Society: Holy Families

Deacon Tom Kempf, Jr.
May 2013
I first met Dr. Mark Ginter after a weekday Mass at Holy Trinity in downtown Evansville several years ago. He had been there talking with a groups at Holy Trinity about St. Joseph's Holy Family, Inc., and it was Father Jean Vogler who introduced me to him.

We talked for a few minutes and, before parting, Dr. Ginter gave me some literature on a place called "God's Country," a place near the Hoosier National Forest that I had never heard of before. My interest was piqued because I had always loved that area and at one time my wife, Sheldona, and I had seriously considered looking for a home in or near the Hoosier National Forest. It was within a week or so and, with the aid of an aerial map that had been given to me by Dr. Ginter, that we drove to God's Country to have a look around. I was amazed at what I saw. We did quite a bit of walking that day and covered most of the grounds.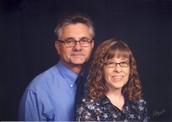 With a busy schedule as a Permanent Deacon in the Diocese of Evansville and a full-time job, it would still be another year or so before I would get to know Dr. Mark and come to a better understanding of what Saint Joseph's Holy Family, Inc. was all about. The core of their mission is a commitment to the renewal of Catholic family life and that is something which is sorely needed in our society today.

Our Catechism teaches that "The family is the original cell of social life. . . . Authority, stability, and a life of relationships within the family constitute the foundations for freedom, security, and fraternity within society. The family is the community in which, from childhood, one can learn moral values, begin to honor God, and make good use of freedom." (CCC, 2207) Our society is on the verge of collapse and it is because the foundation of our society, the family, is broken.
In the past I have worked in soup kitchens helping to feed the hungry and, for a short while, with a particular jail ministry that focused on newly released men and their struggle to integrate back into society. Both ministries are worthwhile and part of the Lord's work that we are called to, but both left me feeling frustrated because I knew that the people being served in these ministries were mostly from broken homes and dysfunctional families. I knew there had to be a better approach to the healing of our society. I knew that if the family could be healed there would be less people homeless, hungry, and or incarcerated, not to mention the many other ills that would surely be diminished if we had more holy families. And so I became increasingly inspired the more I learned about Saint Joseph's Holy Family, the Ginters, and their mission to renew Catholic family life.
I was very fortunate to be able to make the Second Annual Men's Retreat at God's Country this past April. It was a wonderful Spring day, and I could sense the presence of the Holy Spirit at work as Father Daniel Whelan of the Sons of Saint Philip Neri in Fort Wayne talked to us about being "men of faith" in what i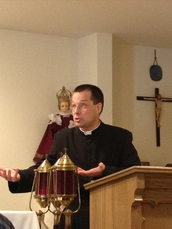 s fast becoming a godless society. Father Daniel was a wonderful speaker and a down-to-earth man with an exceptional grasp of the reality of our present day situation. The citizens of Fort Wayne are blessed to have such a priest, and I pray that God would send us many more like him. Besides the talks given by Father Daniel, he, also, led us in the celebration of the Mass and was available for the Sacrament of Reconciliation at different times during the day.
Dr. Mark put us to work clearing brush and mending some of the rosary trail signs for a couple of hours as this was a working retreat, but he also prayed with us including, amongst other prayers, a Rosary and the Chaplet of Divine Mercy. We had a couple of good meals and some good fellowship to go along with all the praying and working which, all-in-all, made for a fantastic day at God's Country, and one I hope to repeat in the future as I intend to make the Men's Retreat an annual event.
God bless the Ginters, the Haas and Ubelhor families, and all who work to support God's Country, for it is truly God's work that they are doing.
---
Your Needs Placed Before God's Mercy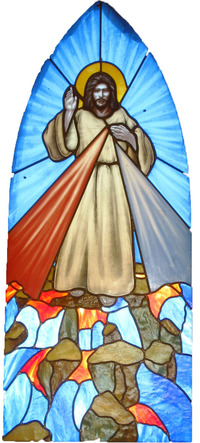 We invite you to send us your prayer requests. A binder rests below the only publicly available Divine Mercy stained glass window in the US in the Gardener's House. God's Country is America's most blessed 32 acres. God answers prayers here. We want the whole world to know it and to receive the blessings from a visit.
---
The PS Spot
Thanks to Anna Buechler for introducing us to "Clare" and thanks to Colleen Buechler for introducing "The PS Spot." Look for a new PS Spot in every newsletter. God bless you and your whole family!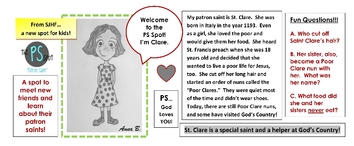 ---
Coming Soon!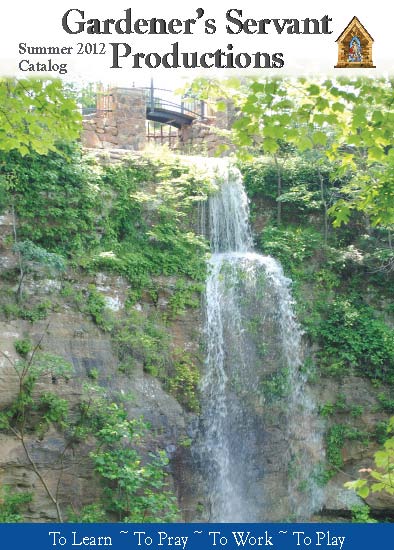 A catalog of catechetical tools and rosary aids to help you evangelize during the Year of Faith. We will let you know when
Gardener's Servant Productions
are available.
---
THANK YOU! THANK YOU! THANK YOU!
- to all of our benefactors.
Due to your generous gifts, this apostolate serves families, youth, parishes, men's and women's groups and the Particular Churches in Indiana, Kentucky, and Illinois.
Thanks especially to
Dcn. James and Donna Schwartzkopf, Alton, IL
for their generous gifts.
---


FIRST SATURDAY DEVOTIONS
Summer Schedule (
Central Time
):
9:30
Registration at the St. Michael Statue

10:00
The Message of Fatima at the Grotto of Our Lady of Grace

10:15
Examination of Conscience at Ten Commandments

10:30 – 11:15
Confessions in the Gardener's House

10:30 – 11:15
Stations of the Cross on the Trail

11:30
Mass at the Outdoor Chapel

12:00
Angelus before Pitch-in Meal in the Amphitheater

1:15
Rosary on Trail or in the Amphitheater

2:15
Teaching on Image of Mary

3:00
Divine Mercy Chaplet at Gardener's House
Afterwards, families are welcome to play and to cook out. To arrange a visit or to request a group retreat,
contact the Welcome Center (812.357.2119).
ALL SERVICES ARE GIFTS FROM GOD. SJHF IS A 501(c)(3) NON-PROFIT CORPORATION.
THANK GOD BY DONATING GENEROUSLY TO:
ST. JOSEPH'S HOLY FAMILY, INC.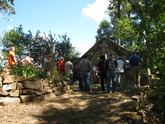 UPCOMING EVENTS AT GOD'S COUNTRY


May 3, 9:30 a.m.
- First Friday Reparation Work Day. Bring gloves, gardening tools, lunch.
May 4, 9:30 a.m.
- First Saturday Devotions with teaching on "Our Lady of Kibeho."
May 3, 9:30 a.m.
- Second Thursday Holy Hour at St. Boniface Catholic Church, Evansville. Dcn. Tom Kempf will preside.
May 24, 7:00 p.m.
- Fourth Friday Free Family Flix for Fun. Bring snacks to share.
The 13th Day
. Run Time: 85 minutes.
May 31, 9:30 a.m.
- Friday Reparation Work Day. Bring gloves, gardening tools, lunch.
June 1, 9:30 a.m.
- First Saturday Devotions with teaching on "Our Lady of Perpetual Help" or "
Theotokos
of the Passion."
June 13, 6:30 p.m.
- Second Thursday Holy Hour at St. Boniface Catholic Church, Evansville. Dcn. Tom Kempf will preside.

June 28, 7:00 p.m.
- Fourth Friday Free Family Flix For Fun. Bring snacks to share.
The Sound of Music
, Run time: 174 minutes.

My God, I believe, I adore, I hope, and I love you. I ask pardon of you for those who do not believe, do not adore, do not hope, and do not love you.
-prayer
taught to the Fatima children by the Angel of Peace in 1916


Please join us for the St. Joseph's Holy Family, Inc. Holy Hour every 2nd Thursday at the St. Boniface Catholic Church Grotto in Evansville.
We would love to expand our Holy Hours for the renewal of Catholic family life to a parish or chapel in the Archdiocese of Louisville or the Diocese of Owensboro on a different Thursday evening. Permanent Deacons are especially encouraged to contact us for more details.

---


Parishes & Mass Times in the Tell City Deanery

St. Paul, Tell City
Rev. Dennis Duvelius, V.F.,
Pastor
5:30 p.m.
Sat.
9:30 a.m.
Sun.
11:30 a.m.
Sun.
St. Mark, Perry County
5:30 p.m. (Summer)/
4:00 p.m. (Winter)
Sat.
8:00 a.m.
Sun.
-------------------

St. Augustine, Leopold
Rev. Brian Esarey,
Pastor
4:00 p.m.
Sat.
10:30 a.m.
Sun.
Holy Cross, St. Croix
9:00 am.
Sun.
St. Martin of Tours, Siberia
7:30 a.m.
Sun.
-------------------

St. Michael, Cannelton
Fr. Sengole Thomas Gnanaraj,
Admin
.
8:00 a.m.
Sun.
St. Pius V, Troy
10:30 a.m.
Sun.
-------------------

St. Isidore the Farmer, Perry County
Rev. Guy Mansini, OSB,
Pastor
6:00 p.m.
Sat.
9:30 a.m.
Sun.
-------------------

St. Meinrad, St. Meinrad
Rev. Anthony M. Vinson, OSB,
Pastor
8:00 a.m.
Sun.
St. Boniface, Fulda
5:00 p.m.
Sat.
6:00 a.m.
Sun.
-------------------

St. Joseph, Crawford County
Rev. John L. Fink,
Admin
.
9:15 a.m.
Sun
.
---


---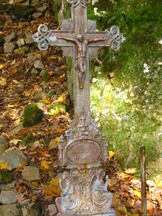 MEMORIALS
Donations have been given for:
Walter Duing

by:
Peter and Jenny Berry
~~~~~~~~~~~~~~
Eternal rest grant unto them, O Lord, and let perpetual light shine upon them.
May their souls and all the souls of the faithful departed through the mercy of God rest in peace. Amen.
May their memory be eternal!

---
Little Flower in the Garden of the Lord Blog

Kate Bittner shares her creative and spiritual writing as a handmaid of the Gardener on her blog. Check out her profound meditations
here
.

---
---
Look for SJHF at these Upcoming Conferences:
• June 7-8, 2013 Kentucky Catholic Homeschool Conference, "Fideles! Teaching Families in Faith," in Louisville. In addition to our display table, Dr. Mark will be giving a workshop on SJHF. He will also give presentations entitled, "St. Joseph's Family," about the role of fathers in educating their children, and "Heresies without Hope," about the sin of presumption and the various heretical forms of moral relativism. For more information, visit louisvillecatholichomeschooling.com

• June 27-30, 2013 Catholics United for Life Ignite Your Torch Conference in Springfield, KY. For more information, visit catholicsunitedforlife.org.

• July 26-27, 2013, The Catholic Diocese of Peoria 27th Annual Charismatic Renewal Conference, "Healed and Empowered." In addition to our display table, Dr. Mark will emcee the Conference. For more information, visit ccr-cdop.org.
---
Images of the Theotokos: First Saturday Devotions Series

We just finished a series of teachings by seminarians, mostly, on approved Marian apparitions. We will begin a new series of teachings on famous images of Mary, Mother of God (In Greek, Theotokos).

We welcome your donations of these images, in whatever size you have, to our apostolate for teaching and for veneration.