I am not and have not been a good person for 39 years.
It is important that I start off by making that perfectly clear.
I am an undeserving person for what I have been given and the opportunities presented in front of me.
I will not make excuses for anything.
I was born in 1973 to a dysfunctional family.
Dysfunctional in that it was an abusive environment, lack of financial means, and a family lost in purpose.
My parents divorced when I was 6 years old. So, splitting up and giving up was normal to me.
It is what I learned.
Loneliness, hunger, and despair was an everyday normal.


At the age of 12, I began getting involved in a youth group at the local church, Valley Mills Christian Church.
My mother believed that if I was going to attend youth group activities, then we should attend church on Sundays.
Yea….not really for me.
Church was boring.
I only got involved because there were activities to do. So, needless to say, I didn't want to be there. So, I never once paid attention or even made an effort.
I did attend Sunday school classes. So, I did learn a little, but I can't tell you what it was
When I was 14, I learned that I should be baptized.
I didn't know why, but I knew that I was supposed to be. So one Sunday morning, I asked and was baptized by full immersion at the end of that Sunday service.
So now I am a Christian…….I don't know what it means…..I don't know what I am supposed to do with it……. But hey, I get to go to heaven now, right?
So that is what I thought anyway.
My high school years were spent playing baseball and going out and doing whatever I wanted when I wanted.
Still living my life without a purpose.
Only living everyday for ME, MYSELF and I.
After graduation, I attended IU in Bloomington.
There I didn't attend class.
I was there to play baseball, and since I'm an athlete I don't have to attend class….or so I thought.
This is why I only spent one year at IU.
While there, I met my first wife. As the school year came to an end, I moved to southern Indiana where she was from.
We married in January of 1995 and our first daughter was born in May of 1995.
Now married and a father, I still didn't change my life.
I still lived for me and what I wanted.
I was always gone hunting or going out.
I was going through a different vehicle every 6 months because I would get bored with what I had.
I was even going from job to job, not because I was losing them, but because I just got bored and wanted to do something different.
By this time I was doing good though; I was going to church about 5-6 times a year.
In 2000, our second daughter was born.
Now I have two kids and still only thought about myself.
In late 2001, we were separated, and in early 2003, the divorce was final.
There is nothing wrong with getting divorced.
50% of all marriages end up in divorce, and, as a Methodist, it wasn't frowned upon.
During this time I met my current wife,
Although I did not know it until just recently, she would have the biggest impact and influence on my life.
In 2003, I got into trouble with the law. I had to resign my job and move away, back up to the Indianapolis area.
Stephanie moved with me,
Stephanie is younger than me and a Catholic.
Yea, one of those radical stand up, sit down, kneel people.
Family get-togethers were awkward, to say the very least,
e
specially being around her mother.
Being a devout Catholic, I thought her mother was way over the edge, and I spent my time trying to stay away from her as m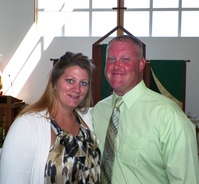 uch as I could because becoming Catholic was something I would never do!!!
Thankfully Stephanie was at a stage in her life where she was Catholic but followed the part of the religion that suited her at the time.
In 2004, I lost my brother in a motorcycle accident. Although we were never close growing up, since I moved to Indianapolis, I lived with him and my sister-in-law. This gave us a chance to get to be closer before his passing. Who called to tell me about it? Who was there to meet me at the hospital when I arrived? Who quit her job in order to be there with me and my family during this time? Yes, it was Stephanie. Every minute of every day.

In May of 2007, we married on the beach in Cancun, Mexico. Being a Catholic, she heard that it was wrong to not be married within the church. Although she wasn't sure if she believed it or not, in order for us to have a nice wedding and make me feel comfortable, she didn't look into it and our wedding was planned. Only later would I find out that our marriage wasn't a real marriage in the eyes of certain people. In 2008, we had our own daughter, and, although I think I tried to start to be a father, I was a miserable failure at it. Still to hard to focus on others when my life is still all about me.
In 2009, my life began to change, and not for the better.
My oldest daughters and their mother were involved in a horrible car accident.
Their mother was killed and both my daughters spent a week in a pediatric intensive care unit with serious injuries.
For a short time I knew there was a God and that I had seen him work.
For a short time. Although I was trying to focus on them, I totally shut Stephanie and my youngest daughter out of my life,
t
o the point that I thought she only worried about her own daughter.
I never saw ALL that she had done and was doing.
Still too selfish for that.
This lead to a separation in which I took the oldest girls and moved out.
During this time I started a relationship with another person.
It lead to a serious relationship, but I never told Stephanie.
When she did find out,
Stephanie filed for divorce on April 1, 2011.
I never understood at the time, but something always happened to put the divorce on hold.
I needed the double covered insurance for my stint in rehab.
Oh yea, did I forget to mention that I became a terrible alcoholic during this time?
Well I did, drinking as much as a gallon of rum every week.
Driving when I shouldn't have been and being around my kids in a manner I shouldn't have been around them.
During all this time I now know that I was circling the drain to hell
, living in purgatory.
I am not sure what happened, but Stephanie and I began to talk and communicate. She agreed to give me a second chance, and we went on a date.
During our date, though, we made a plan to go to a healing service in Norwood, Ohio.
She also gave me a list of demands that had to occur in order for us to be together.
One on the list was "become Catholic."
Everything I have put her through and she still was trying and still trying to lead me to God.
So for the first time ever I considered becoming Catholic.
When we arrived, they were having a confession session, and she told me I needed to go in there.
I told her that I couldn't since I wasn't Catholic. And she said that I should anyway. So, I did.
I was embarrassed for the first time in my life at all that I had to apologize for, and for the very first time, I did a self reflection.
During the service, it felt as though it was only
Fr. Bramlage
and myself in there.
I began to believe in something more than myself but wasn't exactly sure what I was believing in.
After that Stephanie and I became close again, and I learned to pray the rosary and began attending St Malachy Parish in Brownsburg, Indiana where I met the next very influential person on my path,
Fr. John Hollowell
, who was the associate pastor.
Fr. John made me feel as though I had my own personal priest.
He was never unavailable to me.
No matter the time of day, day of the week or his own agenda.
He was always there for me.
I started RCIA and was excited, EXCITED about what I was learning and who I was learning about.
I still had to hit rock bottom, thought, and that was about to happen.
To this point I was on the path, but was on the path for the wrong reason. I was there to save my marriage and get my wife back.
Although a very good reason, it wasn't the right reason.
On Christmas Eve, Stephanie and I split up again. And, yet again, it was 100% my fault because of selfishness and stupidity.
Even my children did not want to be around me.
I had no one.
No one but my bottle and I found comfort in him.
But, all be it a very small but, I sought out guidance from someone else, Fr John.
I finally started to realize that there is more to my world than me and knew I needed help from someone.
I thought putting down the bottle would make me feel better, but initially it made me feel worse, culminating in an attempt to end my life.
I have been on the cusp of
hell
for a long time anyway.
What's the point anymore?
I drove to the parking lot in front of Stephanie's apartment,
t
aped a garden hose to my tail pipe and ran it through the back window of my truck and then taped the crack up and waited.
I was asleep when my phone rang.
It was my daughter calling to see where I was.
Just another "coincidence?"
I pulled the hose out of my window, rolled all the windows down and drove home.
I never saw God, I never heard God speak to me.
What I experienced I can not explain, but it was as though I felt arms around me as if to say, "Come on. You have taken all you can take."
From that instant, I knew that there was a God and that he was present in my life and now I was on the path because I WANTED TO BE ON THE PATH!!
Now it was about God, Not me, not Stephanie, not my kids, it was all about God and what I needed to do to amend my life to live a life worthy of God.
I sought out Fr John for his guidance.
I attended Mass every weekend, even going by myself.
I focused on my kids. I learned to pray for guidance and peace.
I learned to forgive others and to begin to heal those I have hurt or wronged.
The only exception was the one person I knew who had been put in my path to lead me to where I was, Stephanie.
In my self-reflection, I was able to see everything that she had said and did was trying to get me to the point I had finally gotten to.
Only the most influential person in my life was no where around because I spent my whole relationship with her pushing her away.
No one person has tried harder to help me, to be around me, support me and most of all tried to help me live the life I was supposed to live.
Since we started dating, I have called her my angel.
I do believe that she is an angel sent from God to guide me to where I needed to be, But ME, MYSELF, and I pushed her away and continued to push her away and now she was no longer there.
Losing Stephanie is the most painful thing I endured.
She will never believe that or may never believe in me again, and who could blame her?
But I have amended things in my life, and I am living a life with Christ as my leader.
Am I perfect person?
NO!!!
So very far from it!!
Am I a good person?
NO!!
So very far from it!!
39 years of living a life as far from God as one can be can never be amended, even though God is gracious and forgiving and true love. I will never let myself believe that I can atone for all I have done, regardless of how I live my life from here on out.
The last "coincidence" that happened gave me the one more chance to amend my life in the eyes of the one who matters most on earth.
One day at work, I got a text from Stephanie out of the blue asking if I was at work and asking me to come down and talk to her.
I was beyond shocked.
When I saw her, she was shaken and crying.
Although I will not go into detail, something happened that lead her to me for help and since that day we have not been apart.
We moved to southern Indiana where I met the person who would be my sponsor and guidance counselor to live a life through Jesus Christ,
Dr. Mark Ginter
.
I attended the Good Friday service of St. Joseph's Holy Family at God's Country.
That following week I began volunteering there when I am able.
Dr. Mark has become an influence in my life unlike anyone and in living my life through, and for, Jesus Christ, with the exception of Stephanie.
We became members of St Nicholas Parish where
Fr. John Brosmer
and
Dr. Jack Tunier
helped me to finish my RCIA program through videos and one on one sessions.
On September 9, 2012, I was welcomed into the Church as a Catholic of my choice for the right reasons and with the people who mean the most in my life to share it with me.
To this day I can not describe the feeling of that day.
I don't know if I have stopped floating.
I have now become an assistant with the Youth Formation Class and hope to become active in the RCIA program for starters.
I now know what my purpose is in life and exactly what I am supposed to do day in and day out, and who I am supposed to live through, and will not lose sight of that again.
I will trip and fall.
I will make mistakes and I will have days when I don't do all that I should.
I accept that.
Only two people have walked this earth that can't say that and that is our Lord Jesus Christ and Mary Immaculate.
But I know who to live my life for and who to live my life through.
I will never be perfect and I will still sin no matter how hard I try not to, but I know that God has a purpose for me and will always help me in all that I do and show me the path he has laid out for me.