Dear Members and Friends,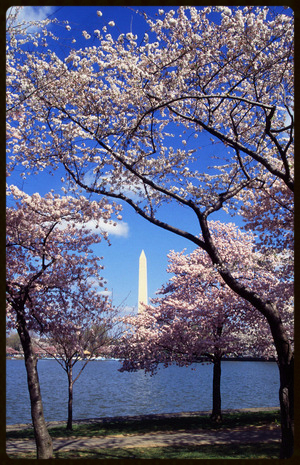 Spring this year may have taken us a little by surprise if we're in the west, or it may have been more elusive for those of us in the east. But nothing can eventually get in the way of a good cherry blossom season. As we track the cherry blossoms across the continent, here's a little background on how it all began as a gesture of friendship between two countries.
Speaking of cherry trees and diplomats, we recently had the pleasure of touching base
again with a long-time supporter of NAJGA's mission, former Japanese Ambassador to the United States Ichiro Fujisaki. Fujisaki-san
joined our 2012 regional meeting at the
Maymont Estate and Gardens and talked
about the two countries' shared love of nature
and of course, cherry trees.

Diana Larowe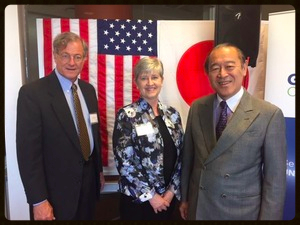 Mr. Fujisaki (right) with Diana and Mr. Kelly Moeur,
Honorary Consul General of Japan in Phoenix, AZ (left).
---
Updates on NAJGA Regional Events
Minnesota will be our first stop this year, instead of New York's Hudson Valley, as previously announced. We look forward to seeing you in the Twin Cities soon!
"IT'S ALL IN THE DETAILS"
Workshop & Garden Education Tour
August 7 to 8, 2015 @ Minneapolis / St. Paul, MN

The skills development workshop on August 7 will cover the following:
1. Maintaining the High-Quality Japanese Garden - Paying close attention to required garden tasks throughout the year. Sessions include shearing of karikomi (wave planting), deciduous tree pruning and pine maintenance.

2. Introduction to the Tea Garden. An examination of the elements of the tea garden and tea house, including design theory, construction and maintenance.

3. Tobi-ishi (stepping stones) and Nobedan (stone paving). Hands-on practice on the proper layout and installation of stepping stones and construction of a short section of nobedan. ​
4. Working with Bamboo. Preparation and manipulation of bamboo used for two commonly used Japanese garden fencing: the nanako-gaki and the yotsume-gaki.

The workshop will be held at the Como Park Zoo and Conservatory, home of the Charlotte Partridge Ordway Japanese Garden.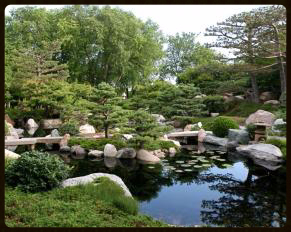 Residential garden visit. On the evening of August 7, members interested in the sukiya living concept of the integrated garden and residential setting will have the chance to immerse themselves in a living example of it through the Modernist house of NAJGA members Jack and Linda Hoeschler. The garden designer himself, Dr. David Slawson, will be around to talk about the garden.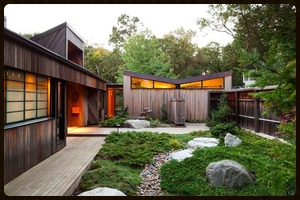 Garden education tour. On August 8, attendees will learn about four distinct styles of Japanese gardens: hill and pond, dry landscape, stroll garden and pleasure boating garden through an expert-guided tour of three Minnesota Japanese gardens: Jo-ryo-en (Garden of Quiet Listening) in Carleton College which was also designed by Dr. Slawson, Normandale Japanese Garden in Bloomington, MN, and the Seisui Tei (Garden of Pure Water) at the Minnesota Landscape Arboretum, designed by Koichi Kawana.

More information and registration details will be posted in the NAJGA website soon! You can also e-mail us immediately at info@najga.org to signify your interest and we will send you full registration details as soon as they become available.
---
Other upcoming NAJGA events

October 9 to 10, 2015 @ New York / Hudson Valley
Fostering the Mature Garden

October 22 to 23, 2015 @ Durham, NC
Mastering Aesthetic Pruning

---
More Excerpts from the 2014-2015 NAJGA Journal

We are sharing more select passages from the Journal in the NAJGA blog.
The publication of the Manzanar articles by Jeff Burton, Mary Farrell and Dr. Seiko Goto also coincides with the 46th Annual Manzanar Pilgrimage happening on April 25. The event attracts over 1,000 people -- former internees, their families and friends as well as other visitors with an interest
in the Manzanar legacy.
For excerpts from the articles, go to this link:
Manzanar's Japanese Gardens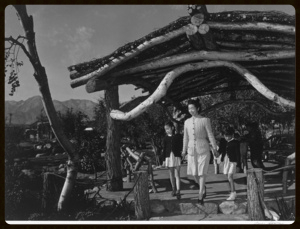 Spring is also a good time to think about the water features in our gardens, and we have six public gardens sharing their experiences in improving water quality, restoring shorelines and aquatic plants, adding to hardscapes, repairing leaks, maintaining historic sensibility, and choosing the right construction materials.
For excerpts from the articles, go to this link:
The Charm and Challenges of Garden Ponds
To order more copies of the NAJGA Journal
or get a copy as a non-member, click HERE.
---
Welcome to our newest members!


Member Spotlight: Florida and Hawaii. Meet two of our members who can help you explore the Japanese gardening scene in two of the sunniest places in the continent right now.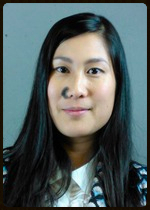 Wendy Lo is the Curator of Education at the
Morikami Museum and Japanese Gardens in Delray Beach, Florida. She manages the classes, lectures and workshops in the museum and its docent program. She is also involved in Morikami's adult outreach program and as the project director of the garden's Stroll For Well-being program, she is most interested in the healing potentials of the Japanese garden.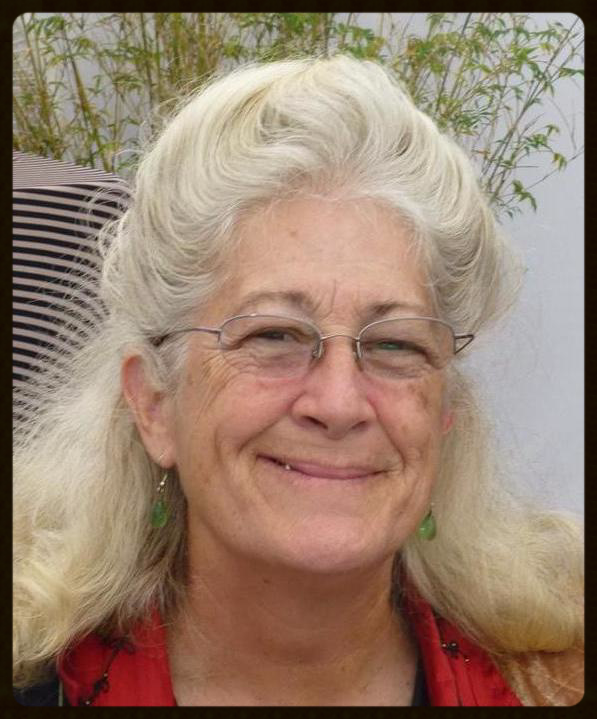 K.T. Cannon-Eger is a founding member of the Friends of Lili'uokalani Gardens in Hilo, Hawaii. K.T. is currently at the forefront of maintaining, preserving and improving Hilo's premier Japanese garden in preparation for its centennial in 2017. She also serves as editor of the NAJGA Journal.
Contact Wendy and KT by logging in to the Members' Section of the NAJGA website and looking up our online Membership Directory.
New Board Members at Nikka Yukko Japanese Garden. The Lethbridge & District Japanese Garden Society which oversees the Nikka Yukko in Lethbridge, Alberta welcomes Diana Minamide, Rev. Tadashi Mitsui and Dawna Coslovi as its newest board members. They bring with them a diverse range of experiences in education, cultural exchange and non-profit work.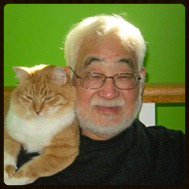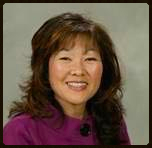 We would like to know relevant news and tidbits about your Japanese garden staff and volunteers: info@najga.org.
Erratum: In the March 2015 e-news, we incorrectly spelled the name of Mr. Dennis Makashima. Our sincere apologies for the error.
---
Community Events: April to May 2015
Collecting Japan For the Met in the Late Nineteenth Century - The Metropolitan Museum of Art / April 10

Hakkodo: The Artisans of Kamakura - Portland Japanese Garden / April 11 to May 3

Easy Plants To Prune (Class) - Plant Amnesty, Seattle, WA / April 12

Timber Grading Training Course - The Heartwood School, Washington, MA / April 13-15

Pride of Place: History of Japanese Gardens in Philadelphia and North America - Shofuso House and Garden / April 16

Katsura Imperial Villa: Experiencing Nature with Heart - Anderson Japanese Gardens / April 16

2015 Shinzen Spring Blossom Festival & Fresno Bonsai Society Spring Show - Shinzen Friendship Garden / April 18 to 19

Japanese Ink Painting - Chicago Botanic Garden / April 21 to May 26

Osmosis Meditation Garden Tour - Osmosis Day Spa Sanctuary / April 22

Sakura Matsuri 2015 - Brooklyn Botanic Garden / April 25

46th Annual Manzanar Pilgrimage - Manzanar National Historic Site / April 25

Japanese Garden Spring Festival - Fort Worth Botanic Garden / April 25 to 26

Japanese Gardening Workshop: The Wonders of Moss - Shofuso House and Garden / April 26

Way of Wa - Japanese Friendship Garden of Phoenix / May 2

Workshop: Bamboo Fence Building - Portland Japanese Garden / May 2 to 3
Please include info@najga.org in your regular mailing list so we can share your updates in our monthly e-news and our content / social media platforms.