Dear Members and Friends,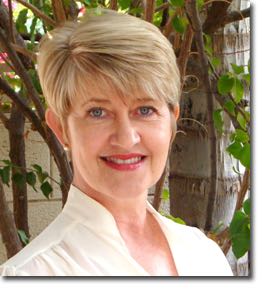 As we all anticipate the coming of spring --- easily one of our favorite seasons in the Japanese garden ---- NAJGA is forging ahead with several exciting events and laying the groundwork for new initiatives this year.
NAJGA Journal Now Available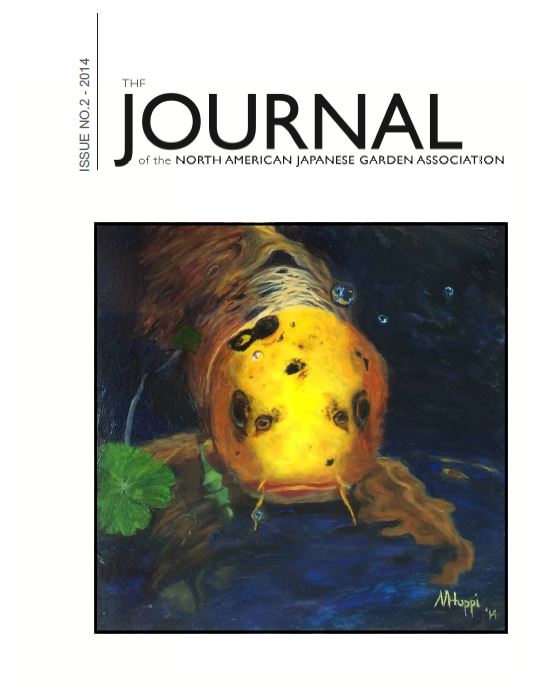 Look out for a copy of the 2014-2015 NAJGA Journal in your mailbox. The Journal is free to members and is also available for non-members. For additional copies and to order as a non-member, click HERE.

With 2015 shaping up as a year of thinking about the history of Japanese gardens in the USA and Canada,
the latest issue of the Journal is a homage and a reflection on two major historical developments in the North American Japanese garden experience.

On the one hand, we are featuring stories that celebrate several, well-loved centennial gardens across the continent. These are the Japanese gardens at The Huntington in San Marino CA, the Maymont in Richmond, VA, the Brooklyn Botanic Garden in NY, the Hakone Estate and Gardens in Saratoga, CA, the Lili'uokalani Gardens in Hilo, Hawai'i and the Japanese Friendship Garden in San Diego, CA.

Read excerpts from the NAJGA Journal "Centennial Gardens" HERE.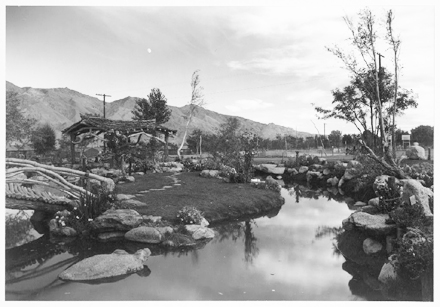 A more somber perspective of our gardening past, as they relate to the bigger tides of history in the last 100 years, is provided by two articles on the Japanese gardens in the Manzanar National Historic Site. Manzanar archaeologists Jeff Burton and Mary Farrell write about how Japanese-Americans in the internment camp "created beauty behind barbed wire" with the gardens they created in those trying times. Japanese garden scholar and NAJGA board member Dr. Seiko Goto adds her insights on the "purpose and role of Japanese gardens" not only in Manzanar but among American internment camps in general.
---
Upcoming NAJGA Events



Mark your calendars for these workshops and garden tours, as well as the celebration of the birth of a new Japanese garden!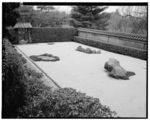 June 12 - NAJGA is going to New York's Hudson Valley for a day of lectures and workshops at Kykuit: The Rockefeller Estate. Kykuit's many charms include one of North America's oldest Japanese gardens, built between 1908 to 1910. We also hope to visit several other stunning gardens in the Hudson Valley.
Photo: Library of Congress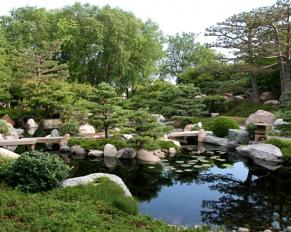 August 7 to 8 - We're off to the twin cities of Minneapolis and St. Paul, MN for a full day of workshops on Friday at Como Park, home of the Charlotte Partridge Ordway Japanese Garden. We focus on a topic of particular importance for serious garden professionals: Attention to detail and how it translates to our experience of the Japanese garden and associated garden arts.

Attendees will also get a chance to visit three exquisite gardens in the area: the Garden of Quiet Listening (Jo-Ryo-En) in Carleton College, the expansive Japanese garden in Normandale Community College at Bloomington and finally, a visit to the Garden of Pure Water (Seisui-Tei) at the Minnesota Landscape Arboretum.

Photo: comozooconservatory.org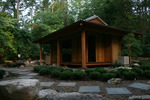 October 22 to 23 - A new Japanese garden is coming into being at the Sarah P. Duke Garden in Durham, NC. Join us for the unveiling of the masterplan created by garden designer Sadafumi Uchiyama, Garden Curator at the Portland Japanese Garden and member of our Board of Directors.
We also have a special treat for pruning enthusiasts on those dates with a workshop led by master pruners Dennis Nakashima and Maryann Lewis of the Aesthetic Pruners Association.

We will provide registration details in the next issues of NAJGA In Focus.
---
Taking the Side of History

The past as well as the immediate future of a particular North American Japanese garden is also very much in our mind lately as we continue to monitor developments in the ongoing dispute over the Hannah Carter Japanese Garden in Bel-Aire, CA. We have expressed our support for a peaceful settlement, in keeping with the spirit of harmony that has always been promoted by the garden itself.

Read the full NAJGA press statement HERE.
The continuing willingness of both parties in the dispute to talk things out is a big reason for optimism, and this may yet bode of greater things to come for this garden. Nevertheless, we are aware that other heritage Japanese gardens in North America that are likewise struggling to make ends meet also have an emotional stake in the outcome of this case.

Photo: hannahcarterjapanesegarden.com
---
An Affiliate's Perspective of NAJGA
From the history of gardens in our midst, we take a step back and look at NAJGA's own story, as seen through the eyes of one of our international affiliates, the UK's Japanese Garden Society (JGS).

The society's Honorary Executive Vice President Graham Hardman who was also one of our speakers in the 2014 Chicago Conference, writes about his experience during the conference and offers some interesting observations --- not only about the Japanese gardens in North America --- but on the nature of NAJGA's organization and the people who care for and maintain these gardens.

Mr. Graham's article was originally published in the Autumn 2014 issue of Shakkei, the JGS quarterly journal.

Read the full re-print of the article HERE.

The differences he noted between NAJGA and JGS --- two Japanese garden organizations that ostensibly share a common cultural background --- is a reflection of how dynamic the field has become outside of Japan in the last few decades.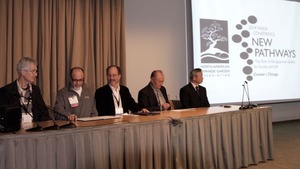 Affiliation agreement signing between NAJGA, JGS and Garden Society of Japan during the October 2014 conference. Photo shows (from left) Graham Hardman (JGS), Tim Gruner and Dr. Ken Brown (NAJGA), Yazuo Takahashi and Kazuo Mitsuhashi (Garden Society of Japan).

---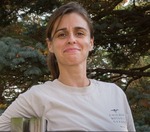 New Head of the Elizabeth Hubert Malott (Sansho-en) Garden. Senior Horticulturist Ayse Pogue is the new person in charge of Chicago Botanic Garden's Japanese Garden. She succeeds Mr. Benjamin Carroll who is now Horticulture and Facilities Manager at the Pittsburgh Botanic Garden in Pennsylvania. Ayse has a Master's degree in Natural Resources and Environmental Sciences at the University of Illinois and found her way to Sansho-en through her experience working in CBG's Dwarf Conifer and Waterfall Gardens.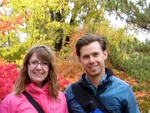 Weddings Bells for NAJGA Director Cody Fong! Congratulations and best wishes to NAJGA Director and Lethbridge, Alberta Certified Arborist Cody Fong and his wife Katie on their recent wedding!
Photo shows the newlyweds enjoying autumn at the Anderson Japanese Gardens.
We would like to know relevant news and tidbits about your Japanese garden staff and volunteers: info@najga.org.

Welcome to our newest members!
Do you want to know who are the other NAJGA members from your area and in other regions? Log in now to the Members' Section of the NAJGA website to access our directory.
---
New Community Events Calendar
We now have a regularly updated Community Events Calendar on the NAJGA home page.

What a great opportunity for member gardens and gardening organizations to share upcoming workshops, lectures, garden tours and cultural events to a wider audience!

Please include info@najga.org in your regular mailing list so we can share your updates in our monthly e-news and our content / social media platforms.

Community Events: March to April 2015