We stand with you, EarthShare Supporter.

This month, as millions of people the world over (including plenty of members of the EarthShare family) stand up for the causes they believe in, we can't help thinking how honored we are to do this, and to know so many other people who do this, every day.

People like you.

People all over Oregon and the Pacific Northwest who work for a few seconds or a few minutes or a few hours of each day to support the environment. People who have resolved--whether as donors, volunteers, staff, corporate partners, or community leaders--to get involved.

People whose resolution can't be broken.

No doubt about it, the stakes are high. Basic environmental information and protections are already under attack. As 2017 gains momentum, then, we want you to know that EarthShare Oregon will continue to stand together with you under the banner of Mother Nature, celebrating, caring for, and sharing the Earth.
---
Keeping the ART in Earth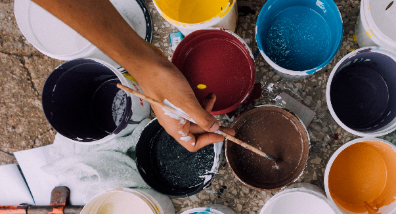 Have you noticed all the powerful and positive signs, outfits and social media memes people are using to demonstrate what really matters? Keep your environmental inspiration flowing throughout 2017 with these exhibits, festivals, classes and more:
Got more beautiful, creative ways to motivate people to take action on behalf of the natural world?
Tweet & Share your ideas with us!
---
Bye Bye, BTA. Hello...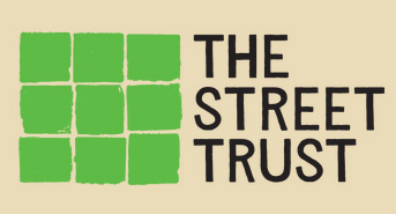 Have you heard? A big change is underway with EarthShare Oregon member group Bicycle Transportation Alliance.
Recognizing the need to expand their advocacy to include all forms of active transportation (biking, walking, and public transit), they rewrote their mission, changed their name, and as of January 2017, the organization formerly known as BTA is now The Street Trust. It's all the programs you know and love, plus a whole lot more.

This change does not affect their status as an EarthShare Oregon member group at this time; pledges made to BTA will now be directed to The Street Trust.

If you have any questions about your gifts through EarthShare, feel free to contact us directly. If you have questions about The Street Trust itself, click here for more information.
---


The pledges and gifts you made during our fall campaign season have been rolling in, and as always, we're amazed and inspired by your generosity. This year especially, your contributions are making a world of difference--stay tuned for success stories as the year progresses.

If you haven't already received your acknowledgement letter or email, rest assured it will be on its way soon. Workplace giving may take a bit longer to process, but it also has a much bigger impact. Think of it as sustainable crowd-sourced fundraising...for the whole planet!

On behalf of our shared planet and our 115 member environmental nonprofits...
---
Thank you for all you do!

Volunteer

Jan 25 | Portland
Office Volunteer Night with The Street Trust

Jan 26 | Portland
Annual Volunteer Gathering with Recycling Advocates

Jan 28, Feb 1 & 2 | John Day
Willow Harvest with ONDA

Jan 28 | Tualatin
Crew Leader Training with Tualatin Riverkeepers

Feb 8 | Portland
New Volunteer Orientation with Portland Audubon

Feb 11 | Tigard
Cook Park Planting (& tea) with Tualatin Riverkeepers

Feb 11 | Coos Bay
Love Your Beach Cleanup with Surfrider

Feb 13 | Online
ONDA 2017 Stewardship Trip Registration Starts

Feb 15 | Salem
Clean Air Lobby Day with Oregon Environmental Council

Feb 23-26 | Newport
Volunteer at the Seafood & Wine Festival with Surfrider

Feb 24-26 | Astoria
Volunteer at the FisherPoets Gathering with Columbia Riverkeeper

Second Tuesdays
"Trashy Tuesdays" River Cleanups with Willamette Riverkeeper

Through April
Tree Planting Days from Vancouver to Eugene with Friends of Trees

& more at EarthShare!


Events, etc.
Jan 25 | Portland
What Lies Ahead: Public Forum on Statewide Energy Policy

Jan 25-Mar 7 | Various
Safe Routes to School Town Halls with OEC

Jan 26 | Online
Portland Audubon Spring & Summer Camp Registration Opens

Jan 26 | Portland
Opening Night of BRINK with Portland Audubon at Antler Gallery

Jan 28 | Portland
Bridges & Big Ships River Discovery Paddle with Willamette Riverkeeper

Jan 29 | Marilyn Lake
Snowshoe Hike with Oregon Wild

Jan 31 | Portland
Mt. Hood LNG Pipeline Q&A with Columbia Riverkeeper and Bark

Feb 2 | St. Johns
Superfund Celebration at Occidental Brewing with Portland Audubon & Willamette Riverkeeper

Feb 7 | Bend
The Secret Lives of Sage-Grouse with ONDA

Feb 8 & 9 | PDX & Corvallis
Beaver Tales: Exhibit Events with The Wetlands Conservancy

Feb 12 | Portland
Wildlife Care Center Open House at Portland Audubon

Feb 12 | Mt. Hood
Wildlife Tracking Hike with Bark

Feb 12 | Grants Pass
Siskiyou Film Fest with KS Wild

Feb 15 | Portland
Nature Night at Portland Audubon: Malheur One Year Later

& more at EarthShare!