What a month, EarthShare Supporter!

Snowflakes, icicles, and evergreens...oh my. Here in the Pacific Northwest, winter has most definitely arrived, right alongside the year's biggest holidays. To help make the season bright, we thought we'd keep our December newsletter short and sweet. And so, we're offering this simple page...of stress-free and eco-friendly ideas and inspirations!
---
Your Guide to Last-Minute Green Giving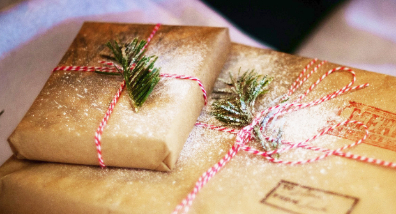 You made your lists, checked 'em twice...and just discovered someone or something is missing. No worries! This is exactly the kind of problem green giving solves. It's quick. It's easy. It's fun. And best of all, with its emphasis on more experience and less stuff, it's good for the planet!


Need a present in a flash? Try these...

How about food you can feel good about?
Find delicious, healthy holiday recipes and ingredients with our business partners at Pacific Foods, Organically Grown Company, Ashland Food Co-op, First Alternative Co-op, and Mountain Rose Herbs.

If you need a quick bite to eat while you're out and about, remember that Burgerville is dedicated to local farms and seasonal ingredients, and they're an EarthShare Oregon partner, too.

And for the gift that keeps on giving?
You can always give an honorary gift through EarthShare Oregon.

Plus, when you give $120 or more (that's just $10 per month), you'll receive 12 months of premium access to the Chinook Book mobile app, full of 2-for-1 deals you can share throughout the new year.

Want even more green?
Here are 11 easy ways to have a zero-waste celebration
from our friends at Mountain Rose Herbs and BRING Recycling.
---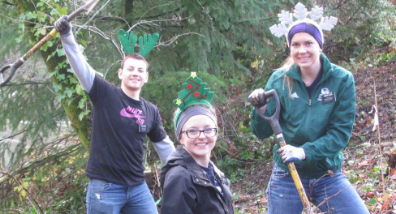 As always, thank you for all you do, all year long, to make the world a cleaner, greener place. Special shout-out to our friends at Tualatin Riverkeepers, who definitely win the prize for most festive photo from an EarthShare Oregon member group!
---
Warmest wishes for a wonderful holiday. See you in 2017!

Volunteer

Dec 27 | Portland
Beyond Coal Task Force Meeting with Sierra Club

Dec 31 | Portland Metro
Christmas Bird Count with Portland Audubon

Jan 12 | Portland
Rad•i•cle Training: Climate Change & Forest Policy with Bark

Jan 16 | Statewide
MLK Day of Service with Greenbelt Land Trust, Friends of Trees and more

Jan 17 | Portland
Office Volunteer Movie Night with Bicycle Transportation Alliance

Jan 26 | Portland
Annual Volunteer Gathering with Recycling Advocates

Thru April
Tree Planting Days from Vancouver to Eugene with Friends of Trees

& more at EarthShare!


Events, etc.
Every Thursday & Friday
Preschool Story & Stroll at Tryon Creek State Natural Area

Dec 27-31 | Oregon Coast
Whale Watching Week

Jan 1 | Lyle (WA)
Bald Eagle Viewing with Friends of the Columbia Gorge

Jan 1 | Corvallis
New Year's Hike & Party with Sierra Club

Jan 1 | Statewide
First Day Hikes, Peace Hikes, Snowshoeing, and a Polar Bear Plunge at Oregon State Parks

Jan 7 | Portland
Conifer Identification at Tryon Creek

Jan 7, 20, 21 | Across OR
Snowshoe Hikes with Oregon Wild

Jan 7 | Corvallis
New Year's Resolution Ramble with Greenbelt Land Trust

Jan 8 | Mt. Hood
Monthly Hike with Bark

Jan 10 | Portland
Nature Night with Portland Audubon

Jan 19 | Portland
3rd Thursday Potluck & Presentation with Sierra Club

Jan 19 | Portland
Calendar Gallery Celebration at KEEN with Oregon Natural Desert Association

& more at EarthShare!