Opportunity is blossoming, EarthShare Supporter!
Even though it's technically still winter for another month, signs of spring are peeking through everywhere. That means you're in the perfect position to start making plans for a season of green at home, at the office, and (of course!) in the great outdoors.
---
Snowfall + Rainfall = Waterfalls!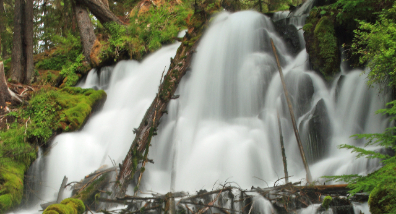 Did you catch OPB's breathtaking Oregon Field Guide documentary about the previously-uncharted Valhalla gorge waterfall? To reach the remote location, it took 10 months of planning and a team of 8 experts. Fortunately, thanks to our abundant winter precipitation, the Pacific Northwest is bursting with waterfalls you can visit far more easily:
These are just a few of Oregon's 238 waterfalls (and counting)!

Which ones would you nominate for
The Ultimate Oregon Waterfall Road Trip?
---
Eco-Friendly Spring (& Summer) Breaks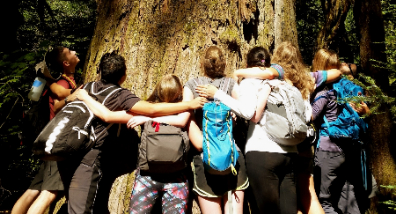 With multi-day offerings for kids of all ages, you don't have to be school-age to enjoy spring break with our member groups:
---
Recycling at the Office: Pro Tips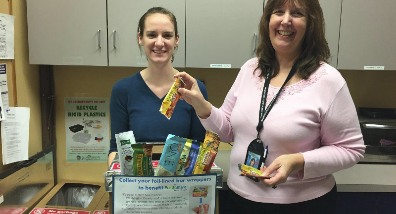 Are you satisfied with your office's recycling program?
Some workplaces, like Washington County, have comprehensive waste reduction and diversion options for their employees--almost nothing goes in the trash bin. That's definitely something to smile about! But it isn't luck that creates what you see here--it's dedicated employees like you.

Want something similar where you work? Let us help!
With some programs, like the one you see here, every recycled item even translates into a donation to EarthShare Oregon.

How cool is that? (Thanks, Washington County employees!)
---
Take Credit for Your Generosity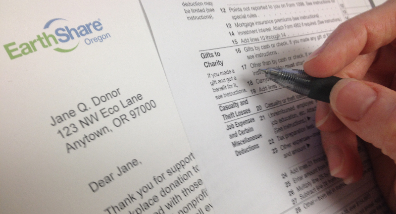 Getting ready to tackle those IRS forms?

If you donated to EarthShare Oregon in 2015, your gift may be tax-deductible. You'll need your acknowledgement letter from us and, if you're a workplace donor, your end-of-year payroll information from your employer. Tax Day is April 18th, so let us know before then if you have any questions.

Want to make sure you've got a deduction coming your way in 2017?

Easy!

If you haven't already, sign up for your workplace's giving campaign, or simply donate online. Your gift supports over 70 environmental organizations in Oregon and beyond--you can even choose your favorites.
---
These are just a few of the many ways to get involved with EarthShare Oregon and all of our wonderful member groups. Be sure to follow us on Twitter, Facebook and LinkedIn for even more updates and opportunities.

Thanks for subscribing!

Volunteer
Feb 20 & Mar 19 | Portland
Wrench on Bikes with BTA

Feb 24-28 | Newport
Seafood & Wine Festival Event Volunteers with Surfrider

Feb 26 | Oregon Coast
Spring Beach Cleanup with Surfrider

Feb 26-28 | Portland
Home & Garden Show Tabling with Growing Gardens

Feb 27 | Sherwood
Woodhaven Park Tree Planting with Tualatin Riverkeepers

Feb 27 | Champoeg
Bluebird Monitoring with Portland Audubon

Feb 27 | Willamette Mission
Spring Planting with Willamette Riverkeeper

Mar 5 | Dancing Rock
Volunteer Hike Leader Training with Friends of the Columbia Gorge

Mar 6 | Corvallis
Avery Park Native Plant Gardening Party with NPSO

Mar 12 | Tualatin
Greenway Trail Planting with Tualatin Riverkeepers

Mar 15 | Portland
Office Volunteer Night with BTA

Mar 19 | SE Portland
Buttes Natural Area Native Planting with The Nature Conservancy in Oregon

Saturdays through April
Tree Planting from Portland to Eugene with Friends of Trees


Events

Feb 20 | Portland
Outdoor School for All: Kickoff Party with The Nature Conservancy in Oregon

Feb 20 | Portland
Fix-It Fair

Feb 24 & 26 | PDX & Manzanita
Behind the Emerald Curtain Screening with Pacific Rivers

Feb 26-28 | Cascade Head
Weekend at Westwind with The Wetlands Conservancy

Feb 26-28 | Astoria
FisherPoets Gathering with Columbia Riverkeeper

Feb 27 | Bend
Bandit Springs Cross-Country Ski with Oregon Wild

Feb 27 | Salem
Drawing Plants with NPSO

Mar 1 | Milwaukie
Public Hearing to Protect Pollinators with Beyond Toxics

Mar 8 | Portland
Nature Night: Malheur with Portland Audubon

Mar 10 | Portland
Native Conifers of NW Oregon with NPSO

Mar 10, 24 | Newport
Surf-n-Stewardship Film Series with Surfrider at Rogue

Mar 11-12 | Gervais
Native Plant Sale with NPSO

Mar 12 | Tualatin
Urban Wetlands Exploration Tour with The Wetlands Conservancy

Mar 12 | Scappoose Bay
River Discovery Paddle Trip with Willamette Riverkeeper

Mar 13 | Mt. Hood
Lichen Hike with Bark

Mar 14-15 | Portland
Active Transportation Summit with BTA & more

Mar 15 | Bend
High Desert Speaker Series with ONDA

& more at EarthShare!