---

Betty Woolfolk
Betty Woolfolk, GRO Artist Member and the organization's Executive Director passed away on June 29 at the age of 69 after a long illness.
She was a founding member and later the Executive Director of Gallery Route One and was responsible for much of the organization's success over thirty-three years. With a careful eye, cheerful spirit and unfailing generosity she watched over every aspect of the organization. Betty and her husband Nick created one of the gallery's most popular shows, The Box Show. For many years Nick made all of the one hundred and fifty boxes while Betty worked with the artists and set up the show. She managed this annual event for seventeen years and in tribute GRO dedicates this year's Box Show to her. Betty also created and managed the Gallery Store.
Memorial gathering for Betty at Gallery Route One: Sunday, July 24 from 5 to 7 PM.
Betty requested that donations may be made in her name to Gallery Route One.

In honor of Betty Woolfolk

---
Closing Sunday, July, 31st
… POINTS OF DEPARTURE …
Annual Artist Member Exhibition

Please join us for the Salon on Sunday, July 31 at 4PM
Mimi Abers, Johanna Baruch, Marna G. Clarke, Mary Mountcastle Eubank,
Kellie Flint, Tim Graveson, Isis Hockenos, Madeline Nieto Hope,
Steven Hurwitz, Geraldine LiaBraaten, Afton Love, Linda MacDonald,
Diana Marto, t.c. moore, Zea Morvitz, Dorothy Nissen, Andrew Romanoff
Igor Sazevich, Will Thoms, Vickisa, Betty Woolfolk.

Above: Johanna Baruch, Inception
---
Coming Next:
THE BOX SHOW™
August 5 - September 18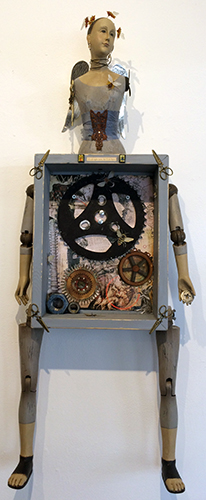 BOX SHOW™ Reception - August 7 - 3-5 pm
Closing Party and Live Auction - September 18, 3 pm
GRO will be open everyday during The Box Show, 11 am - 5 pm
The Box

Show

™ is a benefit for GRO
proceeds support the organization and all of its projects including
Artists in the Schools, the Latino Photography Project
and Project Space exhibitions.
Above: Box by Tristessa Motley, Box Show 2015