APRIL
2014
---
May 1st - Worthy Wage Day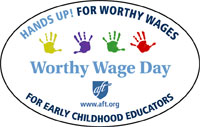 "On May 1, it's our turn to stand up and demand worthy wages for early childhood educators and providers!"
American Federation of Teachers (AFT)

Bring visibility to Worthy Wage Day, check out the toolkit on the AFT website.
+
May 1st - Worthy Wage
+
New Opportunity
+
New Scholarship Counselors
+
3 Reminders For Paperwork That
Will Help You Get Reimbur$ed
+
Above & Beyond Award
Nominations

---
New Opportunity
The Registry has just added an eighth credential: Family Child Care Credential! This 12-credit specialization, which can be supported by a T.E.A.C.H. scholarship, consists of four courses: Curriculum for Family Child Care, Special Topics in Family Child Care, Managing Finances and Planning, and Family Child Care Credential Capstone. For more information contact The Registry.
---
Introducing New Scholarship Counselors
Nicole Degner. Hi! I am a new Scholarship Counselor for the T.E.A.C.H. program, working with the Associate and Bachelor's degree models as well as the 3-8 credit model. I have a Bachelor's degree in Elementary Education (birth to age 11) and a Master's degree in Counselor Education (Higher Education Track) from UW-Platteville. I have worked for about 4 years in the child care setting as well as 4 years in a higher education setting. One little fact about me is I became a mom last year to a beautiful girl who turned one in April.

Casey Seymour. I am also a new T.E.A.C.H. Scholarship Counselor for the 3-8 Credit and Credential scholarships. I come from 9 ½ years of teaching children one and half to three years of age at the University of Wisconsin-Milwaukee Children's Center. My passion outside of work is writing and recording music.
---
3 Reminders For Paperwork That Will Help You Get Reimbur$ed
Class registration and grades: You are responsible for:
Enrolling for courses at the college of your choice

Contacting your counselor right away to let us know which course(s) you've enrolled in, and at what school.

Sending your grades (mail, fax or email) to your counselor at the end of each semester.
Colleges do not communicate directly with T.E.A.C.H. to tell us when you've enrolled and they do not send us your grades when you complete a class.
Reimbursements: Save your book receipts and submit them with Form B for reimbursement of 75% of the cost of your books. After completing your 15 hours of release time, submit Form C to us for reimbursement. If you need additional copies of these forms, you can find them on the WECA website or contact your counselor for paper copies.
---
Above & Beyond Award Nominations
Each year at the WECA annual fall conference, "Above & Beyond Awards" are presented at the Professional Development Luncheon. Find out about award categories and how to make a nomination here.
---
Imagine a society where young college students vie to get into the early childhood program,
Where a manly aspiration is to be a head teacher in a child care center,
Where a family provider is the center of all eyes at a party when she says what her job is,
Where a Head Start teacher's family displays her CDA diploma on their living room wall,
Where a school aged teacher is sought out by a child's sixth grade teacher for advice,
Where family members proudly say that teaching in early childhood has been in their family for generations.
Imagine commercials with child care professionals selling products (liked doctors and dentists seem to do so often).
Imagine how much a society like that must value its young children
When those who care for them and educate them are so revered.
---
Get ready for the WECA Conference.
Watch a preview video...