2013 WECA Conference Update

Enter to win a book from the Ooey Gooey Lady®, this year's WECA Conference keynote speaker!
Click here to enter >>

Enter to win to 1 of 4 books!
Special Events at the Conference:

Above & Beyond Awards
At the Professional Development Luncheon, we give out "Above & Beyond Awards". Is there someone you'd like to nominate? Nominations must be received by July 15, 2013 to be considered for this year.

Click here to nominate a colleague >>

Professional Development Luncheon
Each year at the WECA conference, T.E.A.C.H. co-hosts a Professional Development Luncheon. This year the luncheon is on Friday, October 11 and we are featuring a "teen panel" who will recall their experiences in child care. They'll give us a firsthand perspective on how we truly are making a difference and impacting the future in our everyday work with children. Let their words inspire YOU to grow in professionalism!

WECA Conference Quick Links:
Kayla Stratton:
A Career in the Making
Kayla Stratton recently graduated from Fox Valley Technical College. "It felt so amazing!" said Kayla. Caps and gowns everywhere, names being called, diplomas delivered, photographs taken, people cheering… and she was among them! Her parents, grandparents, boyfriend and his parents were all present to acknowledge her accomplishment. After 4 years, mostly on T.E.A.C.H. scholarship, Kayla earned her Associate Degree in Early Childhood Education.

Click here to continue reading >>

---
Try This: Yoga for Kids!



Yoga can help children relax and stay calm in a world of nonstop activity and overwelming technology. At an early age, yoga encourages self-esteem and helps children develop focus, balance, and overall well-being.

As explained in the Yoga Journal, "when they stretch like a dog, balance like a flamingo, breathe like a bunny, or stand strong and tall like a tree, they are making a connection between the macrocosm of their environment and the microcosm of their bodies."



Click to read more about yoga for kids >>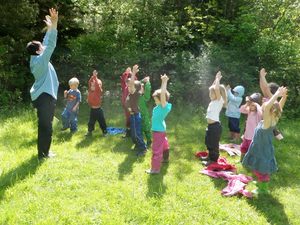 In this photo: An early childhood teacher does yoga outdoors with children at the Schlitz Audubon Nature Center Preschool in Milwaukee.