New Site Launches
Childcare Website + Logo Design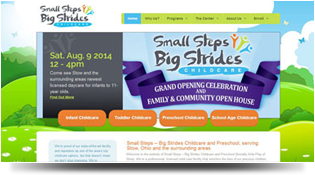 Small Steps Big Strides, a premier childcare facility in Stow, Ohio, approached Dynamics Online a few months ago about a new website. Their primary objective was to make the site user-friendly, so all visitors could easily contact them to set up a tour or simply receive more information. Supplemented by a visually appealing design and beautiful photography, this brand new website does just that.
Read more >

Beachwood Buzz Magazine
Established in 1996 (making them about one year older than us!), Beachwood Buzz enriches the lives of Beachwood residents by being "a publication about the Beachwood community, for the Beachwood community, and by the Beachwood community." 8,700 copies are distributed monthly, and now residents will have the option to read the entire publication online.
Read more >
Team News
Internet marketing strategist Anthony Mahramus got married in July!
Not to be outdone, social media and content marketing manager Jeff Hirz got engaged!
Dynamics Online would like to encourage its clients and friends in Beachwood, Ohio, to consider sponsoring the 100 Leaves project, a fundraiser for Junior Achievement that celebrates Beachwood's centennial in 2015. We can connect you with one of the high school students working to line up companies that want to sponsor one of the 100 beech leaves.


Social Success
Having a great social strategy sets your business apart from pack. This month, check out the work being done by our client, Norm Friedman!



Follow Us