---
Conference News
As we announced in our last edition of
Lyre Notes
, the Lyre Association of North America will be hosting the next
International Lyre Conference from August 3-8, 2015
. We are quite excited about the prospect of inviting our lyre friends worldwide to come to North America once again! This time, we will be gathering in the middle of our country in an American city that is making an impressive cultural resurgence. With echoes of our 2009 conference in Belfast, we envision a task for our world lyre community to support and add our voice to the healing and rebuilding that is springing up in so many ways at the present time in Detroit, Michigan.

Founded in 1701 by Antoine de Cadillac, Detroit has a rich, diverse history. In the past century, Detroit has gone from the great heights of the automobile industry to the depths of bankruptcy. The city is now growing into a vibrant new era of rebuilding its community through embracing the cultural diversity of its citizens. Among many other things, the area boasts historical museums and churches, art and cultural centers, a river walk, riverboat cruises to the great lakes, and nature walks on Belle Isle.
Our host for the conference will be Wayne State University, which is well-experienced in hosting conferences and workshops and will provide for us all the advantages of a seasoned infrastructure. The Wayne State University campus is in the center of the city, located just two blocks from the magnificent Detroit Institute of Arts and a short bus ride from the Detroit River and the new five-mile river walk. If you can stay for a few days after the conference, you may wish to travel to Northern Michigan to see the Mackinac Bridge or take the ferry to Mackinac Island where no cars are allowed and everyone travels by foot, horse drawn carriage, horse-drawn carriage, or bicycle.
For our conference, the Lyre 2015 Planning Group has designed a varied program around our theme of "The Lyre As Instrument for Peace: Giving Ear Toward Understanding and Reconciliation." In addition to a morning musical plenum, afternoon lyre groups, and evening concerts, we will have two different types of workshops: morning workshops related to our conference theme and afternoon workshops on more wide-ranging topics of general interest to our lyre community. You can view the entire schedule here:
Additionally, we are looking forward to our Third Lyre Pedagogy Conference for teachers or others interested in exploring the many approaches to teaching the lyre. This conference is scheduled immediately before our general conference, from the afternoon of August 1st through the morning of August 3rd. We hope that many conference attendees will plan to come a few days early in order to participate in this important event.
We are also very pleased to be able to host a Youth Lyre Workshop, which will take place concurrently with our general conference. Details about this can be found below.
With so many opportunities to greet old and new friends from around the world, to make music together, and to participate in exploring new ways to work with the lyre in our time, we are hopeful that many friends throughout the world will seriously consider joining us for Lyre 2015 in North America. It is important to add that we do recognize the individual financial requirement for such an undertaking. LANA is engaged in fundraising efforts of our own so that we can offer as much support as possible to those who need financial help; however, we urge all friends of the lyre to work within your local lyre communities or as individuals to brainstorm fundraising ideas in your own regions in order to make it more possible to consider attending the conference.
Please be watching for the official Lyre 2015 Online Conference Registration forms which will be made available within the next two weeks! In the meantime, further information about conference costs and arrangements can be found elsewhere in these pages.
With the year 2015 now underway, our approaching conference is beginning to feel much closer. Knowing that we have friends and colleagues throughout the world who are standing behind this effort will continue to provide us with the moral support and courage we need to carry this world conference to its full realization in August!
Sheila Johns, for the Lyre 2015 Planning Group
---
Youth Lyre Workshop
As part of Lyre 2015, we are happy to be able to offer a workshop for young people from age 9 through adolescence. No previous experience or particular musical skills are required to participate in this workshop.
The lyre will be introduced and worked with as the primary musical experience; other new instruments, such as gongs and other metal instruments, bordun lyres, and bowed instruments will also be used. All of these new instruments, especially the lyre, offer original and creative possibilities for making music together.
In comparison with traditional classical instruments, these new instruments pose fewer technical "hurdles" for beginners. The smaller lyres and the majority of the other instruments even allow for movement while playing. Much original music has been written for these new instruments, and there are also many arrangements of classical, folk, and pop music, particularly for the lyre.
Our morning schedule will include improvising and playing together as well as practicing a selected piece of music to be presented at the concluding concert of the conference. In the afternoons, other activities will be offered, such as crafts and outings to the surrounding area.
The workshop will be led by Christina Porkert and Veronika Roemer, with additional adult leaders for the afternoon activities. Christina and Veronika are both professional musicians with many years of experience with these new instruments and enlivening ways of making music. Please pass the word and encourage your children or students to join us for this special youth supplement to our international lyre conference!
---
Some Conference Details
---
The main Conference Registration Fee, which includes morning and afternoon snacks as well as our main mid-day meal Tuesday through Saturday, is $400.00 ($350.00 if received by April 30).
Note: We will try to help with costs for those who could not otherwise attend.
The Lyre Pedagogy Conference fee will be $100.00, and the Youth Lyre Workshop is $150.00 (both including snacks).
---
Housing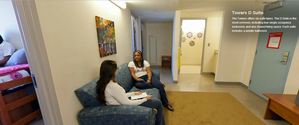 We are arranging housing at Wayne State University dormitory suites and expect that the costs will be approximately $38/night (or $200 for five nights), including linens.
Guests will be staying in Towers Residential Suites at Wayne State University. The majority of the rooms are suite style, containing four private bedrooms, attached to a shared living space. Also included is a private bath per suite, air conditioning, and laundry facilities.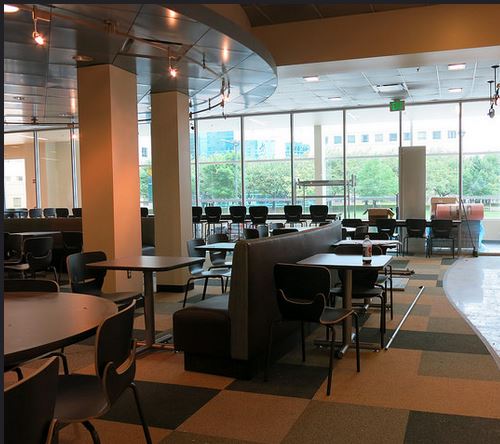 Within the building is a café-style dining hall and multiple fitness and lounge areas.
Address: (if needed for a travel visa)
Wayne State University
Towers Residential Suites
655 West Kirby
Detroit, MI 48202
Phone: 313-577-6600
---
Transportation
We encourage international participants to fly to the Detroit (DTW) Metro Airport, which is approximately a half-hour drive from campus. Transportation by shuttle ($40 for a round trip includes space for two bags per person) is available to and from the airport.
---
Public Concert
We will offer a concert to the Detroit community on Friday evening, August 7, featuring regional offerings, as well as music prepared during the conference.
---
More information to come . . .
Please do not hesitate to contact us if you have questions: email
lyrists@gmail.com
.
We hope to see you in Detroit!
---
LYRE ACTIVITIES IN NORTH AMERICA
---
Holy Nights in North Carolina
During the Holy Nights of 2014, the Rudolf Steiner Branch of the Anthroposophical Society of North Carolina hosted a number of inspiring gatherings and presentations from various members of our community. Our theme for this year was
Innocence and Wisdom
. The Cultural Coordinating Committee of the Board of Directors of our Branch organized and facilitated this process and invited people to approach this theme from all the varied perspectives possible.
Among these offerings was one which stood out for us. Samantha Embrey, a former Board member and long-time friend of LANA and the Branch here in North Carolina, agreed to collaborate with me to bring a picture of the evolution of the musical intervals in relation to the evolution of consciousness of the human being living on the earth.
Samantha, out of her wealth of knowledge and expertise in this field, shared with us an interesting overview of how our consciousness as human beings has corresponded with our ability to experience more and more variety in musical expression.
From the interval of the seventh, all the way to the interval of the second, we explored through listening to the metal instruments and to music played on the lyre, how these intervals feel, and how we experienced them inwardly. We were lucky to have three lyrists playing together – a rare event in our neck of the woods.
We also engaged in a singing exercise working with the interval of the second in pairs. As the second is more an interval of the future, it proved to be a challenge for many but also very interesting and fun. As a future soul capacity in the next epoch, we realized that we can feel its effect and the importance to meet it at this time in the consciousness soul epoch in which we reside.
To top it off, the group, out of its own enthusiasm, requested to sing "Jesu, Joy of Man's Desiring" in parts. This was one of the songs we had played, which exemplified the interval of the third. It created a lovely warmth and camaraderie among us.
We wish to extend our heartfelt gratitude to Samantha Embrey for her willingness to travel to North Carolina, share her instruments and her expertise, and work with us around all the necessary details. Thanks also goes to Suzanne Mays for her assistance in this project.
Joanna Carey, for the NC Cultural Coordinating Committee
---
An Ode to the Lyre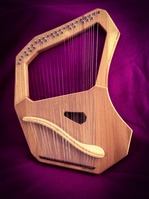 Beautiful sounds, tones ringing free, stroking the strings in ecstasy.
I have yet to attain this magnificent state; I'm still a beginner, so I'll just have to wait. But every so often my fingers sprout wings, and I glide into bliss at the sound of the strings. Yet all too soon, I sink back to earth, and start doing scales in the beginner's dearth.
One day, I'll soar like a bird on the wing; I'll accompany myself on the Lyre
as I sing.
Pamela Whittier, Santa Ana, California - 1/14/15
---
Resounding Lyres in Detroit, Michigan
On the Saturday afternoon of December 20, 2014, the Community Chorus of Detroit (CCD) offered a
Community-Sing Messiah
event in the Central United Methodist Church in downtown Detroit, along with soloists and the CCD Orchestra under the direction of Dr. Edward Maki-Schramm. As a special treat, and to introduce the sound of the lyre to more Detroiters, the orchestra-only Pastoral Symphony in the middle of Handel's great work was played for the first time by an ensemble of eight Southeast Michigan lyrists in the arrangement of this piece by Michael Brewer. The delicately resounding lyre tones were in lovely lyrical contrast to the otherwise more powerful orchestral numbers of the Messiah.
Members of the lyre ensemble were: Michael Brewer, Burley Channer, Mary Lynn Channer, Christina Pasternak, myself, and three of my students from the Detroit Waldorf School: Elise Moore, Kayla Moore, and Amelia Karr. (Michael and I are members of the CCD.) A week later, Burley, Mary Lynn, Christina, and I were able to offer this piece again in the musical part of a Three Kings festival in a private home in Temperance, Michigan.
Nancy Carpenter, Detroit, Michigan
---
The Lyre in the Greater Washington, DC Area
Last November, a group of four lyrists (Anne Frances Martin, Patricia O'Connor, Sandi Zeese, and I) presented a program to an audience of elders at the rehab facility of Riderwood, a village consisting of all levels of senior care in Silver Spring, MD. The attendees enthusiastically received our
program
, and afterward the lyrists walked among audience members, allowing them to hold and play the lyres. There were many shining faces and grateful hearts.
In December, lyre tones graced many Advent Gardens (Mid-Winter Gardens and Evergreen Gardens) throughout the area: at the Washington Waldorf School in Bethesda, MD; Potomac Crescent School in Arlington, Northern VA; at Acorn Hill Kindergarten and Nursery, Silver Spring, MD; and a group of Maryland homeschoolers.
During several autumn meetings of the Initiative 2023 group of the local branch of the Anthroposophical Society, a trio of lyrists provided singing and lyre music. On December 27, a special program on "The Human Being and the Sophia" was held. The program began and ended with lyres sounding the mirrored Saturn scale, with melodies based on the tone of the day, composed by Christof-Andreas Lindenberg and Johanna Spalinger.
In February, our small lyre group will resume our monthly rehearsals, and envision our next program for the spring.
Colleen Shetland, Hyattsville, Maryland
---
---
LYRE ACTIVITIES AROUND THE WORLD
A New Festival for Cuenca, Ecuador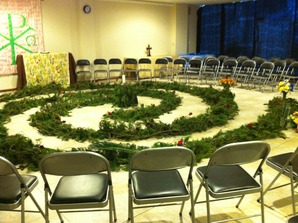 On December 7th, the first Sunday of Advent, four brave souls who had just moved to Cuenca, Ecuador in the Fall of 2014, offered something unique to their new community – the experience of walking the spiral of an Advent Garden. Former Waldorf Class teachers Michael Pinchera from Sandpoint, Idaho and Sandra Doren, from Washington, D.C. joined Waldorf music teachers and LANA members Andrea Lyman from Sandpoint, Idaho and me to create the very first Advent Garden experience in Cuenca.
From purchasing candles from indigenous vendors in front of our 200-year-old "New" Cathedral, buying roses from the local outdoor flower market, hefting the central wood stump from one of our backyards, to forays up into the surrounding mountain ranges at over 10,000 feet elevation to procure pine branches, it was an adventure from beginning to end.
A small church in the area agreed to support this new activity and to provide their space for the occasion. We advertised in both English and Spanish, targeting children and young people but welcoming all. It was interesting to realize how much we take for granted when we encountered repeated requests to "explain" what this was all about.
Our greatest desire was to be successful in allowing the many curious attendees to simply experience a candlelit space filled only with the sound of the lyres to accompany the silent, spiraling movement of the participants. Our new friends here rose to the occasion and by the end were in awe of the simple beauty of the whole experience. We had children, adolescents, and adults present, and nearly everyone in attendance made the decision to walk the beautiful double spiral and place a lit candle along the path. Upon exiting the Garden after the experience, we provided a brief written history and characterization of this seasonal tradition in both languages.
Nearly everyone commented on the beautiful mood created by the sound of the lyre, which is an instrument that is virtually unknown in this country – but not for long!
Sheila Johns
---
Cântaro Lyre School in Brazil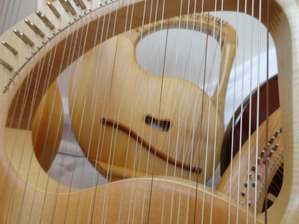 Hello friends,
We had a great year at Cântaro—our pioneer lyre school in Minas Gerais, Brazil—and performed a lot in 2014! Here's what stands out:
April - Cântaro Birthday: We had a huge meeting with our students, teachers and guests, and everybody could see what each other is learning.
June - FIC (Festival Internacional de Coro): The 2014 International Choir Festival, held in Minas Gerais, was presented in a huge old church called "Nossa Senhora do Carmo", which means Lady of Mount Carmel. The theater was packed, and our concert was very acclaimed. It was the only choir that had lyre.
July - 2014 Theology Congress Opening: We played with a selected, mature group, and everybody performed very well. The audience was very receptive, they were very touched, and the concert was a great success.
October - Cântaro Annual Concert: Our annual concert was hosted at the Chevrolet Hall, with full house, and was also a great performance! Our repertory included classical, jazz, Celtic, and also Brazilian music, with different rhythms and cadence. The Kanteles played a very complex piece called Luara, and the audience
loved it!
You can find pictures and information about our work at:
www.cantaro.com.br
(I know its in Portuguese, but you can try Google automatic translation, sometimes is very useful.)
Best regards, Flávia Betti
---

LANA's MISSION
To foster the experience and recognition of the freed tone
To foster the rediscovery and the deepening of the capacity to listen
To initiate, inspire, and support the sounding of the lyre for artistic, pedagogical, and therapeutic activity
To support the development of a movement for musical renewal in all its manifestations.
---
Membership in LANA

We invite you to join the Lyre Association of North America!
LANA members receive a subscription to
Soundings: A Lyre Review
(containing substantive articles and a music supplement) and a discount on fees for all conferences and workshops sponsored by LANA as well as on music bought through our service. Membership runs for one year from the time dues are received or one year from the expiration of current membership, whichever is a later expiration date.
Please make check for $40 (or $50 as Supporting Member) payable to "LANA" and send to: LANA, c/o M. Ketchum, 13 Morgan St, Phoenixville, PA 19460.
Or pay with PayPal
by sending money to
lyrists@gmail.com
. To fill out a form online, click this link:
LANA Membership Form
.