Update from the team
It's been a tough winter, but we're looking forward to the start of the new season!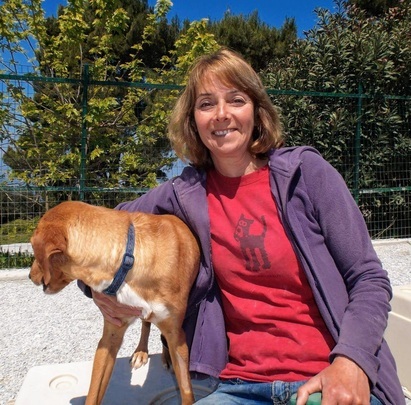 ---
Hi everyone! Welcome to our first Skiathos Dog Welfare Association Newsletter, it's great to be able to give you all more background on what's going on, and I hope you'll enjoy reading it. If you have any comments, please email me, Jan, by clicking
HERE
, and PLEASE share this on your Facebook and Twitter feeds, and forward to your friends, it really helps us to spread the word!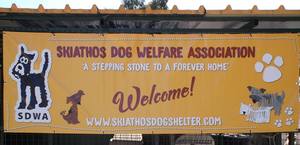 Last summer came to a close after another successful season, meeting all our lovely supporters and re-homing over 150 dogs, now living in their Forever Homes.
Europe suffered a very harsh winter this year, and in Skiathos locals have said that it was the coldest for 30 years, it certainly felt like it!
The Shelter, positioned near the top of a mountain, was difficult to reach and challenging to run on a daily basis. It was a difficult time for both the dogs and us humans, but all of us on the team, with the help of a few wonderful volunteers, managed to get there and make sure the dogs were OK, fed, watered and tucked up as warm as possible in their donated blankets.



The cold weather meant our water pipes froze, as did the water bowls, and the snow damaged the perimeter fencing, guttering and the Vet Room roof.

Fortunately, due to the generosity of many of you donating to the Winter Snow Appeal Fund, which we ran online in January, we will be better prepared for the future and have been able to carry out repairs and improvements to the damaged areas.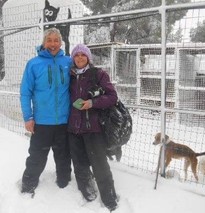 All the old fencing has now been replaced, as well as most of the older internal pens, which have also got new roofs made from a thermal material. This will allow them to retain heat in the Winter and, just as importantly in Greece, reflect it in our scorching summers.
For the icing on the cake, a new wood burner has also been installed in the main building, giving a bit of much needed warmth for the dogs, as we have no mains electricity.
Looking forward, we're busy gearing up and excited to welcome all our summer visitors, meeting supporters and friends old and new, and after a really good 2016 for rehoming, we're once again filling up fast with new dogs waiting to meet you and desperately needing homes.

I have a big ask, as this period before the new season is a real stretch for our small resources, and we're absolutely DESPERATE for Scalibor Collars, that protect our dogs from Leishmaniasis, plus Advantix Flea Treatment and Effipro Flea Treatment (which are a lot stronger than Advantage, and much more effective out here), and if possible, some Size 3 Harnesses. If you could PLEASE visit our Amazon Wish List and gift us any of these items, we would be massively grateful, we are entirely dependent on your donations and these items would make a huge difference for the dogs.
Lots of love from Jan, Lou, Lee, Cat and Chris xx
---
Is that Dior? No, it's Skiathos!
All the best people are wearing it...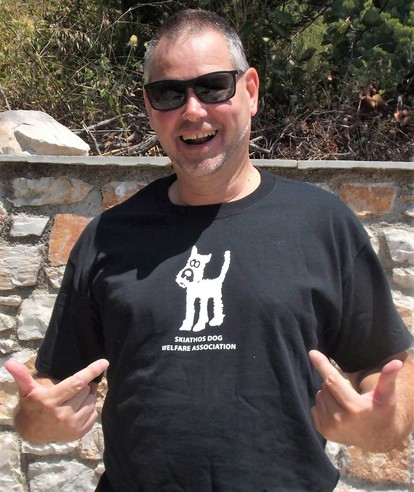 For those of you visiting the island this year, we've got a fantastic range of branded items to buy and show your support, including our ever-popular t-shirts (modelled above by Shelter heart-throb, Adrian!), available in a range of sizes and colours.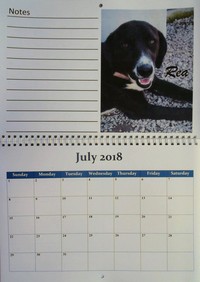 We've also got mugs and our own Shelter calendar, and this summer we're really pleased to offer some new lines including cool bags, poncho-in-a-ball, even a kitchen pinny!
And nobody should go home without a treat for their dogs, so we have a range of Baxters Treats available to buy, which if you don't fancy taking home, some of our four-legged Shelter guests will be happy to help you with! If you fancy making your own doggy-snacks, we also have Baxter's Cook Book, available exclusively online from us and direct from Don and Thelma Jones (see right).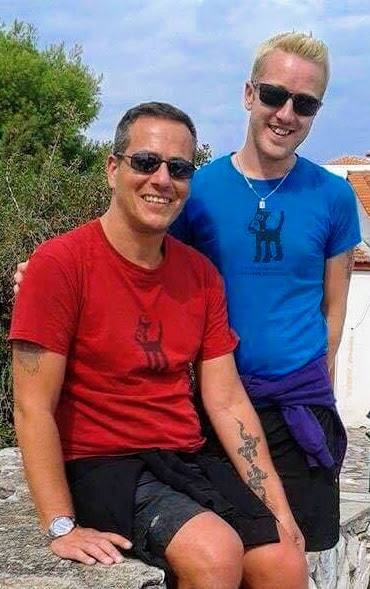 And for those of you not coming over to visit our little Shelter shop this year, don't forget to visit our
online
fundraisers on Facebook, run by Robbie and Alan. As well as regular fundraising auctions, you can purchase our popular Hoodies, Flight Bags and Fleeces, all in a range of colours.
The guys are also keen to hear from anyone who has donations for the next online auction, so please get in touch with them through their Facebook page if you can donate anything.
---
Charity Baggage Allowance
For all you coming to the Island in 2017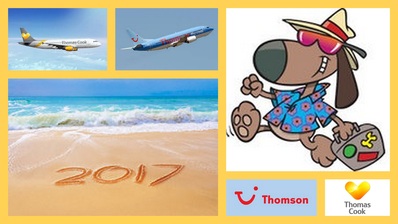 Any supporters who are visiting Skiathos in 2017, with either Thomas Cook or Thomson, did you know you can bring an ADDITIONAL 5kg of charity donation luggage FREE?
Some items on our
Amazon Wishlist
, such as
Frontline
and some
Royal Canine
products, aren't able to ship direct to the island, so having the ability to order these for home delivery, and then bringing them with you, means we are able to use these vital supplies, which otherwise would be virtually impossible for us to source.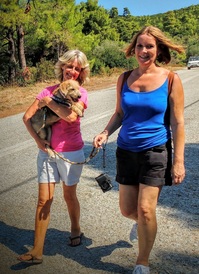 It's very simple, all you need to do is send me an
email
, telling me who you are flying with, the flight date and flight number, and I will send back all the details.
These supplies make such a difference to us, especially during the long off-season winter months when we don't benefit from the steady stream of visitors.

Thank you!
---
Don't forget us oldies!
Almost all our puppies find homes very quickly, it's the bigger, older dogs that can be with us a long time before finding their Forever Homes.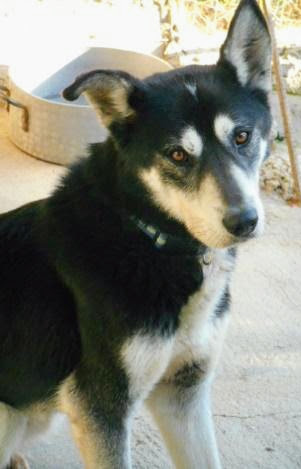 My name is Bruno, and I was brought up to the Shelter on 28th August, 2014, by my previous owner.

She was going to University and her family could not take me to the mainland with them.


I am the son of a Golden Labrador and a Husky and was born on 10th March, 2009.

Although I missed her desperately, I soon settled in to my life here, getting regular food, love and attention from my new carers. Playing ball is one of my favourite games! I am a very affectionate dog and would dearly love a home, preferably with no other pets, where I can have lots of space and nice long walks every day, as I need lots of exercise.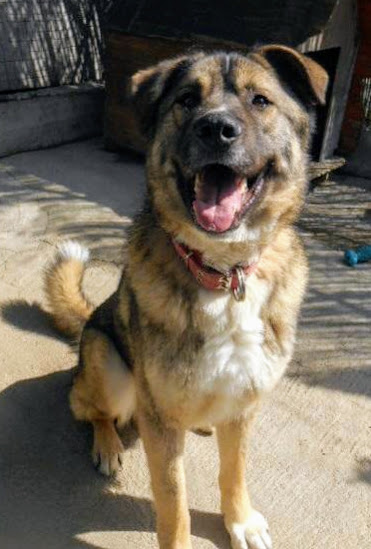 Is there anybody out there looking for a big dog? If so, this is Alfred, and he's a big boy!
Although I weigh-in at around 60kg, please don't be put off by my size, I really am just a gentle giant, a real old softy!
I am not a full-on happening dog, but I do like to play and have a bit of fun, and especially like a good old brush to help keep my fur in check! Everybody who walks me comments on how nicely I walk on my lead.
I was left chained up to a tree at the Shelter in early December 2015, when I was around 20 months old. My new carers found out who I used to belong to, but my previous owners couldn't agree on whether to keep me or not... so here I am.
I am looking for a special home, somewhere with plenty of room for me to eat, play and spread out a bit in! Could it be yours?
If you would like to know anymore about these two special boys, please contact Jan by clicking
here
.
---
Stan-the-Man, win his book!
This former Skiathos boy left us to become a published author!
This is our love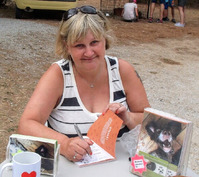 ly supporter, Rachael, pictured up at the Shelter last summer personally signing copies of her book "Stanley, from Shelter to Shenanigans".

Stanley was an unwanted Setter who was left abandoned at the Shelter in 2015.

Left tied to a tree, and very frightened, he won the hearts of many and finally landed on his paws when he was adopted by Worcestershire couple, Rachael and Trevor.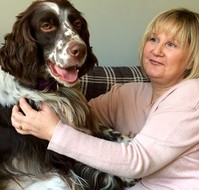 The book follows Stan and his new family's journey as he adapts to his forever home, with plenty of ups, and a few downs, but always lots of humour, trust and love.

If you would like to purchase a copy of his book, it's available at only £6.50 unsigned, or £8.50 if signed by Stan and Rachael, plus £1.54 p&p, and can be purchased by emailing Stanley direct by clicking here.
As well as his book, you can follow his daily shenanigans on his hugely popular Facebook blog, And Stanley Made Five.
To win a copy of his book, simply SHARE this newsletter to your Facebook or Twitter feed, and a random person will be chosen and a signed copy of this wonderful book will be posted to them.
---
Volunteering is a dog's life!
Anke tells us about her three years volunteering with us here at the Shelter.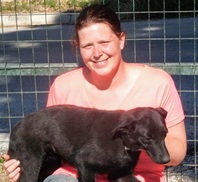 Hi, I'm Anke and I live in Holland.
After I lost my job, I thought it was time to do some volunteering work, and an old classmate had seen information on volunteering work in Skiathos, so I got in touch and made my decision to come over to Skiathos in November 2015.


After working for a few weeks with the cats, it was time to work with the animals that I loved even more and I asked if I could start volunteering at the Skiathos Dog Welfare Association.

After that I started coming back almost every year, and this year has been my third of volunteering at the Shelter; it is lovely to work with the dogs and the lovely people, who have become true friends.

Everything I can do, I do at the Shelter, like cleaning, helping with medication, feeding, playing, cuddling and walking. It's not a bad life, is it?!


Every time I visit the Shelter there are so many dogs that looking for a home, and every time there is a special dog that I have loved! It started my first year with Merrin, and fortunately she got a home, and in my second year it was Betty and Jack, and thankfully they too found homes.

Jack was the first dog that I actually homed, and he has a very special place in my heart. At this moment, my favourite is Otowa, but all the dogs are nice to work with and they all deserve their forever home.
If you are interested in a spending time volunteering with us, at any time of the year, please email me, or if you are coming on holiday and could spare a few mornings, we are really keen to hear from people who could help with buildings maintenance, vets or film makers. We're a really friendly team and we would love to work with you! I hope to hear from you! Jan x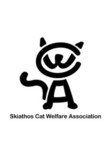 Skiathos Cat Welfare Association
Our friends at Skiathos Cat Welfare Association are also busy with their feeding and neutering program, to find out more visit their website: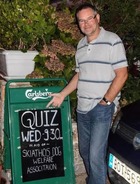 Quiz Nights return for 2017!
For you lucky people flying out to join us this summer, just a reminder that the BEST NIGHT OUT on the island is back on, EVERY Wednesday, from 10th May.

The fun starts with hosts Adrian and Ray from 9.30pm, and is at Iquana Bar opposite Bus Stop 16.

All funds raised come directly to the Shelter, and it's a good, fun night!

Thank you
Aura Print, Huddersfield
We want to say a big thank you to to Liam Sayer and his Company Aura Print of Huddersfield for very generously designing and supplying us with a lovely new banner for the Shelter entrance, we're very grateful for your support.
---

We'd like to say a big thank you to Danny and Zoe at The Blind Dog bar in Skiathos town for all their fundraising help, and for allowing us to place a collection tin in their bar, much appreciated!
Click
here
to visit their Facebook page.
---
Thank you's
I know I'm going to forget some people, so please don't take offence if I do, but I just want to say a few thank you's...
Peter Thorpe
, we really appreciate your producing our Shelter calendars each year (available to buy at the Shelter this season!), the sale of these really help us to raise much needed funds.
Debbie McFaite
for all your kind donations and hand made gifts that we sell at the Shelter.
Andreas
, the local business man who owns
Porta Rossa
restaurant, who has been a huge help to us over the long winter months.
La Piscine
- thank you for running the football sweepstake fundraiser and for all your ongoing support.
---
Baxter's Biccies
We sell Baxter's Biccies at the Shelter and can't recommend them enough, and we're pleased to say these healthier treats are available for you to buy in the UK.

The biscuits are made from rolled oats, flour, honey and peanut butter and are made fresh to order, and with no additives.
Anyone wishing to buy can message Don Jones, and all you need is to make a donation to the Shelter, plus £2.80 p&p, to his
PayPal account
and mark it "Skiathos", and Don and his wife Thelma will bake the order and send to you direct.
Your donation then comes in full, to the Shelter.
If you'd like to have a go at making your own healthier treats, Don and Thelma also sell their recipe book, Baxter's Bistro, which is packed-full of recipes for your dog.

The price is £5, including p&p, and once again, all the profits come directly to the Shelter.
The recipes are easy to make and contain no additives, and each one has been tested and checked so are entirely safe for your pets.
Many thanks to Don and Thelma for all their support, and if you would like to purchase anything, please contact
Don
on email.
---
Well done Stuart and Canuck

On April 1st, Stuart and his trusty walking companion Canuck set-off on a 190-mile sponsored walk, starting at St Bees Head in Cumbria and arrived at Robin Hoods Bay, North Yorkshire, on the 9th April, raising an amazing £1,000 for the Shelter.

Here Stuart explains why, in his own words:

In the summer of 2007, myself and my wife, Louisa (then girlfriend) embarked on a two week vacation to the Greek Island of Skiathos.

It was intended to be a two week R&R exercise, however, we returned with a little more than we imagined!


During our visit we decided to visit the Skiathos Dog Shelter.


It was at this point our lives changed forever, we met Melissa (aka Milly).

Melissa was a Siberian Husky, who unfortunately had been treated appallingly and had been rescued by the kind people of the Skiathos Dog Shelter.

When we saw her she had been housed there for 18 months and unfortunately they were having great difficulty in re-homing her due to the fact she was deaf and blind.

We decided to adopt her instantly.

Over the next 10 years Milly gave us so much pleasure and love.

In 2010 she took a young protégé under her wing – Canuck (my walking companion mentioned). She guided him and helped turn him into the fantastic dog he is today.

Sadly, in October of last year, Milly was suddenly taken ill and we had to have her put to sleep on the 4th of October.

It was the hardest thing I have ever had to do and it broke our hearts. We will never forget her.

Thank you to everyone who sponsored us and supported us in raising funds for the Shelter.