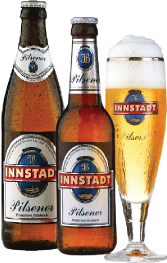 Bright 14 karat gold color with a thick tight white head and lacing. Aroma is yummy hops in a good way and very floral. Excellent flavors are crisp, bitter, dry, clean,
sophisticated, sassy and delightfully herbal.
A really good Pilsner. The ancient Bavarian village of Passau is considered to be one of the
seven most beautiful cities in the world. Three rivers connect at Passau, making it one of the biggest trade centers during medieval times. For over 700 years, the Innstadt Brewery has supplied the locals with classic,
dripping in tradition lagers that the locals just adore.
Imported from Germany

This elegant dark beer composition is made by Rieder's master brewer who characterized this bier by a fine top-fermented aroma that is created by wheat yeasts and the ultra flowery Innviertel hops. A haunting carbonation takes this beer to another level with overtones of chestnuts and mocha.
Imported from Germany"Pours a dark brown with a long-lasting white head, no real lace. Heavy dark malt, caramel. Lots of caramel malt, dark bread, just a hint of raisins, classic dunkel flavours. Medium-bodied, another well made brew from Rieder. Love dunkel lagers and this is an additional one to add to the repertoire. Highly recommended."
- THE BEER ADVOCATE