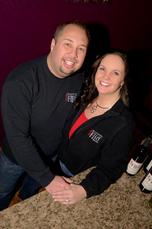 Forgotten Fire Winery is owned and operated by Joe and Lindsay Callow. The winery opened its doors for business on October 1, 2011. Since opening, the winery has added a variety of selections to the wine list, including the very popular Cranberry and Cabin Fever, a cherry Sangria.
An expansion is planned for Spring 2012 to grow the production area to allow for the winery to produce larger batches.
The future holds great things for Forgotten Fire Winery, including distribution in restaurants, grocery stores and other establishments.
Forgotten Fire Winery - you may not remember the fire, but you will remember the wine!
Forgotten Fire Website