In This Issue

Current Release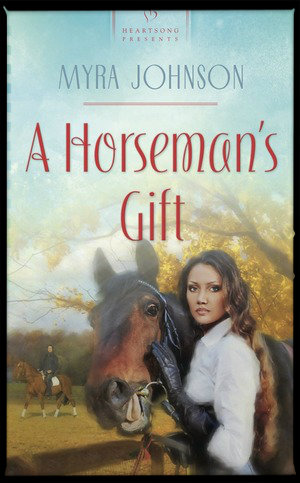 Upcoming Heartsong Presents Release
Coming soon: book three in my Horsemen of Cross Roads Farm series,
A Horseman's Hope
.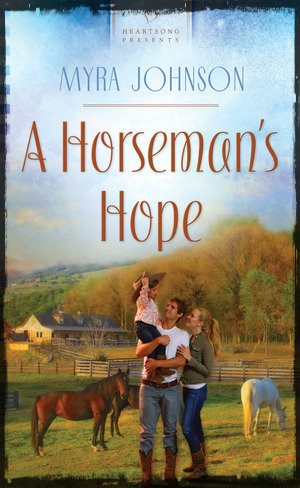 From the back cover:
Grace Lorimer is too busy for a relationship. And love is definitely out of the question while she works her way through college to earn her occupational therapist certification. Besides, her mother's string of failed relationships and broken promises prove romance is not worth risking her heart—even when she begins to care deeply for single dad Ryan O'Keefe.

Four years after his girlfriend, Shana, became pregnant, Ryan still can't believe he's a father...and can't imagine being anything else. His daughter is the light of his life. Now if only Shana could embrace motherhood and the three become a real family....

Then Ryan receives shocking news about Shana, and his world is torn apart as he faces losing his daughter. Suddenly old feelings for Grace resurface, but is a whirlwind marriage of convenience the answer?
Available January 2013 from
Harlequin Bookstore
or
Harlequin Reader Service
. Also in some WalMarts and other selected retail outlets!
Latest reads
---
---
Find me online!
Hi, frie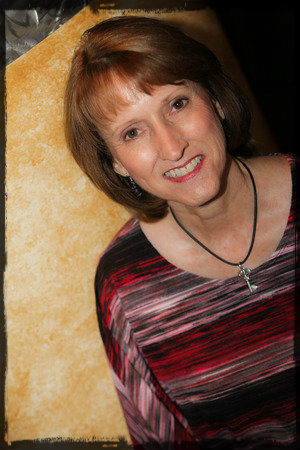 nds,

First of all, welcome to my new subscribers! Thanks for inviting me into your inbox, and I hope you'll enjoy what you find here. Feel free to email me with comments or suggestions!

From my office window I can watch the leaves changing colors, a reminder that every season brings something new and beautiful. It doesn't always feel that way, though, especially when the changes aren't what we'd have chosen for ourselves. That's why it's good to remember God is always in control, and we can trust in His best for us no matter what our circumstances.

Empty Nest All Over Again

We moved to North Carolina a year and a half ago in anticipation of the arrival of our sixth grandchild--and second granddaughter! She was born only four days later, and we were blessed to be there for all the changes in her first 14 months of life.

But we knew when we moved here that our daughter and her husband were making plans to return to the mission field and that our time with them would be limited. Last May their family of five moved in with us for the summer so they could pack and make final arrangements for their departure. It was crowded around here, and noisy, too, but we cherished this extra-close time with our kids.

Then in mid-August the kids left for Addis Ababa, Ethiopia, where our son-in-law is preparing to teach at a seminary. Their two older children, ages 10 and 7, are attending Bingham Academy and enjoying their new teachers and friends.

So now the house is quiet again, which is definitely more conducive to writing but not so fun when I think too much about how much I miss those kids! So thankful for e-mail, video chats, and Facebook. I don't know how I'd have survived being a missionary mom in the pre-Internet era!



Highlights from ACFW 2012, Dallas, TX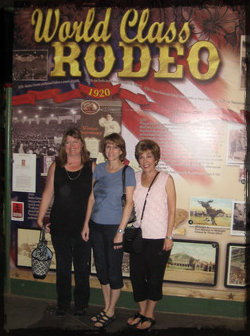 While attending the 2012 American Christian Fiction Writers Conference September 20-13, Mary Connealy (left), Janet Dean (right), and I took a side trip to the Fort Worth Stockyards. Since both Mary and Janet are working on romantic Western historicals, they had a ball gathering research details at the museums. I found some interesting tidbits about World War I for my book research, as well.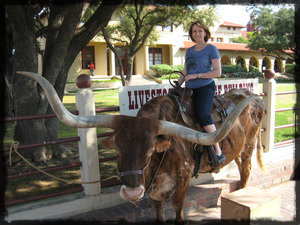 Part of the fun at the stockyards was having our photos taken on this very docile longhorn. I promise all we did was sit there! Notice the rope tied to the fence.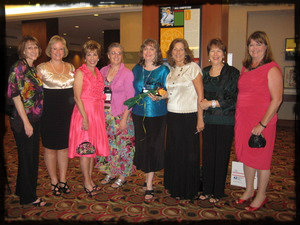 A highlight of the conference is the awards banquet. Here I am with several of my "Seeker Sisters" celebrating with "Seekervillager" Melanie Dickerson for her Carol Award win. Left to right, me, Missy Tippens, Janet Dean, Pam Hillman, Melanie Dickerson, Audra Harders, Debby Giusti, and Mary Connealy.

Abingdon Press Historical Romance Series Update

I've just finished drafting Whisper Goodbye, working title of the second book in my post-World War I historical romance series. Set in Hot Springs, Arkansas, as described in my previous newsletter, this novel takes up the spirited love story between two very significant supporting characters from the first book.

Keeping favorite characters "alive" in upcoming stories is what I love most about writing a series. I had such fun intertwining the lives of my characters in my Horseman books and exploring where their futures led. These longer books for Abingdon allow for even greater character depth and more fully developed subplots.

How about you? Do you prefer novels in series with continuing characters, or are you more likely to read a standalone novel?

Email me your response to this question no later than midnight, December 1, 2012, and you could be . . .



Featured as a supporting character in my next book!



Let me know your thoughts on series vs. standalone novels, and your name will be entered in a random drawing. If you are selected, you have the option either to have a supporting character named for you or to name a supporting character in my next work-in-progress. Winner to be announced in the winter edition of my newsletter.

For Writers

If you are a writer and haven't yet discovered Seekerville, please come by and visit! The Seekers are 13 authors who banded together in 2005 to support and pray each other from unpublished to published!

This month is our blog's fifth birthday, and we're celebrating with lots of giveaways. Every weekday brings a new post on some aspect of the writing business, including visits from well-known authors, agents, editors, and other publishing pros. You'll also find the latest info on writing contests plus lots of fun and lively discussions.

If you are a Seekerville regular and have benefited in some way from the blog, please consider submitting a nomination for Writers Digest's 100 Best Websites for Writers. You can find a link with all the details on this page of our website.