Have You Mastered the Art of Picking The Right Sized Wave?
All leaders face this dilemma…do I let my people take risks, make mistakes and fail, or do I intervene and ensure their (and my) success?

Spend three minutes with Liz

on Maverick's Beach, home to surf's big waves, and see how the best leaders know when it's time to stand aside and let someone take a tumble.

Incorporate these Multipliers mindsets and practices into your own leadership and create a space where your entire team can take risks and recover.

Download this Multiplier Learning Experiment

to get started.

Nominate a Leader for the Multiplier of the Year Contest

We're shining a spotlight on the bosses that are genius makers – the leaders that bring out brilliance in the people around them. Nominate your boss, your colleague, or the leader in your company that stretches people to the max but whom everybody wants to work for.

Submit your entry

here

. Then watch for our invitation to vote for the finalists and recognize the 2012 Multipliers of the Year in Business, Non-Profit, and Education.

1st

place winners will receive iPads loaded with our favorite Leadership books.

Why it Takes More Than a Genius to Lead A Medical School

Dr. Darrell Kirch, President and CEO of the American Association of Medical Colleges (AAMC), calls for a new model of leadership across North American medical schools and teaching hospitals. Kirch declared, "Instead of one leader with special knowledge…we need Multipliers who unleash others' full potential and create an atmosphere of genius." Check out this three-minute clip to learn how medical school leaders can address healthcare's more-with-less dilemma by moving from "Moses" to Multipliers.

You can watch Dr. Kirch's entire keynote address here:

AAMC website

.


Forward this issue to a friend
---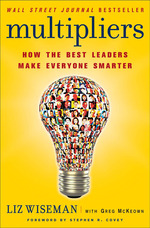 ---

Are You an Accidental Diminisher? Take our 5 minute Free Quiz and find out!

---

Visit our website for more information about our:
Workshops
Keynotes
Assessments
Coaching

---

Join our LinkedIn Group, Multipliers Leadership Network, and start or join the conversation!