---
Our Voices, Our Schools
---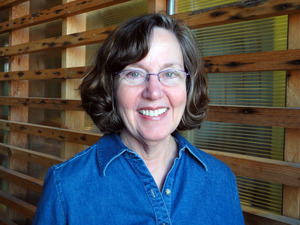 Marna Stalcup is the program manager for The Right Brain Initiative and coordinates all aspects of the program. She is responsible for engaging the community in the planning process, overseeing program design and taking the project to full implementation, serving all school districts in the Portland tri-county area. Marna has been with the program since its inception in 2007, bringing to her position nearly 30 years of experience in arts education.
How did you first become involved with Right Brain? What connection did you have to the world of arts education and/or the organization before you started working for Right Brain?
In 2007, the Regional Arts & Culture Council was designated as the managing partner for what is now known as The Right Brain Initiative. I was hired by RACC to develop and implement the program and to oversee the partnership.
Learning in and through the arts has been a lifelong passion of mine, both as a student of the arts and in my professional life. My career in arts education began with Jefferson High School's performing arts magnet program where I was the events manager and magnet arts coordinator for 15 years. My belief in arts integrated learning led me across the river to be part of the founding faculty of the Vancouver School of Arts and Academics, an award-winning grade 6-12 public school where the arts connect with academic subjects in an interdisciplinary setting. Just prior to working at RACC, I gained valuable experience in nonprofit management at Caldera, a program that supports Oregon students with year-round arts and mentoring services in their schools.
I see my role at RACC as a perfect blending of 30 years' experience in the field of arts education and the non.
One of your goals is "Equity and excellence: All students will have access to quality experiences in multiple art forms." Can you expand a little on the work Right Brain does to help all students have access to arts education?
Equity is one of the core values of Right Brain. To put it plainly, we believe that what one child deserves, all deserve. To address this, schools agree to serve all students with arts integrated residencies that meet the specific needs of their students. To support this goal school districts invest $15 per student in each participating school which provides the funds for schools to spend on artists.
To help ensure a high standard of quality for the programs delivered, all residencies include:
Planning sessions in which teachers and artists design their joint work and multiple connections to the curriculum, especially targeting 21st century skills of creativity, critical thinking, collaboration and communication.

Multiple connected sessions with a teaching artist.

Strategies for sharing and continuing arts learning in classrooms post-residency, what we refer to as "spillover."

Reflection and forward planning when teachers and artists use samples of student work to think about what students learned and how that learning might be strengthened.
Can you talk about professional development opportunities Right Brain offers for teachers wanting to incorporate the arts into their day to day teaching?
A sound professional development plan is essential to Right Brain's success. Through a series of all-day hands-on trainings, teachers, principals and artists 1) develop a common language for arts teaching and learning, specifically addressing arts integration; 2) learn to use high impact teaching strategies based in the arts; 3) engage in reflective practice through protocols for looking at student work; and 4) implement effective methods for developing assessments of student learning in both the arts and the integrated subjects. Further support in school leadership is provided for schools pursuing a whole school arts integration model. The Right Brain Initiative provides stipends for artists and covers the cost of substitute teachers, and continuing education credit is available for all professional development offerings.