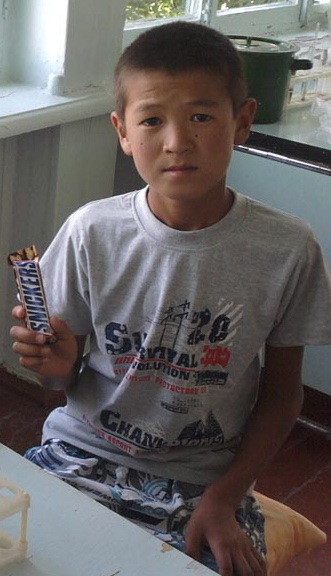 Living with a Nuclear Legacy
Ten-year old Akylbek Kushbakov goes to School #2 in Mailuu-Suu, Kyrgyzstan
. His hometown was where uranium was mined for nuclear weapons like the atomic bomb. Today, he lives surrounded by piles of radioactive waste, a toxic legacy from the Cold War.

Here, radiation flows from taps.
To protect the most vulnerable, Blacksmith installed water filters in schools, including the one that Akylbek attends, and the town's hospital.

Now, when Akylbek and his friends wash their hands, they will no longer be exposed to
dangerous levels of radionuclides
. When lunch is prepared in the school cafeteria, it will be with safe water.

Blacksmith has also been teaching children to stay away from contaminated areas that lie between home and school.
Akylbek
and his friends created dioramas and put on little plays to educate his classmates.

Video slideshow: Akylbek's dioramas
Cleanup at Mailuu-Suu will take years. This is just the start.
[Photo: Akylbek shows off the chocolate bar he was given after having a blood test.]
Akylbek is not alone. Millions of other children in poor countries are poisoned every day. The air they breathe, the water they drink, and the food they eat are contaminated with
industrial toxic waste like lead, mercury and
chromium. Their families do not have the resources to move or protect themselves. And so they stay in places like Mailuu-Suu.
But the good news is that toxic pollution can be solved. To date, Blacksmith has cleaned up 67 toxic communities affecting 4.4 million people, one quarter of them children.

These children will now have a future. They will suffer from less developmental delays, fewer crippling diseases, and most of all, they will have a chance at a normal life. Using WHO measurement techniques, we have saved the equivalent of 60,000 lives.
Blacksmith is currently working on
24 projects worldwide
affecting an additional
2.9 million lives.
We're already raised $11,450 towards our goal of $53,000 to keep these life-saving projects going this holiday season.
Can you help us?