Public Participation In China's Pollution Cleanup

Blacksmith has launched a project in Hunan Province that will involve the Chinese public in pollution cleanup.

The project aims to demonstrate to local environmental officials how engaging the public openly and transparently can lead to better community relations, build trust, and ultimately aid in the success of pollution cleanup projects. Could this be the model for future cleanup across China?

>>Read the report from Abby Schultz in Blacksmith's Hong Kong office

, see the

project's Chinese website

.
Lead cleanup starts in Cinangka, part of nationawide effort in Indonesia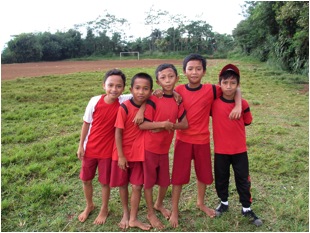 These children in Cinangka, Indonesia, are standing on soil that registers 49,239 parts per million of lead – more than 123 times the internationally recognized health standard established by the World Health Organization. This month, Blacksmith will begin cleanup of their playground so that they may soon be able to play in a soccer field that does not kill.

This cleanup is part of a larger effort to help deal with the nationwide problem of toxic lead polllution in Indonesia, where the improper recycling of used lead acid batteries (or car batteries) is putting children's health and development at risk. Blacksmith is working with a local NGO and the government to help with lead management issues and better implementation of hazardous waste policies.

In Cinangka, between 1983 and 2006, no less than 32 illegal lead smelters choked the town with black toxic clouds. The atmosphere became so lethal that guavas growing from local trees turned the color of chocolate. >>Read a post from Cinangka by author Damon DiMarco.
---
Fishponds In One Of The World's Most Polluted Rivers In The Philippines Get Help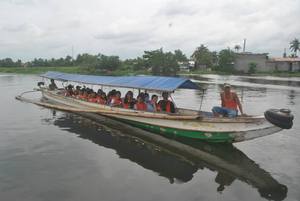 Since 2008, Blacksmith has been working to rehabilitate the Meycauayan-Marilao-Obando River System (MMORS), one of the most polluted rivers in the world.
Now, Blacksmith is partnering with HSBC on a new project to reduce health risks posed by toxic pollution in the MMORS, with a focus on fishponds.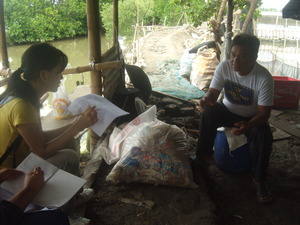 The waterway hosts
thousands of hectares of aquaculture ponds and eventually discharges directly to Manila Bay. Heavy metals that bio-accumulate in fishes and other aquatic life forms pose significant health risks not just to people living near the MMORS but also in Metro Manila and other nearby areas.

As a prologue to this effort, an Eco-Day Camp was held on August 17 and attended by representatives of the local government, fish farm councils, and HSBC employees. The event included river tours, interviews with fish farmers, lectures on the state of the MMORS and efforts to clean up the waterway to help raise awareness about what toxic pollution has done to the river.
---
Blacksmith Recognized As One Of Country's Top Performing Nonprofits Again

We have great news. Blacksmith Institute has been recognized as one of the country's top performing nonprofits AGAIN. We retained our 4-star charity rating, the highest rating from Charity Navigator. Only about one-quarter of evaluated charities achieve this level. >>Read more about our rating

With your help, we are making a difference for thousands of children who live with their families in some of the world's worst polluted places. Here are more ways to help us protect them: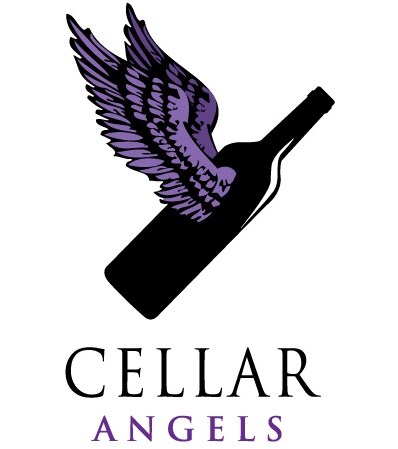 Cellar Angels
Blacksmith Institute is now a direct beneficiary of Cellar Angels' unique online wine charity program. As a member, you'll have the opportunity to select Blacksmith to receive proceeds from every purchase you make on their website. Learn more about how you can drink wine and support Blackmsith.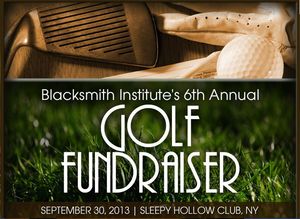 Blacksmith's Annual Golf Benefit: Sept. 30
Blacksmith's annual golf benefit raises crucial funds each year that are used to support emergency cleanup work or other projects that require a quick response. It is one of our most important events of the year. Help us do more. Purchase a foursome, sponsorship or individual golf spot now at www.blacksmithgolf.org.
---
Sept. 1 Deadline Fast Approaching For New Blacksmith/AuthorAID Course
Following the success of our first online course in writing up environmental health research for publication, we are running a second, free online course on this topic. This AuthorAid course has been developed in collaboration with Blacksmith. Apply now.
---
The New Journal of Health and Pollution Is Out
Read perspectives on Fukushima, Chernobyl and more in the latest issue of Blacksmith's Journal of Health and Pollution.