The Emersonian is a weekly e-Newsletter sent to the
Emerson Waldorf School community every Wednesday during the school year.
919 967 1858 | emersonwaldorf.org



Welcome Back From the Administrator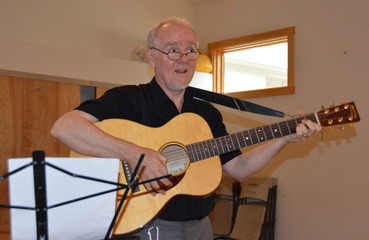 This week is Work Week for staff and faculty. I had the pleasure of teaching everyone a song I had written many years ago. It is a seasonal song for the coming of Autumn. The song is called Dream Sleep - and this is just our 4th time singing it together!. Click Here to hear your dear staff and faculty singing before your arrival!
Welcome to the new format of the Emersonian!
Welcome to a new year full of the usual Waldorf changes, with expectations of new learning, new challenges, and exciting events and meetings. (The theme is
new
!)
As the school's
new
Administrator, in a
new
country, a
new
environment, I feel a bit like like a new parent - new names, new faces, new culture to absorb. While all of us will become familiar with the community and its practices, there is always a new element in the school that is not. Not surprisingly, my attention is on that facet of our school.
Just as in our teaching, where the early weeks, months, and years are seen as vitally important to the growth and future well-being of the child, so it is with the being of the school each new year. This is where a new school culture can be consciously nurtured and developed.
In what is already a warm and appreciative community, I would like us – parents, faculty, and staff - to open our hearts to change (the eternal constant), to what is coming to the school from the future. Our challenge (not new) is to become the best we can be, the challenge of healthy, happy growth. Each teacher has a special eye for the new student in the class; faculty for the new teacher. In Admin, we are focusing this new year on the new families who are arriving and trying our best to support them and bring them into the warm, caring fabric of our community.
So, while I am the new guy, nevertheless, Welcome.
Steve Bennett
Director of Administration
Emerson Waldorf School
---
Welcome Back, from the Board!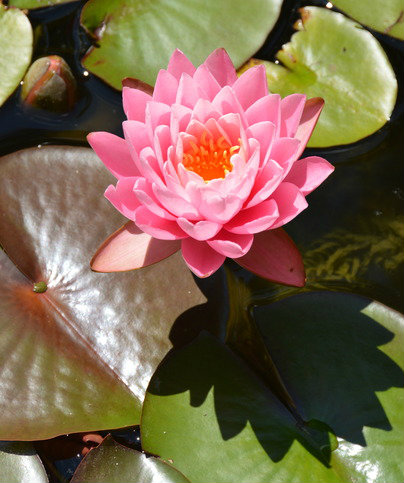 As school is just around the corner, I wanted to take a minute to brief our community on the Board's activities.
As you may know, the Board of Directors is responsible for the long-term legal and financial health of the school. The BOD is composed of 12-15 committed community members, including parents, grandparents, teachers, and others that value Waldorf Education. Together, with the College and Administration, the Board also is concerned with facilitating and enabling long-range fiscal, physical, pedagogical, and administrative planning and growth, with each of these three groups taking appropriate leadership roles in these areas.
Just before school ended last year, we welcomed Steve Bennett, our new Administrator, to EWS. Steve's been hard at work since then familiarizing himself with the work of the school and settling in. We'd like to welcome him to our Board and to our school! Over the summer, Steve has joined right in as we have been revising our Board Handbook, planning our schedule, and gearing up for the new year. We are finalizing an updated Employee Manual for the school. We're looking at our goals as a Board for the upcoming year.
We're also working simultaneously with three different budget cycles. We are preparing to look at the annual audit of our books for last year (2011-12) and to sign our end of fiscal year tax reporting forms, making sure all the "i"s are dotted and the "t"s are crossed. Meanwhile, the budget for this year (2012-13) has been in draft form since February, being revised monthly, as our enrollment picture changes and tuition numbers gradually firm up. We are now ready for final approval. The Fall is also the time to start looking to NEXT year, setting tuition and fees for the 2013-14 school year, so the Finance Committee can begin drafting the new budget (2013-14) this coming February.
We will also be producing our Annual Report for last year, and planning our Annual All-School General Meeting (also known as the WEANC Meeting). At that meeting, we roll out the Annual Report, and we answer questions and hear concerns from the community. That meeting is on Monday, November 5th at 7pm, and it is open to ALL community members. We would love to see you there!
Any community member is also welcome to attend Board meetings during the "open mic" period near the beginning of each meeting to voice concerns or requests. We would be love to hear from you during any of the following times:
August 25 Saturday 8:30-11:30am Regular Meeting
September 29 Saturday 8:30-11:30am Regular Meeting
October 9 Tuesday 7:00-9:00pm Regular Meeting
November 5 Monday 7:00-8:00pm All School WEANC Meeting
November 10 Saturday 8:30-11:30am Regular Meeting
January 23 Wednesday 7:00-9:00pm Regular Meeting
February 9 Saturday 8:30-11:30am Regular Meeting
March 14 Thursday 7:00-9:00pm Regular Meeting
May 18 Saturday 8:30-11:30am Regular Meeting
Please feel free to contact me if you have any questions, or to verify our meeting schedule if you wish to come to the "open mic" section of any meeting: joycefe@gmail.com or 919-619-4900. Again, welcome to the new school year at EWS!
Joyce Felder
EWS Board President

---
Welcome Back from the College Chair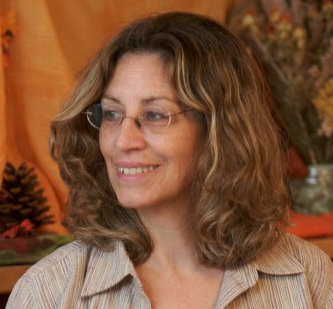 The central task of the College of Teachers is the care of the children who come through the door to meet us each day. This task encompasses many aspects and requires a determination to maintain quality, depth, and professionalism of teaching.
The College is responsible for the pedagogy and strives to reflect the school's mission and work with openness and a collaborative spirit. We look forward to working in partnership with our new Administrator, Steve Bennett, the Board, parents, and community members to help us fulfill our goals. The College of Teachers welcomes you to EWS and to a new school year!
Patricia Cornell
College of Teachers Chair
---
Welcome Back from the PO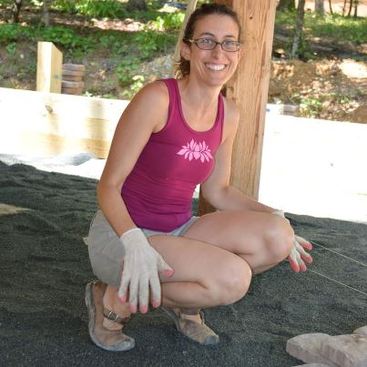 This summer, Tina Stevens with the help of Keith Bartholomew and a band of awesome EWS parent volunteers constructed the new flooring for the gazebo.
Thank you to our volunteers who stepped up during the heat of summer to work together for the beauty of our campus. What a gorgeous gazebo floor we have! And what fun it was creating it with friends. Please do check it out when you're next on campus – it looks amazing! Hoping you'll join us for the next Parent-Organization-sponsored Hands event.
The Parent Organization, affectionately called "the PO", looks forward to recruiting parents to help with social and service projects for the 2012-2013 school year.
The PO meetings are held every 2nd Wednesday at 7pm in the Eurythmy Room starting in September. We anticipate a great turn-out for these planning and social gatherings. Please mark your calendars – you have a choice to have a voice!
Every EWS parent is a member of the PO. Your $35 membership dues were paid as part of your tuition.
It is my hope that the PO of 2012-2013 will be a great year, balanced in both community-building and service to our school. May every EWS parent commit to 1 or more hours per month to help our school environment and culture become even more beautiful and warm. Just think what we could do together!
See you at the Back-to-School Parent Evening on August 30, 2012!

Tina Stevens
PO Representative


---

Thank You, Leigh Sparacino!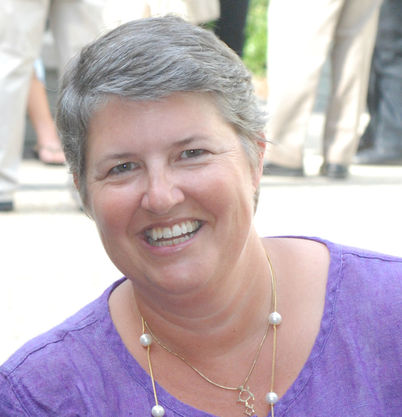 An enormous thank you to
Leigh Sparacino
for being such a beautiful part of the Emerson Waldorf High School during the past 4 years.
Leigh has provided support, guidance, love, and camaraderie to our High School students during her tenure as Administrative Assistant.

We thank you, Leigh, for your beautiful heart, your warm smile, your deep connection with the students, and for your amazing organizing and event-planning for field trips, service days, and camping excursions. We also greatly appreciate your efforts in spear-heading our annual Holiday Faire for the past few years.
Your contributions to EWS have reached far and wide within our community, and we wish you well in your next chapter.
---
Thank You Gazebo Volunteers! You Rock!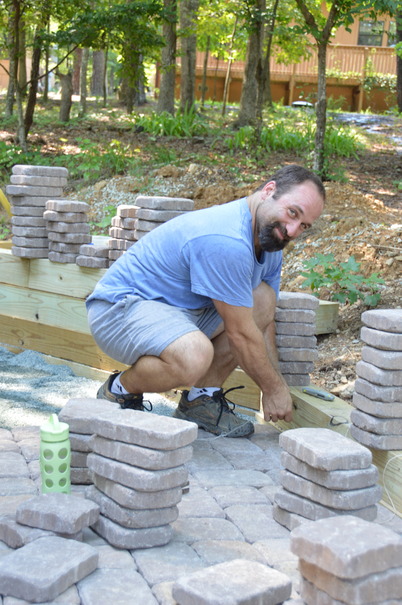 Keith & Ella Bartholomew
Bob Durovich
Patrick Dyess
Maria Harvath
Barbara Holloway
Katja Moos
Dani Mouawad
Mary Beth & Jim Mueller
Dana Nicholson
Lauren & Lars Nyland
Ian Ostrowski & Friends
Glenn Peirce
Joelle Ramos
Adriana & Travis Smith
Ann, Chris, & Amelia Stephenson
Tina Stevens
Charlie Viles
---
Looking for a Volunteer Job That Does Not Take Up Much Time, but is a Great Way to Meet People?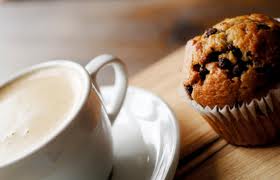 Sign up to help at the morning coffee table. A full shift requires about an hour and 10 minutes of your time; a single shift only 30-40 minutes. Of course, this could be longer if you find yourself engaged in an interesting conversation which often happens!
There is the opportunity for you to show off your baking skills, and bring in a baked good to be sold at the coffee table (especially looking for gluten-free baked goodies). Please contact Pat McKenzie for more information and to sign up for a shift. pamckenz1951@gmail.com or
919 308 072.
---
Summer Camps - Huge Success!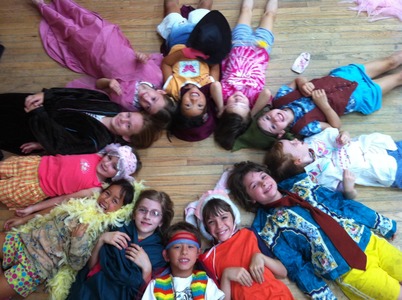 This summer, Summer Camp Director,
Shannon O'Connor,
beautifully created, organized, and orchestrated camp weeks for students from Pre-School to Middle and High School-aged junior counselors.

Ms O'Connor
served her last year as Director, as she is moving on to teach First grade for the 2012-2013 school year.
We are excited to announce that First grade and Eleventh grade parent,
Candor Plaza
, will be Summer Camp Director beginning in Summer 2013. Welcome, Candor!
Thanks for a magical summer,
Ms. O'Connor!
You are awesome!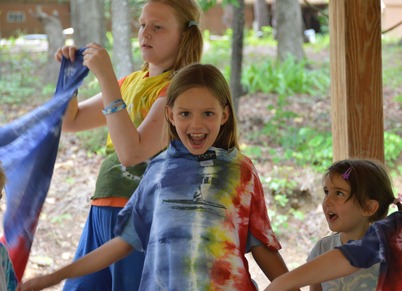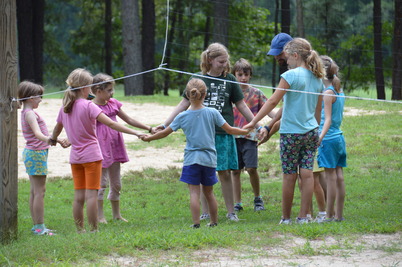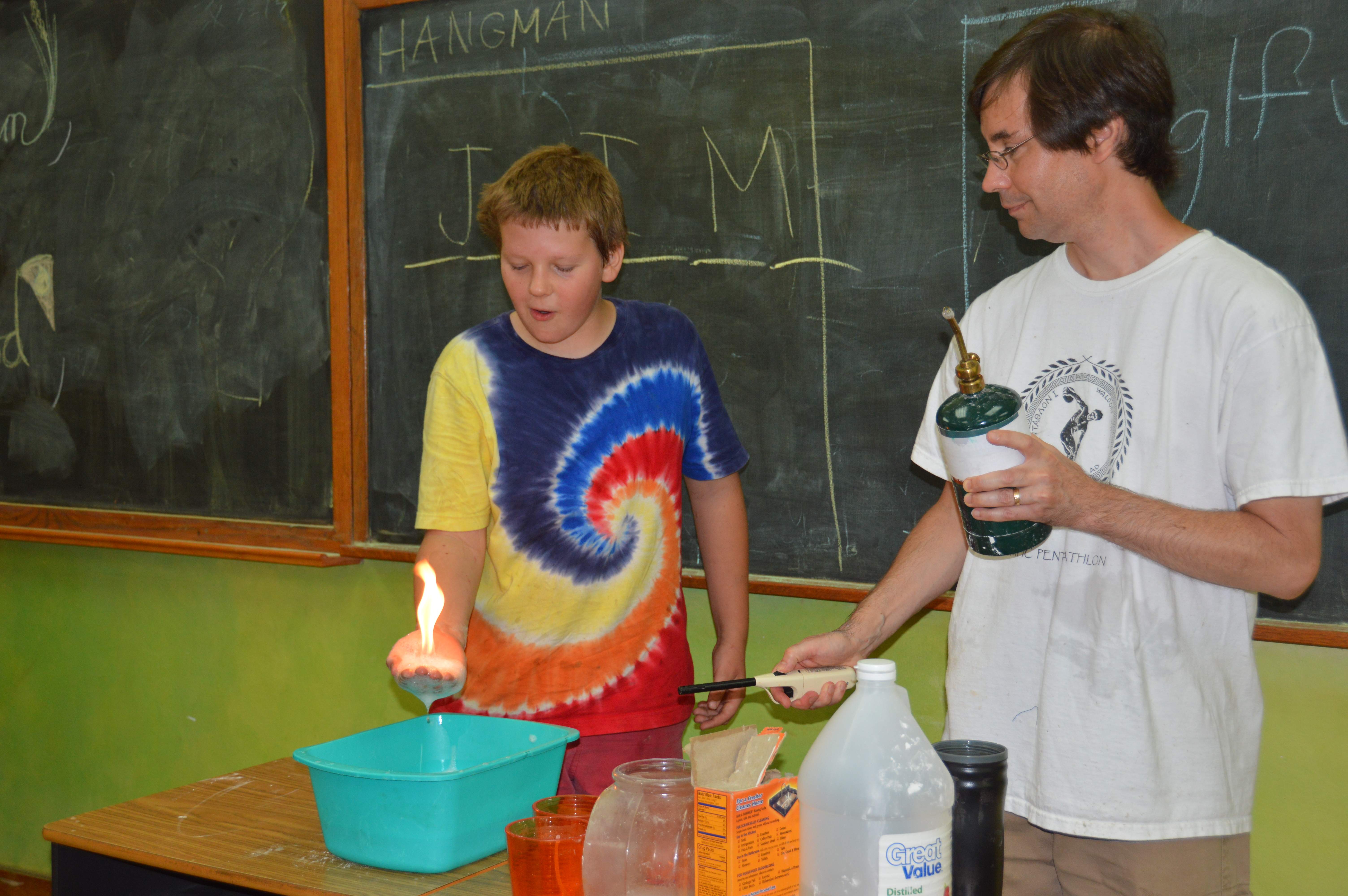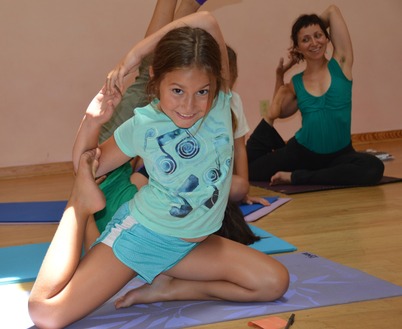 ---

Special 1st Day for 1st Graders!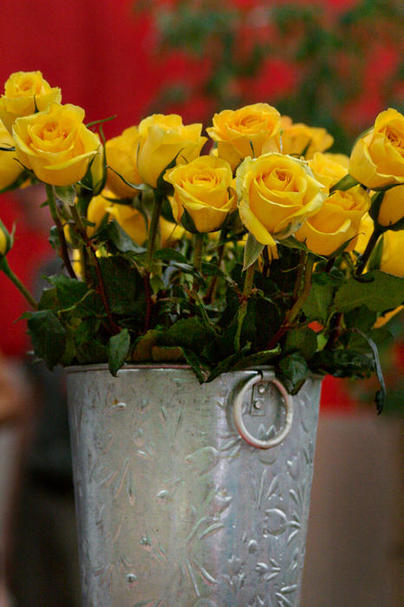 Rose Ceremony at Emerson Waldorf School Marks First Graders' Move from Childhood Play to Academic Focus
On Tuesday, August 21, 2012 at 9:00am, the semi-annual Rose Ceremony will be celebrated, marking the beginning of the first graders' journey of learning and discovery with the beautiful tradition of receiving a rose from a twelfth grader, who is completing their educational journey. The Waldorf educational tradition emphasizes rhythm and marks special events with ceremonies shared by the entire school community. The Rose Ceremony is a moving, profound experience that honors the transition from the kindergartener's dreamy childhood play to the more focused mentality of the first grader, who is ready to learn reading, writing, and arithmetic.
Kindergarteners who are entering first grade face a huge and possibly scary change. They are leaving the teacher they have had for one, two, or possibly three years, and meeting a new teacher they are likely to have for eight years, as is the Waldorf tradition before high school. They are also leaving behind some friends in kindergarten who are not transitioning this year. Most of all, they are leaving the world in which everything is play time or active, to a more focused academic world that involves some desk work.
Rather than let this change just happen, Waldorf education celebrates it with ceremony. The first graders hear a beautiful story about children in a garden who are moving out into the greater world, just as they themselves are doing. The whole school joins together in welcoming the first graders, as their Kindergarten teachers lead them across a large wooden bridge called the Rainbow Bridge. Once on the other side, they greet their new, first grade teacher with a handshake and receive a rose from a twelfth grader. These seniors are at the end of the journey the first graders are just beginning. Each class teacher then tells a story of the curriculum their class will be covering that year, and the children depart with their teachers for their first day of a new grade.
At the end of the academic year in June, the first and twelfth graders come together for another Rose Ceremony, to mark the transition of the seniors into world beyond high school. Thus the rhythm of the developing child continues.
---

Let's Garden!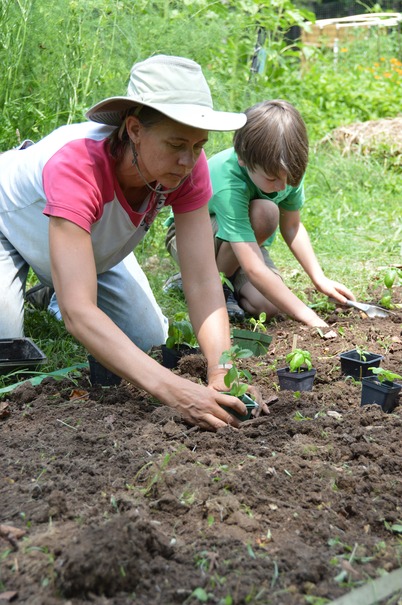 Stay tuned for a farm update from
Mary Beth
in the next Emersonian. Meanwhile, have you had a chance to read our
Farm Blog
?
The Emerson Waldorf Farm is located on Mill House Road, diagonally across from Spence's Farm.
---

New High School Coordinator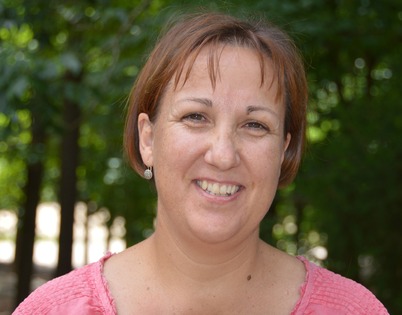 My vision for the
High School
We are so lucky to have a High School as part of our school, and l feel that the original hard work that went into envisioning and establishing the High School should be honored.
High School is such a vital and integral part of a Waldorf education. It can be seen as the final step in a process of approximately 15 years, during which students are guided to develop independent thinking, artistically-cultivated feeling, and moral courage for responsible action, to finally be able to step out into the world and be ready to take up their rightful place in it. At a Waldorf High School, we are offering an alternative to high-pressure and high-stress education.
With the creation of the High School Coordinator position, a very clear message has been sent to our whole school community, and that is that the High School is important to us, that we care about our High School, and that we want to work at improving and expanding it.
What we need to do now is to realign the High School with the rest of the school through the forging of a closer working relationship with the Main Office. I will be giving our High School teachers the support that they need to focus on their classes and to do that which they do best. We also want to acknowledge the importance of our parents and keep fostering strong, healthy relationships with them.
Therisa Pienaar
High School Coordinator
---
HS Students Create a Piece of Art, in Video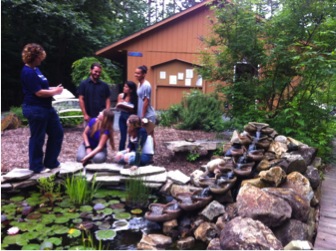 Check out the culmination of Videography 2012 taught by our very own
Strouse Campbell
.
Strouse, together with students Mariah Dahill-Moore, Hannah Dyess, Djahna Garvey, Camilla Lamb, Cerridwen O'Connor, and Griselda Poou-Sub, have captured the essence of our campus in a beautifully artistic piece. And no worries on youtube music copyright – Shay Stifelman, rising 12th grader here at EWS, composed music specifically for this video.
Sheer brilliance, y'all!
Watch Here on Youtube
.
---
Farewell to the Class of 2012!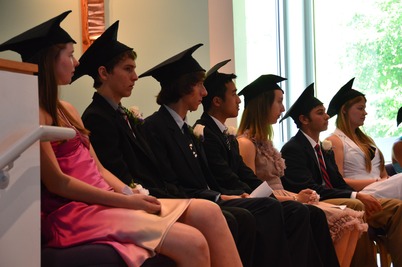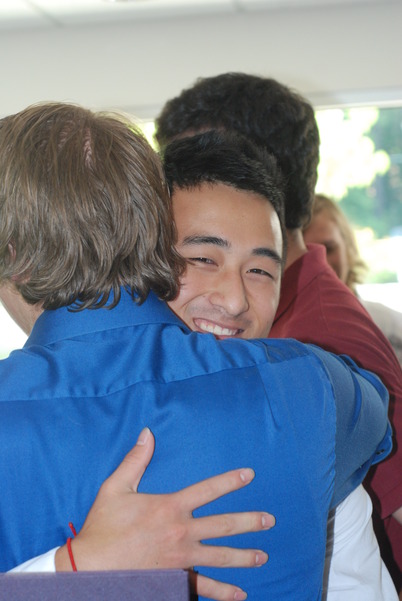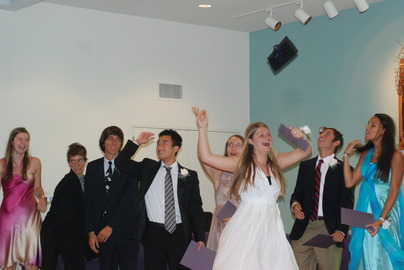 ---
High School Guatemala Trip Pictures

---

Congrats to Our Rising 9th Graders!
You Were Dazzling at Your 8th Grade Ceremony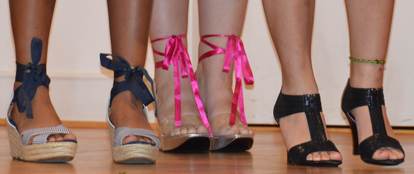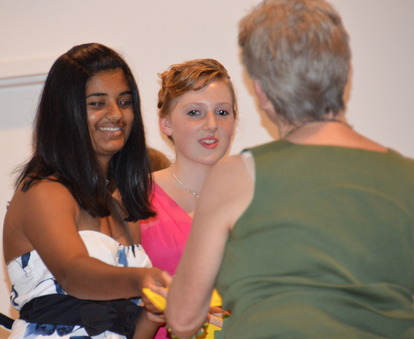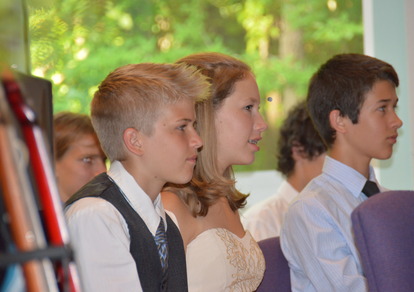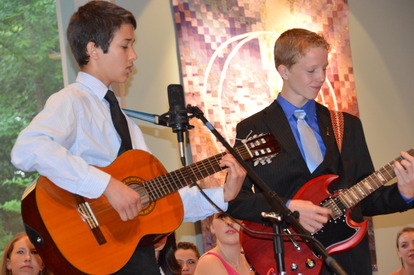 ---

Parent-Child Program - Popular!

FYI: E.C. (Early Childhood)
Morning Garden is the parent-child program of the Emerson Waldorf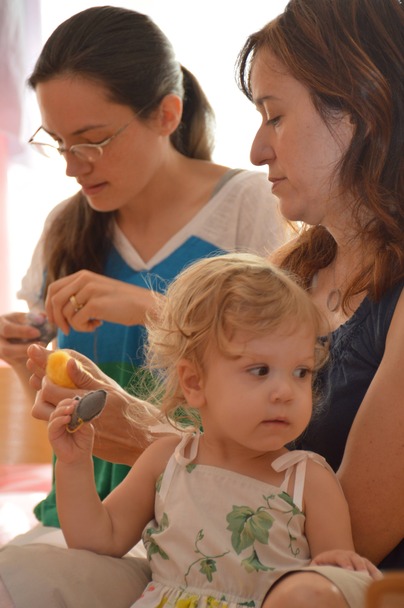 School. Only a few spaces are still available for the fall 2012 session.
Morning Garden is a special gathering where young children and their parents, guided by a Waldorf nursery teacher, enjoy a rhythmic morning of songs, movement, handwork, snack, and conversation every Friday morning for 12 weeks 9am-11am.
Parents learn from each other, sharing life experiences and insights, while modeling for the children the joy of meaningful activity. It's a wonderful introduction to Waldorf education and philosophy.
A
Free Morning Garden Sampler
will be held this Friday, August 17, 2012 from 9am-10am. To register for the Sampler, simply complete
the form
.
To register for our fall program, simply complete the
registration form
.
---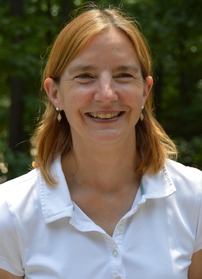 Now That It Is August, It Is Time to Plan Fall Athletics at EWS!
We are offering Co-ed Soccer and Co-ed Cross Country for upper grades.
SOCCER DETAILS:
PRACTICES: Mondays, Wednesdays, and Fridays from 3:30-5:00
SCHEDULE:
Wednesday, Sept 5 Triangle Collaborative Scrimmage, Home 4:00
Wednesday, Sept. 12 Southern Wake, Home 4:00
Friday, Sept. 14 Hopewell Academy, Home 4:00
Wednesday Sept. 19 Woods Charter, Home 4:00
Friday, Sept. 21 Clover Garden, Away 4:00
Wednesday, Sept.26 Camelot Academy, Away 4:00
Friday, Sept 28 St. Thomas More, Away 4:00
Friday, Oct. 5 Kestrel Heights, Away 4:00
Monday, Oct. 8 Fletcher Academy, Home 4:00
CCAL Tournament Dates TBD

CROSS COUNTRY DETAILS:
SCHEDULE
There will be other teams scheduled on these same dates, just not confirmed.
Wednesday, Sept 12 Southern Wake, Home Walk through 4 Meet 4:30
Thursday, Sept 20 Woods Charter, Away Walk through 4 Meet 4:30
Thursday, Sept. 27 Durham Academy, Away Walk through 3:45 Meet 4
Wednesday, Oct. 3 Woods Charter, Home Walk through 4 Meet 4:30
Tuesday, Oct 9 Southern Wake, Away Harris Lake County Park
Wednesday, Oct. 24 Gnome Invitational, Home Walk thought 4 Meet 4
Mary KirchoffEmerson Waldorf School Movement Education Teacher
Athletic Director Middle School and High School
---

Composted Cow Manure For Sale
4 Cuyds, $125, delivery beyond 10 miles of Calvander extra. 968-1123
Afterschool Horsebackriding Lessons
Blue Skies of Mapleview LLC
is offering lessons beginning in September. Deborah Pearson-Moyers, (Mr. Moyers' wife) has offered lessons to beginning and intermediate riders since 1996. Sweet horses, gentle approach, beautiful setting. Now assisted by Sonja Pearson-Moyers, former EWS student. Our ten-week fall semester has openings on Tuesday, Wednesday, or Thursday afternoons.
www.blueskiesmapleview.us
or Deborah 919-933-1444
DIVINEROSE FACIALS

Offering illuminating and renewing Dr. Hauschka facial treatments. Cori Roth, NC Licensed/Holistic Esthetician and Dr. Hauschka retailer. Please visit
Divinerose.com
for more info.
Buying a home? Selling a home? Investing in real estate?
HEAD, HEART and 20+ years of HANDS-ON EXPERIENCE giving caring advice and guidance to hundreds of happy home buyers and sellers – let me help you with all of your Real Estate needs!
Judy Weinstock, REALTOR, EWS Alumni parent. Joyfully donating to EWS with every sale. Phone 919-951-1800.
www.seejudy.com
.
Are you deficient in Vitamin D?
"Vitamin D Is possibly the most important thing you can do to improve your health and save yourself from many chronic diseases" -
David Servan-Schreiber, M.D.,Ph.D
Take the Vitamin D Quiz at
www.joestes.com
Submitted by Joanne Estes, a grandmother of 4 EWS students and at 68 she is living healthy, strong and prescription-free.
NICK'S PLUMBING AND MORE
offers residential plumbing, electrical, carpentry, and welding solutions for those jobs you can't do. Large and small jobs accepted. Nick has been an EWS parent for 12 years and a skilled handyman since 1980. Free estimates and fair fees. Call Nick at 336-684-7407.
---
Advertising Changes for the Emersonian
We accept small classified-type advertisements. Each submission to the Classifieds should be no more than 6 lines of text, which is approximately 60 words. Each submission costs $5.00. Payment for Community Bulletin Board Submissions should be made by Friday of the publication week. No charge for advertisements for free events or nonprofit organizations. Submit ads to: emersonian@emersonwaldorf.org.

General Policy for the Bulletin
No political or religious advertisements. No competitive program advertisements. No fundraisers. The editors will decide the placement of advertisements. Submissions may be edited for content and length. The Emerson Waldorf School retains the right to choose not to print any advertisement.

In This Issue

Governance
...Administrator
...Board President
...College Chair
...Parent Organization

Announcements
...Thank You,
Leigh Sparacino
...Thank You, Gazebo Volunteers
...Coffee Table Volunteers
...Summer Camp Success

Articles
...1st Grade Rose Ceremony

Farm News

High School News
...New Coordinator
...Farewell Class of 2012
...Guatemala Trip Pics

Grades News
....8th Grade Ceremony Pics

EC News
....Fall Morning Garden

Sports

Classifieds


---
School Staff
Steve Bennet x 11
Administrator

Tara Furze x 12
Director of Finance

Barbara Holloway
Director of Marketing

Ian Ostrowski x29
Facilities Manager

Raelee Peirce x14
Director of Admissions

Therisa Pienaar x20
High School Coordinator

Kelley Wiley x13
Communications Director


---
School Hours
N/K 8:30am-12:30pm
1st-5th 8:30am-3:15pm
6th-8th 8:15am-3:15pm
HS 8:10am-3:15pm

Aftercare N/K until 3pm
Aftercare 1st + until 6pm

Office Hours 8am-4pm


---
Dates to Remember

August
18 Nursery Potluck 9:30am
18 Kindy Potluck 11:00am
21 Rose Ceremony 9:00am
21 Kindy Orientation 7:00pm
22 Nursery Orientation
28 1st Day Early Childhood
30 ALL-SCHOOL BACK TO SCHOOL NIGHT!! 7:00PM (PARENTS ONLY)