Media Advisory, December 21, 2016:
Main Contact: Dawna Shuman, Lighthouse PR Cell: 818.632.3296; dslighthousepr[@]aol.com
Issues: Jack Eidt, Steering Committee, SoCal 350, 323 362 6737, jack.eidt[@]wilderutopia.com
Lydia Ponce, Press and Logistics Coordinator, American Indian Movement (AIM) SoCal, 310 488 0850 venicelydia[@]gmail.com
#BANKEXIT RALLY
JANE FONDA ANNOUNCES DIVESTMENT FROM WELLS FARGO at Hollywood Branch
IN SOLIDARITY WITH STANDING ROCK
Wednesday, December 21
Joined by Dolores Huerta, Lily Tomlin, Chase Iron Eyes, Catherine Keener, Frances Fisher, Alexander Ebert, and Many Others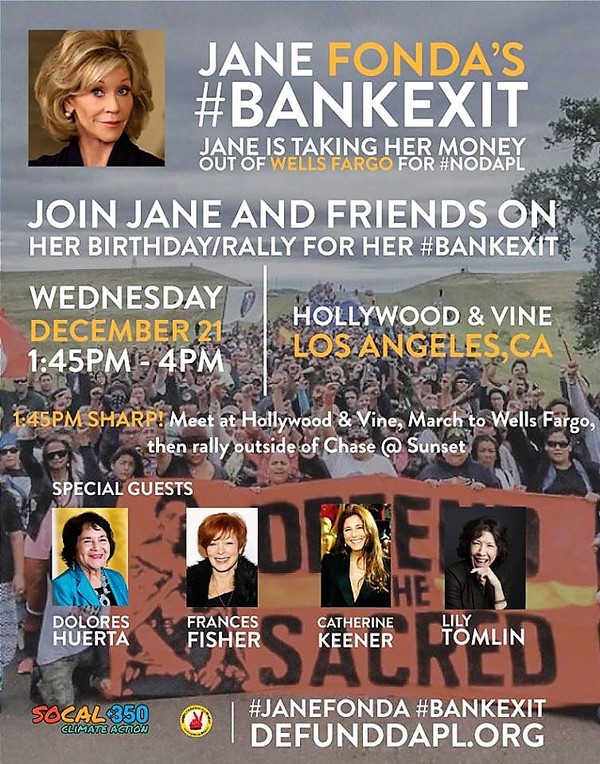 WHAT:
Jane Fonda
will announce her
divesting of financial holdings from Wells Fargo,
one of the
major investors in the Dakota Access Pipeline,
at the Hollywood Wells Fargo Branch. Despite the denial of the permits to drill and the calling for an Environmental Impact Statement
by The Army Corp of Engineers, pipeline owners
Energy Transfer Partners/Sunoco have continued to work in defiance of federal mandate on constructing the pipeline
proposed to run under the Standing Rock Sioux's water supply and through ancestral burial grounds. President
Elect Donald Trump also pledged his support for the pipeline which
will affect nearly 18 million.
Jane Fonda will be joined in Hollywood by iconic civil rights activist Dolores Huerta, and Frances Fisher, Lily Tomlin and Catherine Keener to march, rally and demonstrate their solidarity with the people of Standing Rock in their ongoing battle against the pipeline.
**Jane spent Thanksgiving volunteering at Standing Rock serving food to over 3,000 water protectors. She has been active in the Indigenous movement for over 40 years.
WHY: "I don't want my money in a bank that has loaned to the Dakota Access Pipeline (DAPL). It's a bad investment from every standpoint: financially, socially, morally. Any bank that has put money into DAPL displays corporate irresponsibility because even minimal due diligence shows that the companies that own and operate the pipeline, Energy Transfer Partners and Sonoco, are rated as the worst companies in the country both in environmental and safety terms. ETP is being sued by 5 states for contaminating groundwater. I am grateful to the Standing Rock Sioux Nation for calling attention to this dangerous situation. We must stand with them to ensure the pipeline is stopped." -- Jane Fonda - December, 2016.
THE RALLY:
An expected group of 150+ will meet at the North/West corner parking lot at Hollywood & Vine at 1:45pm then march to Wells Fargo Bank (1600 Vine St.) where Jane Fonda will announce her withdrawing her money at the bank. The march will then proceed to Chase Bank at 1500 Vine St. (corner of Sunset & Vine) for a rally of another surprise #BankExit, indigenous prayer, dance, song, inspiring speeches from the special guests.
The rally will conclude with a birthday celebration for Jane Fonda, a truly legendary peace activist.
THIS IS AN INDIGENOUS LEAD, PEACEFUL, PRAYERFUL DEMONSTRATION.
WHEN:
Wednesday, Dec. 21, 2016
Press Arrivals: 1.00pm - 1.30pm
1.30pm- Interviews with Jane Fonda & Friends
at 1600 Vine Street (in the walk way)
2:00pm March to Wells Fargo - Vine & Selma Avenue, Hollywood,CA
2:15pm Press Conference inside & out Wells Fargo
Jane Fonda reads statement about pulling out of Wells Fargo
*Parking for Press: Trader Joe's - underground parking, enter off Selma Avenue.
WHERE: PRESS MEETS AT THE COURTYARD at the end of
1600 Vine Street walkway
Rally gathers N/W parking lot at Hollywood & Vine
Jane Fonda announces divestment at Wells Fargo Bank.
1600 Vine Street - Hollywood, CA
Rally continues to Chase Bank - 1500 Vine Street
WHO: - Guest Speakers
● Jane Fonda -award winning actress/activist
● Lily Tomlin - legendary actress/activist
● Chase Iron Eyes (North Dakota Congressional hopeful)
● Tokota (daughter of Chase, one of the Indigenous youth that started the movement to end the Dakota Access Pipeline.)
● Frances Fisher (Titanic, Unforgiven)
● Catherine Keener (40 Year Old Virgin)
● Judith Greer (Arrested Development, Jurassic World)
● Delores Huerta (American labor leader/co-founder of United Farm Workers)
● Alexander Ebert (lead singer with Edward Sharpe and the Magnetic Zeros)
Facebook Invite:
ABOUT #BANKEXIT:
The #BankExit campaign encourages citizens to withdraw their money from banks such
as Wells Fargo, Bank of America, Chase, Citibank, and HSBC, notifying them that they
will not support financial institutions that fund Dakota Access and associated fossil fuel infrastructure, supporting the climate-disrupting, planet-destroying, dirty energy economy and undermines Native American rights.
It was launched November 3rd, 2016 by Susan Sarandon and activist Jay Ponti.
Among
the initial campaign organizers and supporters were Mark Ruffalo, Shailene Woodley, Dennis Kucinich, The Young Turks, and Robert Kennedy Jr.
ABOUT STANDING ROCK:
"We have a duty to defend, protect and renew our sacred lands and waters for future generations," said Deborah Parker, Tulalip Tribes
After months of Native American water protectors gathering in peace, prayer, and solidarity to protect their sacred lands, joined by over 5,000 Vets and 4,000 supporters from all walks of life from all over the world, the Obama administration announced on Dec. 4 that it's sided with the Standing Rock Sioux and halted the construction of the Dakota Access Pipeline.
A battle was won. But with a Trump administration looming, the fight isn't over.
The president-elect has pledged to remove constraints on fossil fuel projects, and it's likely he'll try to reverse this decision once he takes office. The controversial pipeline would be 1,172 miles long and cost $3.7 billion. Behind the lead investor, Energy Transfer Partners, stand heavily armed police forces, sound-cannon trucks, water cannons, tear gas and attack dogs – and 38 banks funding it all.
ORGANIZING INFO
Jay Ponti
Cell: 323-247-6301; jay@revhub.org
PRESS CONTACT:
Dawna Shuman, Lighthouse PR Cell: 818.632.3296; dslighthousepr@aol.com
FOR MORE INFO:
###
---
**SOCAL 350 MISSION**
We aim to organize, activate, and engage across class, gender, racial, and ethnic lines to build a mass movement throughout Southern California for a healthy climate and a 100% clean energy future with full employment. SoCal 350 is affiliated with the international climate change organization 350.org.