W.K. Kellogg Biological Station

E-Station to Station
April 2015
Dessert with Discussion Series: Bringing Bees Back for Better Berries
The next Dessert with Discussion event is scheduled for April 29th at 7:30 p.m. Dr. Rufus Isaacs from Michigan State University's Department of Entomology will discuss the importance of bees in today's agriculture.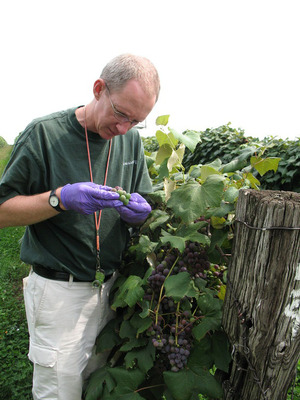 Honey bees, initially imported from Europe, have been used for centuries to improve quality and yield of various crops. Through pollination, honey bees are currently responsible for over $15 billion in increased agricultural productivity, and one out of every three bites of food we eat. Some commercial crops, such as blueberries are highly dependent on honey bees for pollination. In the past decade, however, honey bee colonies have been suffering from Colony Collapse Disorder, the cause of which is largely unknown.

As the director of the Integrated Crop Pollination project (ICP), Dr. Isaacs's research is mainly focused on finding a viable supplement to honey bee pollination. Wild bees and companion planting are all part of alternative pollination strategies being explored. By studying the diverse alternatives to honey bees, Dr. Isaacs and his team will help ensure crop productivity in the face of dwindling honey bee populations. Read more about the ICP project in MSU Today's feature Plan Bee.

The Dessert with Discussion series is a twice yearly program that is free and open to the public. Desserts featuring berries and honey, as well as coffee and tea, will be provided by the W.K. Kellogg Conference Center. A live stream of this program may be found at bit.ly//DwDApril2015. This event is co-sponsored by Native Connections in Three Rivers.

---
Sustaining the Vision Open Houses, April 19th, 2015

Celebrate W.K. Kellogg's birthday at the Kellogg Biological Station with free admission to the Bird Sanctuary and Manor House. On Sunday, April 19th, enjoy free admission at the Sanctuary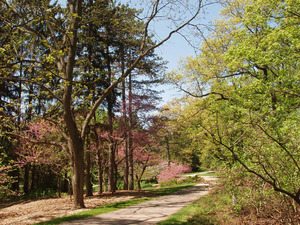 from 11:00 a.m. to 5:00 p.m., and at the Manor House from 1:00 to 5:00 p.m.

Enjoy a spring walk at the Sanctuary with nature trails for all ages. Take this unique opportunity to come see migratory and resident wildlife while walking the handicap-accessible paved trail, the Bluebird trail, or the unpaved trail around Wintergreen Lake.

The Sanctuary was established in 1927 and is at the intersection of several migratory bird routes. Primarily created by W.K. Kellogg to aid in re-establishing the Canada goose population, the Sanctuary played an instrumental role in the re-introduction of the Trumpeter Swan as well.

Next, explore the past with a visit to W.K. Kellogg's summer home on the shores of beautiful Gull Lake. Donated to Michigan State University in 1951, this Tudor revival-style home was fully restored in 2000. Tour guides will highlight the architectural details of the Manor House, as well as describe the life of W.K. Kellogg.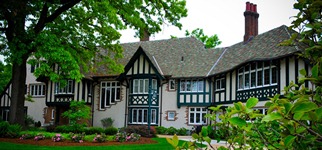 The legacy of W.K. Kellogg continues on through the Kellogg Biological Station with the many opportunities for research, teaching, and exploring the past. With the continuing commitment to education and community outreach, KBS offers a variety of activities for visitors of all ages.

---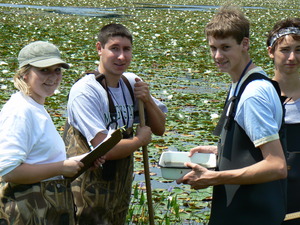 KBS receives Research Experience for Undergraduate (REU) funding for 3 years

During the next three years, 30 undergraduate students will spend their summer at KBS as Research Experience for Undergraduate (REU) students with funding from the National Science Foundation (NSF).

Participation in the REU program provides students with an outstanding opportunity to work with expert mentors. This unique experience allows REUs to conduct research, analyze data, and report results in many subject areas including ecology, zoology and agro-ecology.
The REU program at KBS not only allows students to have real-world research experience but will also create memories that last a lifetime. Many former KBS REU students go on to have successful careers in the biological sciences.

---
WHO WILL. . .
USE PHYSICS TO TREAT PARKINSON'S?
STUDY THE BRAIN FOR OBESITY CLUES?
TREAT TB WITH FLOURESCENT BIOSENSORS?
ADVANCE STEM CELL TECHNOLOGY?
USE GENOME BIOLOGY TO STUDY ELECTRIC FISH?
SPARTANS WILL.
We are pleased to share the MSU College of Natural Science event, Classes Without Quizzes, taking place at the MSU Campus in East Lansing on Saturday April 25. Get an insider's look into some the latest research activities being undertaken! Hosted by the College of Natural Science, Classes Without Quizzes is an MSU experience unlike any other and isn't just for science majors – all MSU alumni and friends are welcome. For more information and to register, go to: natsci.msu.edu/cwq. Please register by April 13.
---

More
April Events

Easter Brunch
W.K. Kellogg Manor House
Sunday, April 5th
Time: Seatings at 11 a.m. and 1 p.m.

For more information call (269) 671-2400
Birds & Coffee
Kellogg Bird Sanctuary
Wednesday, April 8
Time: 9 - 10:30 a.m.
Cost: Members: free; Non-members: regular admission

For more information call (269) 671-2510
Kellogg Bird Sanctuary
Saturday, April 25
Time: 9 a.m.- Noon
Cost: $25/members, $35/non-members
For more information call (269) 671-2510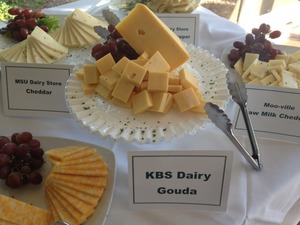 Did You Know??



In the spring, the MSU Dairy Store picks up 4 truckloads (1200 gal.) of milk from the Pasture Dairy Center to produce pasture-based cheese.