Science Spotlight: KBS Climate Change and Agriculture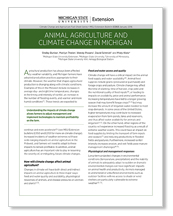 KBS Outreach Educator and Volunteer Coordinator Misty Klotz recently completed a research-based fact sheet for MSU Extension in collaboration with four other scholars - Shelby Berlew and Marilyn Thelen of MSU Extension, Wendy Powers of MSU, and David Schmidt of University of Minnesota.

This piece is one of a series on climate change produced by KBS's Long-Term Ecological Research (LTER). The Climate Change and Agriculture bulletin series was created in 2011 by LTER Education and Outreach Coordinator Julie Doll, Dr. Phil Robertson, and Clare Layman Bode of MSU Extension.

"We started the series as a way to to share science-based information with Michigan agricultural professionals and farmers in an easily accessible format," said Doll. "It is important that the state's agriculture industry is positioned to adapt and help be part of the climate change solution."

The fact sheet, Animal Agriculture and Climate Change in Michigan (Extension Bulletin E3303), highlights important research on the relationships between animal agriculture and climate change.

"It gets at both sides of the story - the way climate change affects animals, and the way animals affect climate change," said Klotz. "It is useful as a general education tool to help consumers understand agricultural issues, and an overview for farmers and educators."

The fact sheet explains beneficial mitigation practices for farmers, such as production efficiency, manure storage and land applications, and farm energy use. The fact sheet is viewable online.
---
Bird Sanctuary Hosts Annual Field Ornithology Course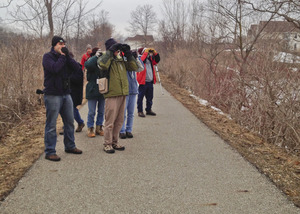 Starting March 15, the Bird Sanctuary will host its annual Field Ornithology Course - a great opportunity for hands-on learning about the birds in our area.

The course is open to the public and features classroom lectures from experts as well as special field trips, with the goal of increasing your identification skills and practical bird knowledge.

"This class has helped open my eyes to a whole new world of nature, birds, and the environment and I have seen birds in the last few months, (in my own "backyard") that I didn't realize were here, right under my nose!"
-Feedback from a past FOC participant

Online registration is required by March 11 - be sure to register early to reserve your spot! For more information on the course, including course fees, visit the Bird Sanctuary's event page, and call 269-671-2510 or email birdsanctuary@kbs.msu.edu with questions.
---
KBS Research Associates Publish Noteworthy Research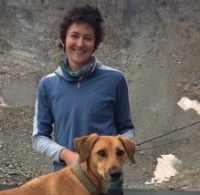 We congratulate two of our KBS Post-Doctoral Research Associates, Sarah Fitzpatrick and Eben Gering, on their research.

Fitzpatrick recently published in Evolutionary Applications. Her research focuses on genetic rescue in Trinidadian Guppies. To learn more about her research and this publication specifically, visit our blog. Email her with questions about her research at sfitz@kbs.msu.edu or visit her website.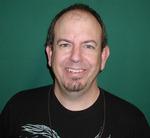 Gering's genetic research on feral chickens on the island of Kauai was recently highlighted on Nature.com with a podcast and article. To read the article and listen to the podcast, visit Nature.com's story. To learn more about his research, email him with questions at geringeb@msu.edu, or visit his website.



---

Classes Without Quizzes: A Window into MSU Science

WHO WILL. . .
USE BIOCHEMISTRY TO UNDERSTAND VIRUS INFECTION?
STUDY GALAXIES USING SUPERCOMPUTERS?
EXAMINE HOW DIET IMPACTS BREAST CANCER DEVELOPMENT?
USE A NUCLEAR ACCELERATOR TO EXPLAIN THE ORIGIN OF ELEMENTS THAT MAKE UP OUR WORLD?
SPARTANS WILL.

We are pleased to share the MSU College of Natural Science event, Classes Without Quizzes, taking place at the MSU Campus in East Lansing on Saturday, April 23 (BONUS: April 23 is also the annual Green & White football game). Get an insider's look at MSU's science research and education. Classes Without Quizzes is an MSU experience unlike any other and isn't just for science majors – all MSU alumni and friends are welcome! For more information and to register, go to: natsci.msu.edu/cwq. Please register by April 11.

---
For More Information
KBS Community Relations

: (269) 671-2015
communityrelations@kbs.msu.edu
KBS Conference Center

: (269) 671-2400
conference@kbs.msu.edu


W.K. Kellogg Bird Sanctuary

: (269) 671-2510
birdsanctuary@kbs.msu.edu
W.K. Kellogg Experimental Forest

: (269) 731-4597
kelloggforest@kbs.msu.edu
W.K. Kellogg Farm

: (269) 671-2402
kelloggfarm@kbs.msu.edu


W.K. Kellogg Manor House

: (269) 671-2160
manorhouse@kbs.msu.edu