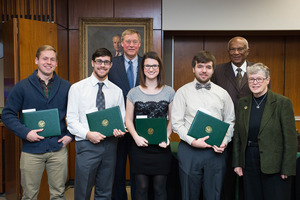 Science Spotlight:
Levi Stork wins Board of Trustees' Award

This past December Levi Storks, MSU Zoology major and KBS alumnus, was awarded the prestigious Board of Trustees' Award at MSU for his academic achievement. The award is given for having the highest grade point average at the close of your last semesters in attendence at MSU, Levi has a 4.0 GPA.

Levi spent two summers at KBS examining gray tree frogs (Hyla versicolor) with Ph.D. candidate Michael Kuczynski, from Dr. Tom Getty's lab. Levi is grateful for the role that KBS played in his education. "KBS has allowed me to connect with people in my field who are serving as mentors as I prepare for graduate school and others that will be lifetime friends."

The work he performed at KBS allowed him to attend the Animal Behavior Society Conference last summer, where he received the undergraduate Genesis Award for Outstanding Undergraduate Poster Presentation. He says these experiences have shaped him as a scientist and helped him to realize his future career goals, including plans to pursue a PhD in the field of animal behavior.
---
Meet KBS Volunteer Ellen James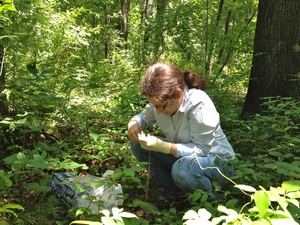 Ellen James, a graduate from Delton Kellogg, first volunteered as a junior camp counselor in 2013 at KBS's Summer Day Camp Program held at the Bird Sanctuary.

"I returned to volunteer with the kids for a second summer, and the camp coordinator suggested I could help in the labs. I thought it would be an exciting opportunity because of my interest in pursuing life science and participating in research at college."

Ellen volunteered two to three days a week for Lau Lab, largely helping graduate student Tomomi Suwa studying plant-rhizobia interactions under different conditions. Ellen spent her days in the field, greenhouse, and the lab taking leaf samples, harvesting rhizobia cluster, and labeling tags and vials.

"My jobs were pretty simple, but I learned about different lab processes, equipment, and research protocol. The people were amazing. It was interesting to talk to them about the applications of the research, their career paths, their college experiences, and their future interests. They gave terrific advice."

When Ellen started college at the University of Michigan in the fall of 2014, part of her financial aid package required a work-study program. "A work-study job is like any other job. You need to interview and have professional references. I strongly believe that my experiences and my reference letters from KBS were key to getting my job at James Mycology Lab at U of M."

Ellen is currently studying cell and molecular biology at University of Michigan, with a particular interest in genetics. She loves the Bird Sanctuary, dinosaurs, her cat, and all things science.

Thank you for sharing your past summers with KBS Ellen. We wish you the best of luck and welcome you back soon!
---
Celebrate with your Valentine at the Manor House Valentine's Dinner

Escape for a romantic meal at the historic W.K. Kellogg Manor House, the cereal king's former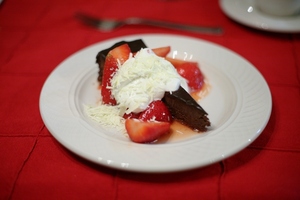 summer home on Gull Lake.

Menu includes: Oysters on the half shell served with raspberry mignonette; mixed field greens with red grapes, candied almonds, baked brie cheese and honey vinaigrette; chile rubbed beef tenderloin paired with tequila-lime bacon wrapped shrimp accompanied by saffron rice and roasted asparagus with maltaise sauce; and for dessert, a flourless chocolate torte served with red wine marinated strawberries and Chantilly cream.

Reservations can be made by calling (269) 671-2400.
---