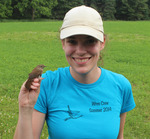 Almost 20 years ago, Tom Getty and Natalie Dubois set up nest boxes at Lux Arbor Reserve to establish an experimental population of house wrens they could use for research on sexual selection and behavior. Several students have since taken advantage of this system to explore a broad range of questions about the ecological consequences of behavior in this species. One is graduate student Cara Krieg (Zoology), whose research on female-female aggression in house wrens was recently featured in
MSU Today
. This year, Cara received the Wallace award from the Zoology Department. Cara's research, and related projects undertaken by three Undergraduate Research Apprentices (URAs), have been supported by Lauff awards.
Visit Cara's 'Birds in Boxes' blog
A great metric of the success of a research program is having students and postdocs graduate and move on to new positions. This academic year, seven students were awarded PhDs and several postdocs secured faculty positions. While it is sad to see people leave the KBS community, experience shows that graduates promote KBS programs, and some return to do research here, or send their students here.
Recent graduates and their new positions:
2013 PhDs
Mike Grillo
(Schemske lab): NSF Plant Genomics postdoc, University of Illinois
Nikhil Jaikumar
(Snapp lab): postdoc, University of Illinois
Leilei Ruan
(Robertson lab): postdoc, University of California - Berkeley
Mridul Thomas
(Litchman lab): postdoc, EAWAG, Dubendorf, Switzerland
2014 PhDs
Anne Royer
(Conner lab): postdoc, University of Oregon and Willamette University
Colin Kremer
(Klausmeier lab): NSF math-bio postdoc, Yale and Princeton Universities
Jorge Celi
(Hamilton lab): postdoc, Arizona State University
Postdocs moving on to faculty positions:Idelle Cooper
(Getty lab): James Madison University
Tim Dickson
(Gross lab): University of Nebraska-Omaha
Kyle Edwards
(Klausmeier/Litchman lab): University of Hawaii
Brian Petersen
(Gross & Snapp labs): Western Michigan University
Maria Stockenreiter
(Litchman lab): University of Munich
Casey terHorst
(Lau lab): California State University - Northridge